Fonte: Energica Motor Company
Milano, Italia. 17 Novembre 2015. Energica Motor Company S.p.A, l'azienda madre delle moto elettriche Made in Italy ad elevate performance, ha presentato ad Eicma 2015 la versione definitiva del secondo modello, Eva.
Energica Eva è la streetfighter di casa EMC, un perfetto connubio tra agilità di guida e aggressività.
Lo spirito ribelle e la maneggevolezza di Energica Eva permettono al motociclista di domare la potenza della moto, rendendola una due ruote perfetta per districarsi nella giungla metropolitana.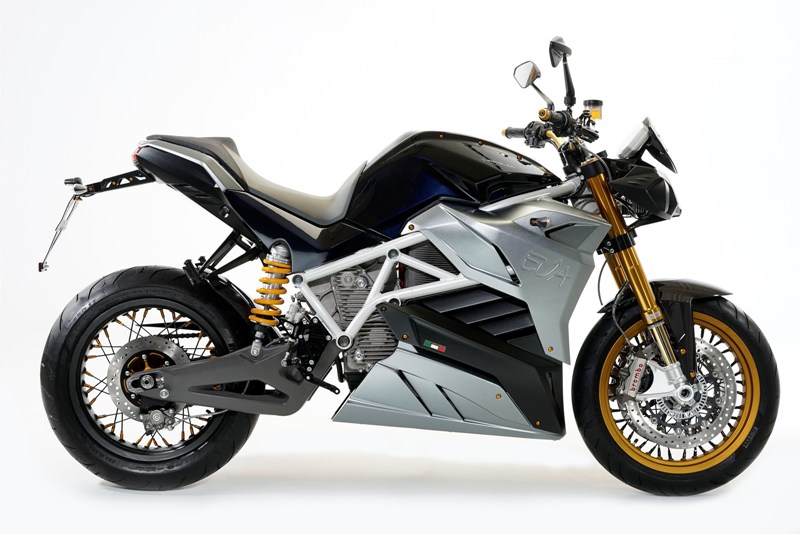 Energica Eva è dotata di un motore sincrono a magneti permanenti raffreddato ad olio in grado di sviluppare una potenza di 70kW (c.ca 95 cv) e una coppia di 170 Nm. La streetfighter elettrica ha un'autonomia fino a 200km (modalità ECO) e può raggiungere una velocità massima di 200km/h in modalità Sport.
Come Energica Ego tutte le centraline della batteria, l'inverter, il caricabatterie e l'ABS sono costantemente monitorate e gestite da una sofisticata Vehicle Control Unit. Energica Eva non ha né cambio né frizione: il collegamento tra pilota e moto è completamente affidato al ride-by-wire che permette in accelerazione di dosare la coppia erogata dal motore e in decelerazione di dosare la coppia rigenerativa (freno motore).
La streetfighter può essere ricaricata outdoor attraverso le colonnine di ricarica oppure da casa. Energica Eva è l'unica streetfighter elettrica al mondo dotata di fast charge on board.
Energica Eva è stata presentata ad Eicma in 2 allestimenti, Electric Green e Dark Blue e sarà in vendita nel 2016.
Nuove colorazioni e customizzazioni, nuovi modelli, la quotazione su AIM Itala e una rete di vendita internazionale: Energica Motor Company S.p.A. ha presentato ad Eicma il Made in Italy vincente, high-tech e ad elevate prestazioni.
Dati Tecnici
Potete vedere e/o scaricare i dati tecnici cliccando nel seguente link (PDF in lingua italiana e inglese)
ENERGICA EVA tech sheet ITA-ENG
In English
Energica Eva: my electric sin
Source: Energica Motor Company
Milan, Italy. November 17th, 2015. Energica Motor Company, the manufacturer of high-performing electric motorcycles, unveiled at Eicma 2015, the final version of the second model, Eva.
Energica Eva is the streetfighter of the company, a perfect combination of agility and aggressive riding.
The rebellious spirit and easy handling allow the rider to control the power of the bike, making it the best streetfighter  for the urban jungle.
Energica Eva has a permanent magnet AC (PMAC) oil cooled motor. It has 70kW (95 hp c.ca) of instantaneous power and a torque of 170 Nm.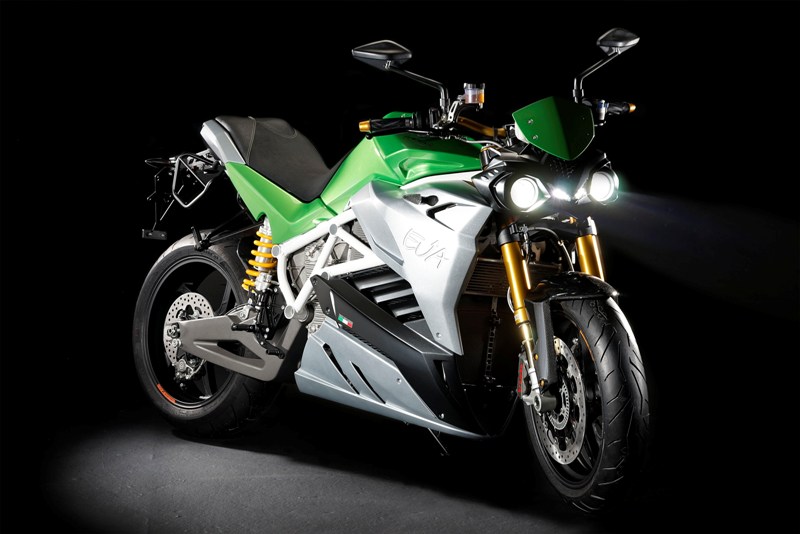 The electric streetfighter has a range up to 200km (ECO mode) and can reach a top speed of 200km/h in Sport mode.
Eva's battery, inverter, charger and ABS are constantly monitored and managed by a sophisticated Vehicle Control Unit, like Energica Ego.
Energica Eva does not have a gearbox or a clutch. Everything is regulated by the ride-by-wire system, allowing you to control the acceleration torque of the motor and deceleration based on the regenerative torque or engine braking. A coasting feature is provided thanks to a "neutral" position between acceleration and regeneration.
The streetfighter is fully compatible with commercial recharging stations or  can be charged at home. Energica Eva is the only electric streetfighter in the world with fast charge on board.
Energica Eva was displayed at Eicma in 2 configurations, Electric Green and Dark Blue, and will be available on sales in 2016.
High-performing electric motorcycles are a reality with Energica Motor Company S.p.A.
Technical data
You can see and/or download the technical data clicking on the following link (PDF in English and Italian language)
ENERGICA EVA tech sheet ITA-ENG
no images were found