La Nissan LEAF vince il premio "GREEN GOLD AWARD 2017" assegnato da UIGA e LifeGate in occasione dello Smart Mobility World 2016
Nissan LEAF tra le 21 candidate è la vettura che più di tutte incarna i valori di sostenibilità, sicurezza e tecnologia in base al nuovo rating del "Mobility Revolution" di LifeGate e UIGA
Cinque le aree del nuovo rating in cui Nissan LEAF è risultata la migliore: l'impatto ambientale, il risparmio economico, la serenità di guida, l'innovazione tecnologica e le caratteristiche del veicolo
Fonte: Nissan Italia
Lainate (MI). Italia. 18 Ottobre 2016. Nissan LEAF è la vincitrice del "GREEN GOLD AWARD 2017" premio conferito da UIGA, l'Unione Italiana Giornalisti dell'Automotive, e LifeGate, il network informativo dell'innovazione sostenibile, all'interno della 31esima edizione del Premio Auto Europa 2017 che si è svolto in occasione dello Smart Mobility World, la più importante manifestazione europea a sostegno della mobilità sostenibile, digitale e integrata.
Alla base del GREEN GOLD AWARD 2017, per la prima volta, nuovi criteri valutativi definiti da LifeGate che con il progetto Mobility Revolution ha dato il via ad un nuovo rating per giudicare i 21 modelli finalisti scelti dalla giuria dei soci UIGA. Cinque le macro-aree valutate complessivamente: l'impatto ambientale, il risparmio economico, la serenità di guida, l'innovazione tecnologica e le caratteristiche del veicolo.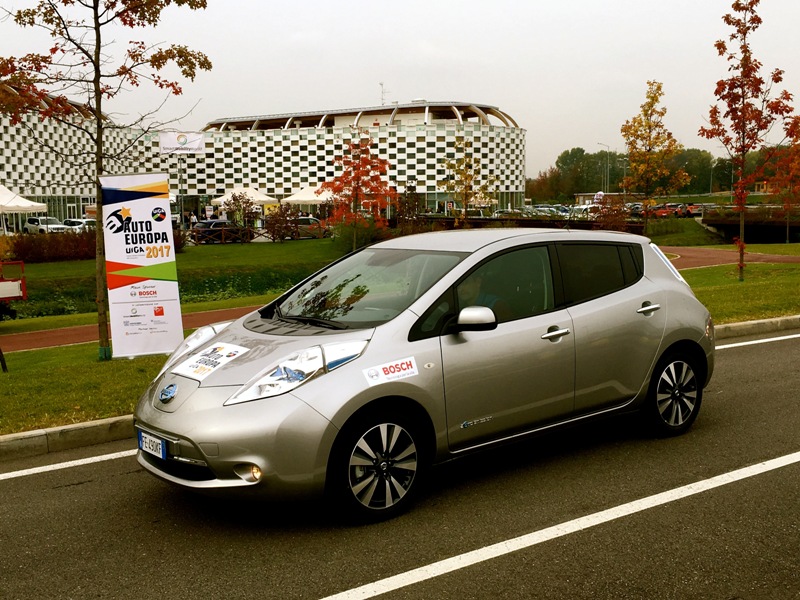 Unione tra l'esperienza tecnico-scientifica ed editoriale di LifeGate e il patrimonio di competenze automobilistiche e giornalistiche di UIGA, la declinazione del rating Mobility Revolution nell'ambito della sezione GREEN GOLD AWARD del Premio Auto Europa 2017 si traduce in una valutazione che misura l'impatto sull'ambiente dell'auto che più di tutte quest'anno si è distinta per i contenuti di innovazione e sostenibilità. Si tratta di un'analisi con un'accezione più ampia rispetto alla semplice efficienza del motore, dei consumi di carburante, dell'aerodinamica e delle relative emissioni.
Il nuovo Rating di Mobility Revolution offre attualmente la più completa analisi di un'automobile in merito al suo livello di sostenibilità, definito da sicurezza, comfort di bordo, rumore, riciclabilità dei suoi componenti e l'impegno del marchio automobilistico per rendere sostenibile la propria attività a livello globale.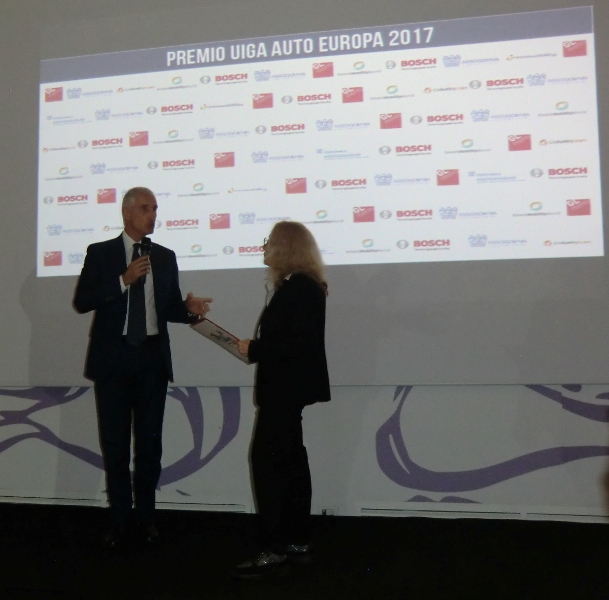 A ritirare il premio per Nissan Italia è stato Bruno Mattucci, Amministratore Delegato di Nissan Italia, che ha così dichiarato:
"È un onore ritirare il GREEN GOLD AWARD, un premio speciale e molto sentito perché rappresenta l'ulteriore conferma dell'impegno di Nissan a favore sia della mobilità elettrica e sostenibile, ma anche delle nuove tecnologie legate alla sicurezza e alla connettività."
Il GREEN GOLD AWARD vuole promuovere quindi la diffusione di automobili più efficienti e sostenibili. Una volontà espressa da Marina Terpolilli, Presidente dell'Unione Italiana Giornalisti Automotive, che alla premiazione ha dichiarato;
"Siamo lieti, in questa edizione, di poter condividere con LifeGate la consegna del GREEN GOLD AWARD ad un'auto che incarna i valori di sostenibilità e sicurezza ma anche di qualità e 'value for money'".
Nissan è la prima casa automobilistica che, guardando al futuro, ha creduto nell'elettrificazione di massa dei veicoli a zero emissioni e che dal 2010 ha messo in atto una serie di iniziative concrete per guidare la sfida ai cambiamenti climatici e ridurre l'inquinamento urbano.
In questo contesto il premio GREEN GOLD AWARD ha quindi un significato particolare come sottolineato da Roberto Sposini, giornalista e responsabile divisione mobilità di LifeGate: "il nostro è un riconoscimento all'auto e alle sue caratteristiche di sostenibilità, ma anche e soprattutto alle potenzialità di crescita dei veicoli elettrici e all'impegno di Nissan nel diffondere la mobilità a basse emissioni in tutto il mondo".
Per Nissan la mobilità del futuro si chiama Intelligent Mobility, una strategia che si fonda su tre pilastri: "Nissan Intelligent Driving", per offrire ai clienti maggiore fiducia in termini di sicurezza, controllo e comfort, sia per il conducente che per i passeggeri, "Nissan Intelligent Power", per regalare un nuovo piacere di guida più sostenibile e più efficiente possibile e "Nissan Intelligent Integration", che assicura una maggiore connettività mettendo le auto in relazione con il mondo circostante.
Questa è oggi la visione di Nissan e LEAF 100% elettrica già dal 2010 ne è la portavoce ufficiale.
Nissan e la mobilità elettrica
Nissan ha scelto di investire da decenni nella mobilità più pulita ed efficiente ed è oggi leader di mercato nella mobilità del trasporto elettrico, fornendo tecnologie d'avanguardia sia per il settore privato che per il pubblico e le imprese, e continuando al contempo ad investire in ricerca e sviluppo in questo settore, per affrontare le sfide future.
Oltre a sviluppare veicoli elettrici, inoltre, Nissan è profondamente impegnata nell'ampliare e promuovere la mobilità elettrica. Le iniziative adottate in tal senso riguardano la produzione di batterie agli ioni di litio riciclabili e riutilizzabili, l'implementazione di infrastrutture di ricarica e di dispositivi di ricarica rapida fissa e mobile per gli EV, ma anche sistemi di alimentazione bidirezionali tra il veicolo e la casa come il "LEAF to Home", o anche sistemi di integrazione tra i veicoli e le reti di distribuzione energetica denominati "Vehicle to Grid", in grado di evolvere il concetto di veicolo da mezzo di trasporto a vettore di energia.
no images were found

.