– La Golf elettrica offre il 50% di percorrenza in più con una ricarica
– Nuovo infotainment con touchscreen da 9,2" e comandi gestuali
– Con l'Active Info Display la strumentazione è interamente digitale
Fonte: Volkswagen Group Italia
Verona, Italia. 17 Novembre 2016. La Volkswagen presenta la nuova generazione della e-Golf in prima mondiale al Los Angeles Auto Show. Rispetto alla precedente, la Volkswagen a emissioni zero offre più potenza, un'autonomia incrementata e dotazioni più ricche.
Grazie a un aumento del 50%, ora la e-Golf ha un'autonomia calcolata in base al ciclo NEDC (New European Driving Cycle) che raggiunge i 300 km. Questo limite la rende una vettura adatta anche a quei pendolari che quotidianamente si spostano nelle aree metropolitane, che possono contare, in base allo stile di guida e all'uso del condizionatore, su almeno 200 km o più di autonomia.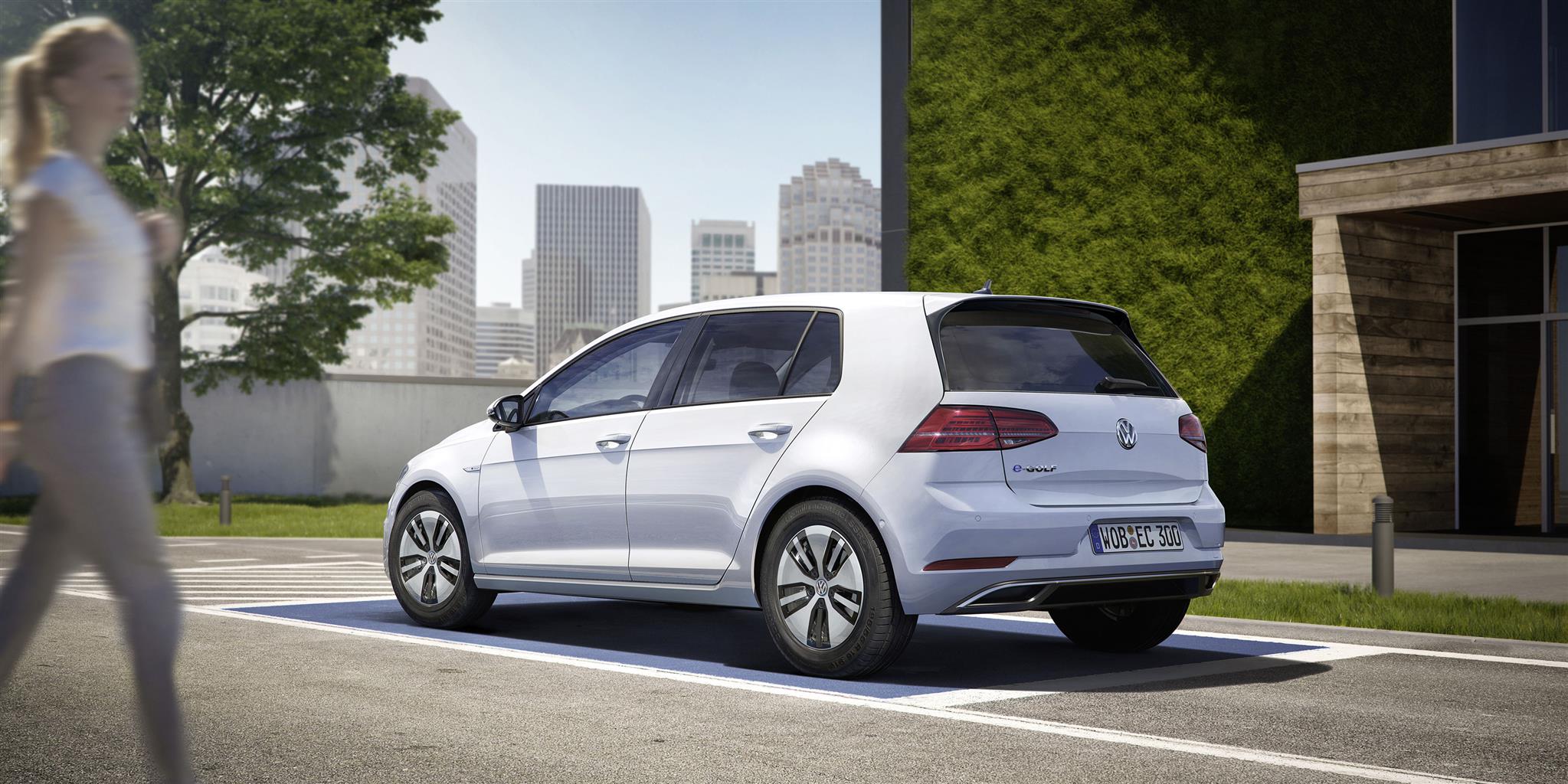 Nella e-Golf 2017 viene impiegata una nuova batteria agli ioni di litio con capacità incrementata dai precedenti 24,2 kWh agli attuali 35,8 kWh. Quanto ai tempi di ricarica, per "rifornire" l'80% della batteria utilizzando un sistema rapido che eroga 40 kW è sufficiente un'ora. Prendendo energia da una wallbox da 7,2 kW si raggiunge il 100% della ricarica in meno di sei ore.
Al pari della batteria, anche il propulsore offre maggiori prestazioni. Ora il motore elettrico sviluppa 100 kW, evidenziando un incremento di 15 kW rispetto alla precedente e-Golf, e la coppia è migliorata passando da 270 a 290 Nm. Nonostante le migliori prestazioni e il peso aumentato della batteria, il consumo di energia è rimasto invariato – 12,7 kWh per 100 km – a testimonianza di una grande efficienza. La nuova e-Golf sfrutta meglio le proprie potenzialità anche nell'ottica delle performance: la velocità massima è passata da 140 a 150 km/h e l'accelerazione da 0 a 100 km/h richiede ora 9,6" rispetto ai precedenti 10,4".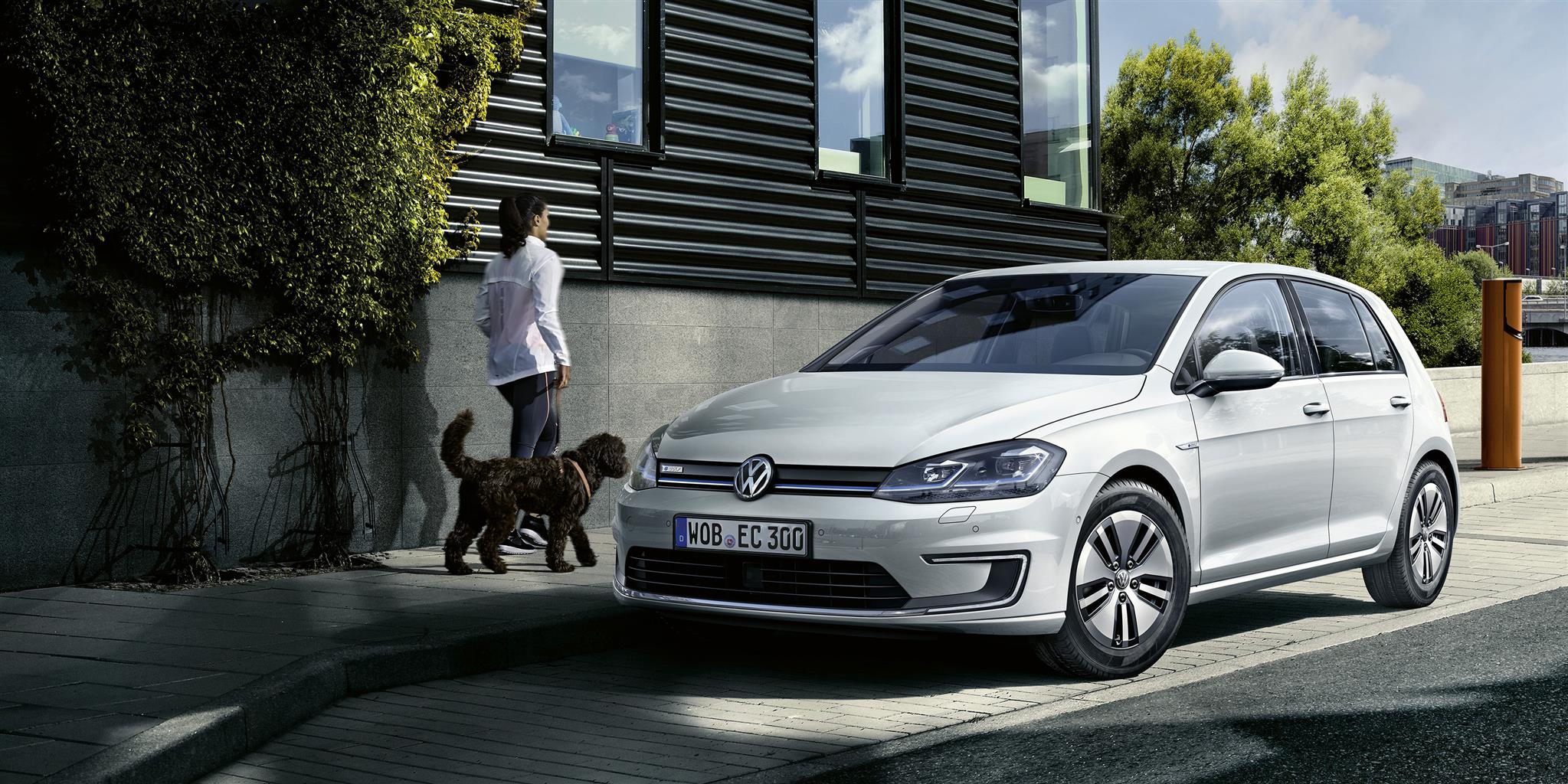 La e-Golf è la prima auto elettrica a proporre un sistema di controllo gestuale dell'infotainment. Il nuovo impianto di radio navigazione Discover Pro con touchscreen capacitivo da 9,2" consente infatti di gestire le icone del menu principale, di cambiare le stazioni radio o le canzoni della playlist con movimenti orizzontali della mano. Un'altra chicca è l'Active Info Display, ovvero la strumentazione completamente digitale, realizzata da un pannello da 12,3" dove vengono visualizzate differenti schermate in base alle preferenze di chi sta al volante.
Naturalmente la e-Golf è dotata di App Connect per l'integrazione dello smartphone nel sistema di bordo, dei servizi online Car-Net e-Remote (con la possibilità di gestire da remoto, tra l'altro, tempi e modi di ricarica e condizionamento ausiliario), oltre che delle funzioni del pacchetto Guide & Inform.
Dal punto di vista estetico la nuova e-Golf riprende gli aggiornamenti estetici del modello presentati di recente, mantenendo le sue caratteristiche distintive come le luci diurne a LED a forma di "C". Un positivo effetto sul look moderno e dinamico hanno anche i nuovi gruppi ottici anteriori full LED, tecnologia utilizzata anche per i posteriori.
Per quanto riguarda sicurezza e assistenza alla guida, ci sono innovativi dispositivi disponibili per la e-Golf, come il Traffic Jam Assist che di fatto, attraverso l'interazione di vari sistemi, permette una guida semiautonoma fino alla velocità di 60 km/h. Inoltre, sono previsti anche Front Assist con riconoscimento pedone ed Emergency City Braking, oltre all'Emergency Assist che gestisce l'auto in caso si inabilità del guidatore (per esempio per emergenza medica).
In English
2017 e-Golf makes Auto Show debut at Automobility LA
Next-generation e-Golf offers improved driving range and new technology throughout
• Increased battery capacity offers potential for 50 percent improved driving range
• Power and torque are boosted to 134 horsepowerand 214 pound-feet
• New infotainment options: 9.2-inch Discover Pro infotainment screen and Volkswagen Digital Cockpit with interactive instruments
• NewFront Assist with Pedestrian Monitoringdriver assistance system
• Upgraded Driver Assistance Packagenow includes Adaptive Cruise Control (ACC), Blind Spot Monitor Plus with Rear Traffic Alert, Lane Departure Warning (Lane Assist) and High Beam Control (Light Assist)
• Redesigned front and rear ends upgraded with full-LED headlights and taillights
Source: Volkswagen of America
Los Angeles, CA. USA. In a world premiere at Automobility LA today, Volkswagen of America, Inc. presented the latest generation of the e-Golf. Compared to its predecessor, the 2017 e-Golf offers an improved range, more power and new features.
For 2017, Volkswagen is using a new lithium-ion battery whose energy capacity has been increased from 24.2 kWh to 35.8 kWh. The new battery increases the range by about 50 percent, with the aim of a driving range of up to 124 miles on a single charge. The 7.2 kW on-board charger is now standard on both SE and SEL Premium trims, which enables the battery to be fully charged in less than six hours at a traditional charging station. When equipped with DC Fast Charging (optional on SE, standard on SEL Premium), the battery can be charged to 80 percent within an hour at a DC fast charging station.
The electric motor has been upgraded as well. It now develops 134 horsepower, which is 19 hp more than the first version of the e-Golf. At the same time, the maximum torque of the electric motor has been boosted from 199 pound-feet to 214 lb-ft. The 2017 e-Golf runs zero to 60 mph more than a second faster than its predecessor—now in just 9.6 seconds, and its top speed increases to 93 mph.
The 2017 e-Golf offers new, high-tech features like the fully digital and interactive Volkswagen Digital Cockpit. With this optional system, all instruments—including specific e-Golf instruments such as the power meter—are virtually implemented on the 12.3-inch color screen. There are different information profiles which change the type of information displayed and the graphics in certain areas. Information can be integrated on driving, navigation and assistance functions and display phone contact images or album cover art.
The available Discover Pro infotainment system trim has a large 9.2-inch glass display with a completely new design. For the first time in a Golf, it is possible to individually configure the home screen. In addition, the innovative gesture control system, first debuted at CES 2015, is planned to become reality in the next two years for the U.S. market. Gesture control works in a wide variety of menus. All it takes is a hand swipe gesture to move the horizontally arranged menu items to the left or right, allowing the user to navigate through the main menu, change radio stations, or skip to the next song. The e-Golf continues to offer remote access via the Volkswagen Car-Net app (including battery charging and auxiliary air conditioning), as well as Car-Net App-Connect for compatible smartphones that offers Apple CarPlay™, Android Auto™, and MirrorLink® integration and Guide & Inform services.
Volkswagen is also extending the range of driver assistance systems for the e-Golf in the 2017 model year. Forward Collision Warning with Autonomous Emergency Braking (Front Assist) adds pedestrian monitoring, which will warn the driver acoustically and visually, supply increased braking pressure, and if the driver does not react, apply the brakes in order to help mitigate a collision with a pedestrian as well as other vehicles. An optional Driver Assistance Package for the SEL Premium will include the following features: Volkswagen Digital Cockpit, Adaptive Cruise Control (ACC), Forward Collision Warning and Autonomous Emergency Braking (Front Assist) with Pedestrian Monitoring, Blind Spot Monitor Plus, Lane Assist, Park Assist and Light Assist.
The facelifted Golf family debuted in Europe just a week ago, and the 2017 e-Golf introduces those design changes to the U.S. market. The standout exterior changes include new bumpers, front fenders and LED headlights and taillights. In the front, the new bumper integrates the unmistakable C-shaped LED auxiliary Daytime Running Lights and is accented by the traditional blue grille trim strip, which carries into the redesigned headlights. The rear was also designed to be more charismatic. Along with a new bumper, new LED taillights define the design. Inside, new décor and seat trim gives e-Golf a fresh look.
no images were found

.