Rimac Automobili svelerà la versione di produzione del Concept_One al Salone di Ginevra
Fonte: Rimac Automobili
Sveta Nedelja, Croazia. 22 Febbraio 2016. Rimac Automobili presenterà la versione di produzione della prima Hypercar completamente elettrica al mondo, la Concept_One, al Salone di Ginevra 2016.
Dalla Concept_One è nata l'idea che un propulsore elettrico sia in grado di equipaggiare una vettura sportiva non solo veloce ma anche più adattabile, agile e divertente. Rimac Automobili è stata fondata per spingere i limiti della tecnologia ed i propulsori elettrici – la Concept_One unisce tutto il know-how, la tecnologia e l'esperienza che l'azienda ha acquisito sin dalla sua fondazione.
La Concept_One è alimentata da quattro potenti motori elettrici a magneti permanenti, uno per ogni ruota, situati al centro dei due assi. L'architettura è radicalmente diversa rispetto quella delle auto a motori a combustione tradizionali così come la nuova piattaforma del veicolo doveva essere sviluppata per utilizzare tutti i vantaggi che tale disposizione comporta. Al fine di ridurre il peso e permettere di confezionare un potente sistema di propulsione nel telaio, tutti sistemi di trazione sono stati sviluppati insieme all'interno della stessa squadra per consentire un elevato grado di integrazione tra i componenti. Il risultato è una perfetta distribuzione dei pesi ed un estremamente basso centro di gravità.
La distribuzione di un totale di 800 kW/1.088 CV e 1.600 Nm di coppia, il sistema di Rimac All Wheel Torque Vectoring (R-AWTV) calcola con precisione la coppia ottimale per ogni ruota. R-AWTV utilizza ingressi provenienti da diversi sensori posizionati strategicamente in tutto il telaio e le sospensioni per calcolare la distribuzione ottimale della coppia tra le ruote attraverso complessi modelli matematici e algoritmi di controllo. Il sistema fornisce flessibilità invisibile ed aderenza controllando ogni motore singolarmente cento volte al secondo. Ciò consente alla Concept_One di accelerare da ferma fino a 100 km/h in soli 2,6 secondi, fino a 200 km/h in 6,2s e fino a 300 km/h in 14,2 secondi. Le funzioni R-AWTV agiscono come controllo di trazione, controllo di stabilità e di sistema "elettrico ABS" che comanda anche la frenatura rigenerativa delle quattro ruote fino a 400 kW che funziona insieme al sistema frenante in carboceramica.
Per abbinare il carattere, l'eccellenza e l'innovazione del design elegante della Concept_One, un sistema di infotainment sviluppato su misura è stato sviluppato e prodotto in-house. Tutta la dinamica del veicolo e le funzioni di propulsione, come il sistema Rimac All Wheel Torque Vectoring sono controllate tramite pulsanti fisici in alluminio mentre le funzioni secondarie sono controllate attraverso il touch-screen centrale. Il sistema mostra l'abbondanza di informazioni attraverso la grafica ben ottimizzata e fornisce approfondimenti riguardo il sistema nervoso della Concept_One. Navigando tra i menu sul display centrale, il guidatore può cambiare le impostazioni del sistema Rimac All Wheel Torque Vectoring, la distribuzione della forza frenante, la distribuzione della coppia, così come varie altre funzioni. Modificando le impostazioni, l'autista alterna la natura della vettura a seconda delle sue preferenze, da un ambiente tranquillo e neutrale ad una modalità drift estremo che aiuta i conducenti esperti a divertirsi in un circuito chiuso o in pista.
Dalle informazioni sul consumo di energia di base attraverso la frenata rigenerativa e le impostazioni di Rimac All Wheel Torque Vectoring per la telemetria dei dati – il sistema di Infotainment Rimac raccoglie informazioni da oltre 500 diversi sensori e li proietta in una splendida grafica sul display centrale in tempo reale. I dati sono memorizzati nella memoria interna e inviati al cloud tramite il collegamento a Internet 4G ad alta velocità. I dati della telemetria possono essere analizzati durante o dopo un giro in pista, tramite il touch-screen, un PC o uno smartphone.
La tecnologia del futuro sotto mano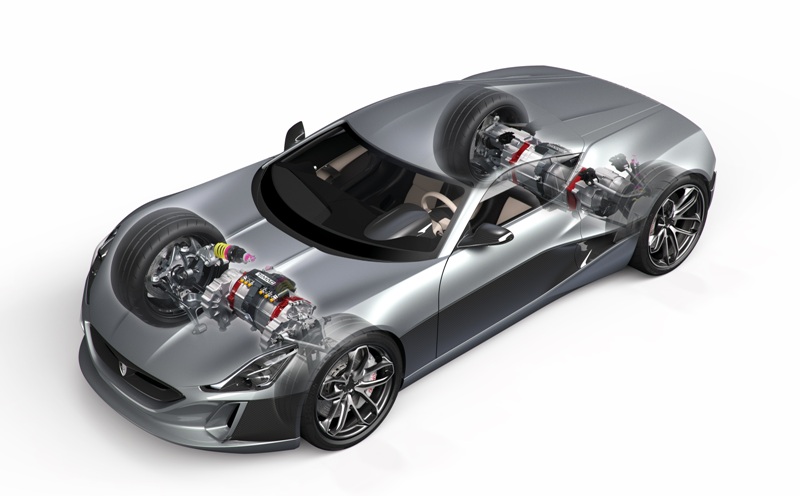 Nei cinque anni di sviluppo, la Concept_One ha attraversato numerose iterazioni e fasi di sviluppo per soddisfare i più elevati criteri di efficienza e qualità.
Nelle parole del fondatore e CEO di Rimac Automobili, Mate Rimac:
"Il mio obiettivo era quello di non creare una versione elettrica delle supercar già esistenti. Ho voluto creare tecnologia per rendere la supercar notevolmente migliore in ogni senso – più veloce, più divertente e più efficiente. Volevo fare la supercar del 21esimo secolo. La Concept_One mette in mostra le prestazioni che non sono state considerate possibili per le auto elettriche fino a pochi anni fa. Per raggiungere questo livello di prestazioni, abbiamo prima dovuto sviluppare la tecnologia e poi la macchina. La Concept_One è passata attraverso quattro iterazioni da un concetto di macchina di produzione. In ogni iterazione, abbiamo riprogettato quasi tutti i sistemi da zero per raggiungere il livello di prestazioni e qualità che ci siamo prefissati all'inizio. Sono anche estremamente orgoglioso della nostra integrazione verticale – la Concept_One è un vero e proprio prodotto Rimac Automobili – fino ai più piccoli dettagli".
Il Capo Design di Rimac Automobili, Adriano Mudri:
"E' abbastanza singolare che una intera vettura possa essere progettata, sviluppata e prodotta sotto lo stesso tetto. L'estrema ampiezza di vedute di Rimac Automobili ed il know-how apre una serie di possibilità per inseguire la perfezione a tutti i livelli".
La Concept_One prosegue il cammino che le supercar a trazione convenzionale hanno iniziato
Simile alle classiche supercar di oggi, che hanno segnato una parte importante nella storia automobilistica, la Concept_One ha anche iniziato la sua vita in un pezzo di carta. A partire dal primo schizzo alla scritta a mano della teoria matematica del sistema Rimac All Wheel Torque Vectoring fino alle funzioni di base e il codice del software che l'ha portato alla vita. Proprio come i pannelli della carrozzeria di leggendarie storiche supercar sono state fatte da colpi precisi di abili mani per lavorare la lamiera in belle forme, un processo manuale quasi artistico ha creato numerosi componenti della Concept_One. Dalla posa in fibra di carbonio, le parti lavorate in lega leggera, l'adattamento del cablaggio, al tessuto interno artisticamente rifinito con cura rendendo ogni parte unica, la Concept_One rappresenta l'armonia delle competenze sviluppate nel corso degli anni di fare auto.
"La Concept_One rappresenta la simbiosi perfetta di tecnologia moderna sviluppata qui nella nostra azienda e la tradizione artigianale dell'automotive per la quale abbiamo il massimo rispetto. Restiamo fedeli alle radici del motorsport ed alle vecchie abilità dei produttori di automobili e degli ingegneri che hanno creato il mondo automobilistico che ha una profonda influenza su di noi da quando eravamo bambini. Ogni singola parte della Concept_One è stata fatta attraverso un processo di finitura a mano ed accuratamente assemblata presso le nostre strutture. Investiamo enorme sforzo per sviluppare il sentimento che questa vettura dà al conducente. Non solo in termini di caratteristiche di guida, ma anche la sensazione e il suono dal punto di vista del guidatore. Ad esempio, tutti i controlli al suo interno sono azionati da meccanismi artigianali simili ai migliori orologi del mondo, con centinaia di singoli componenti, scolpite da blocchi solidi di metallo. Non ci sono parti in plastica; tutto quello che il driver tocca è carbonio, alluminio o Alcantara. Volevamo raggiungere tale solida sensazione di supercar classica. L'obiettivo era quello di realizzare una vera connessione tra il conducente e la macchina – e questo è possibile solo con passione, attenzione ai dettagli e artigianalità. La Concept_One è una macchina veramente fatta a mano", Ha detto Mate Rimac.
Produzione in casa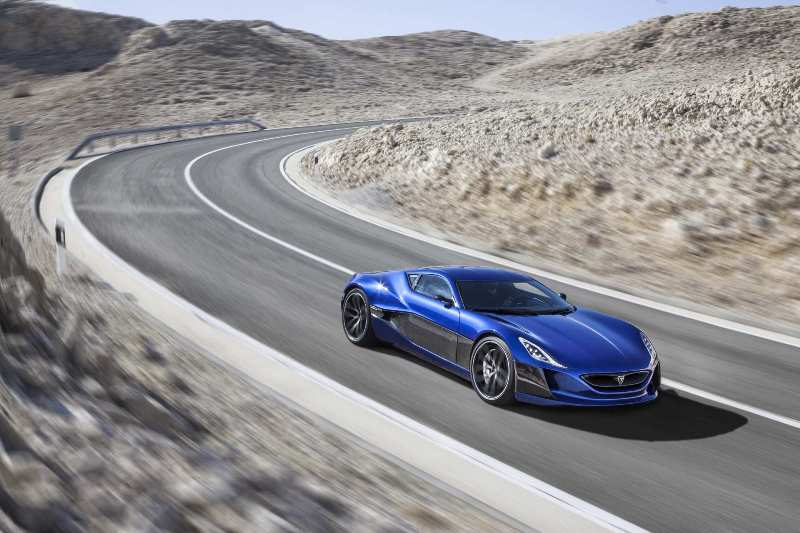 L'ambizioso obiettivo che Rimac Automobili si è posta è quello di produrre il più possibile in-house. La scrupolosa attenzione ad ogni dettaglio richiede alta qualità, che possono essere meglio mantenute e controllate se le squadre di progettazione e di produzione sono sotto lo stesso tetto.
Migliaia di parti in metallo, in fibra di carbonio e anche quelle elettriche devono essere fabbricate, assemblate e testate per ogni Concept_One. Anche gli strumenti, le maschere e gli stampi sono progettati e prodotti da Rimac Automobili. La maggior parte delle parti iniziano la loro vita come blocchi di alluminio o tessuti di carbonio nudi prima di lasciare le strutture Rimac a Sveta Nedelja e prima di essere assemblate nelle auto.
Pacco batterie
Le batterie per veicoli elettrici sono di solito sfidate dai requisiti di capacità. Mentre è difficile da sviluppare un sistema di batterie che contenga energia sufficiente per un'autonomia accettabile, Rimac Automobili ha affrontato una sfida ulteriore: fornire un megawatt di potenza.
Il pacco batteria della Concept_One è progettato per offrire 1000 kW o 1MW di potenza in fase di accelerazione e di assorbire 400 kW in fase di frenata. Un unico sistema di gestione termica del liquido e di conduzione a bassa resistenza doveva essere sviluppato al fine di padroneggiare questa sfida. Il risultato è una batteria ad alte prestazioni altamente avanzata che è progettata per l'uso esigente, in grado di erogare alta potenza e massima sicurezza.
Ognuna delle 8450 batterie viene controllata singolarmente attraverso il Rimac Battery Management System sviluppato in-house da Rimac, che garantisce condizioni ottimali per una lunga durata della batteria e le prestazioni a lungo termine.
Rimac All Wheel Torque Vectoring
Concepito in una vettura stradale, perfezionata sulle strade più esigenti al mondo – la corsa in salita Pikes Peak.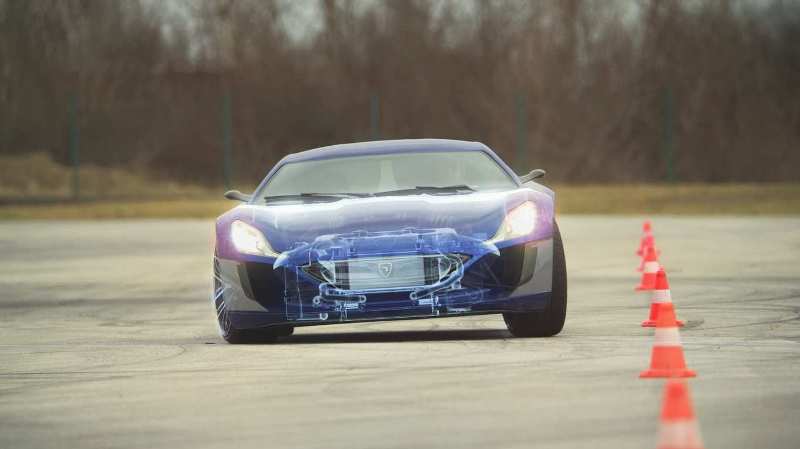 Il Sistema Rimac All Wheel Torque Vectoring è stato progettato e sviluppato da Rimac Automobili ed è attualmente l'unico sistema al mondo con questo principio disponibile su una vettura di serie. I vantaggi del R-AWTV rispetto le trasmissioni convenzionali sono stati più evidenti nella corsa in salita più impegnativa al mondo – la Pikes Peak Hill Climb in Colorado. Nobuhiro Tajima ha guidato la Tajima Monster Rimac e-Runner, una macchina da corsa sviluppata da Rimac Automobili, sulla gara in salita Pikes Peak International Hill 2015 ed è finito davanti a tutte le vetture alimentate con motore a combustione. La preziosa esperienza raccolta durante il progetto Pikes Peak è stata implementata nello sviluppo del sistema di R-AWTV della Concept_One. Il risultato è un sistema raffinato, ma potente che funziona in background per aumentare il potenziale naturale del veicolo.
Rispetto ad un propulsore convenzionale con trazione integrale dove la coppia su ciascuna ruota è controllata sia frenando attraverso un sistema idraulico di frenatura che tagliando la potenza del motore e quindi la potenza sulle quattro ruote, la Concept_One non deve fare alcun compromesso.
R-AWTV può ridurre o aumentare la coppia su ogni ruota in qualsiasi momento, a seconda dell'ingresso, della situazione e del conducente, senza limitazioni.
R-AWTV aumenta anche la sicurezza in quanto può reagire più rapidamente e utilizzare meglio le potenzialità di ogni pneumatico rispetto ai sistemi tradizionali di stabilità. Un dinamico "ABS elettrico" è inoltre incluso nel sistema R-AWTV.
Il sistema di frenata rigenerativa della Concept_One può rallentare la macchina recuperando fino a 400 kW di energia di frenata rigenerativa o fino a 0,6 g di decelerazione, senza attivare i freni in carbonio-ceramica. R-AWTV può distribuire la forza di frenatura in modo equo, più velocemente e con maggiore precisione rispetto ai sistemi ABS convenzionali assicurando così la massima stabilità del veicolo in caso di frenata su superfici a diversi livelli di aderenza. Ancora, il conducente può anche scegliere di disattivare la frenata rigenerativa e utilizzare solo i freni ad attrito. La funzione di frenata rigenerativa della valvola a farfalla può essere regolata separatamente.
A seconda delle esigenze e dell'abilità del conducente, l'R-AWTV può cambiare il carattere della vettura. Il guidatore può scegliere tra quattro modalità di guida: comfort, controllo, pista e modalità drift, o impostare il set-up personalizzato con distribuzione di energia su misura, impostazioni di frenata rigenerativa, ecc. La R-AWTV può anche essere completamente disattivata.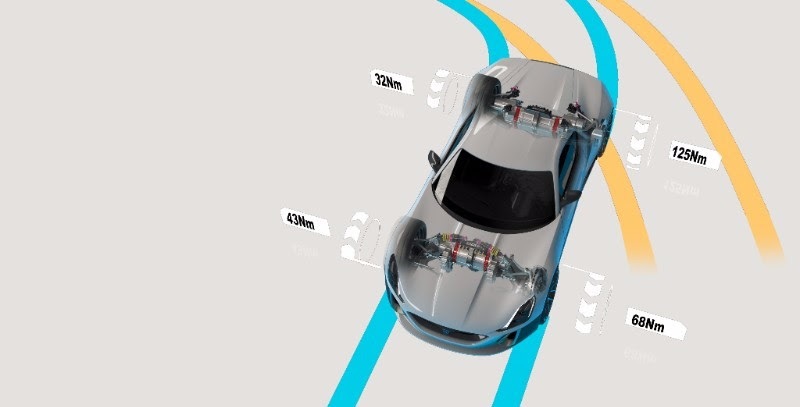 Il conducente può scegliere la modalità di guida tramite manopole sulla console centrale. A seconda della modalità scelta la macchina agirà diversamente sul limite di aderenza. Si può tendere al sottosterzo, essere neutro, o per i piloti più esperti, avere la tendenza al sovrasterzo e quindi consentire uno stile di guida più aggressivo in curva.
Il collaudatore di Rimac Automobili Miroslav Zrncevic spiega le infinite possibilità che la Concept_One ha da offrire:
"Grazie alla sua architettura ed alle caratteristiche uniche, la Concept_One può usare il massimo potenziale degli pneumatici, a seconda delle preferenze del guidatore e della configurazione R-AWTV, che offre. Più auto in una. La Concept_One rappresenta l'apice della tecnologia e del design che possiamo offrire come azienda. Ogni unità esegue la sua storia romantica. La Concept_One è una diversa esperienza di guida, una vettura che dà una nuova dimensione di esperienza di guida".
Quattro motori, quattro riduttori
Pur avendo piena coppia da zero RPM, i motori elettrici hanno ancora bisogno di un cambio per avere la massima efficienza e prestazioni. La maggior parte dei veicoli elettrici utilizzano una trasmissione a singola velocità che costringe i loro progettisti il compromesso fra accelerazione e velocità massima.
Rimac Automobili è tutta rivolta sull'innovazione per superare i limiti – senza compromessi. Abbiamo voluto ottenere un'accelerazione fulminea e una velocità massima degna di una vera supercar. Al fine di soddisfare questi obiettivi, abbiamo dovuto trovare una soluzione unica.
Ciascuno dei quatto motori della Concept_One è accoppiato ad un proprio sistema di cambio. Mentre i motori anteriori dispongono dei riduttori ad una velocità, i motori posteriori portano qualcosa di veramente unico – un cambio a doppia frizione a due velocità su ogni lato. Un sistema di frizione propria in fibra di carbonio con doppi dischi frizione tipo Formula 1 permette gli spostamenti estremamente veloci o morbidi e confortevoli che sono supportati mediante la sincronizzazione della velocità del motore senza interruzioni. Mentre la trasmissione a doppia velocità sblocca i nuovi livelli di prestazioni a qualsiasi velocità, la Concept_One può essere guidata in una marcia per tutto il tempo in quanto ha una coppia sufficiente per superare quasi ogni vettura sportiva anche se azionata con un solo ingranaggio.
Produzione limitata
La Concept_One sarà prodotta in totale di otto unità.
La filosofia di Rimac Automobili è quella di condividere idee e tecnologie con altri produttori in vari settori per accelerare il passaggio a un sistema di trasporto più efficiente e migliore. Come una vetrina della sua attività principale, Rimac Automobili mostrerà inoltre le sue tecnologie e capacità che sono disponibili per altre aziende. Un'edizione speciale della moto Greyp G12S, realizzata dalla consociata Greyp Bikes di Rimac, sarà anche mostrata a Ginevra.
Dati tecnici
Prestazioni
Potenza massima: 1088 KS (800 kW)
Coppia massima: 1600 Nm 0-6500 rpm
Velocità massima: 355 kmh
Accelerazione: 0-100 km / h (0-62 mph) 2,6 secondi; 0-200 km / h 6,2 secondi, 0-300 km / h 14,2 km / h
Frenata distanza: 31,5 milioni di euro (100-0 km / h)
Laterale G-Force: 1,4 g
Ricarica: 22 kW a bordo caricabatteria, caricabatteria veloce DC-Combo (fino a 120kW)
Rapporto peso potenza: 588 CV / T
Dimensioni
Peso: 1850 kg
Lunghezza: 4.187 millimetri
Larghezza: 1.842 millimetri
Altezza: 1070 millimetri
Pneumatici anteriori: Pirelli P Zero 245/35 R20,
Pneumatici posteriori: Pirelli P Zero 295 / 30R 20
Distribuzione dei pesi: 42% anteriore, 58% posteriore
Pacco batterie
Tensione: 650V nominale
Capacità: 82 kWh
Rimac Automobili batteria e sistemi di gestione termica
Telaio
Cro-Mo space-frame con alluminio e fibra di carbonio membri semi-ha sottolineato
Sospensione anteriore e posteriore: a quadrilateri articolati, completamente regolabile, pushrod operato
Idraulico regolabile in altezza da terra
Powertrain
Anteriore: Rimac Automobili D-PM-OC-500 – alta velocità raffreddato a doppia olio a magneti permanenti motori, 500 kW di picco, 12.000 RPM, fino al 97% di efficienza.
2 scatole del cambio a velocità singola
Posteriore: Rimac Automobili D-PM-OC-600 – alta velocità raffreddato a doppia olio a magneti permanenti motori, 600 kW di picco, 12.000 RPM, fino al 97% di efficienza. Due cambi a doppia frizione a due velocità.
Rotore e statore olio di raffreddamento
custodie in alluminio fresato
Sistema di sterzo
servo sistema elettroidraulico
Freni
Freni anteriori: dischi ceramici ventilati Ø 390 millimetri, larghezza 36 mm. pinze a 6 pistoncini, servoassistito.
Freni posteriori: dischi ceramici ventilati Ø 380 millimetri, larghezza 34 mm. pinze a 4 pistoncini, servoassistito.
Fino a 400 kW di Regen-frenata (regolabile)
Sistemi di sicurezza
addominali
Torque Vectoring con funzione di stabilità
sistemi di disconnessione di sicurezza in caso di crash
architettura ECU multiplo per il monitoraggio di sistemi elettronici rilevanti per la sicurezza
In English
Rimac Automobili to unveil the production version of the Concept_One at the Geneva Motor Show
Rimac Automobili will unveil the production version of the world's first all-electric hypercar, the Concept_One, at the Geneva Motor Show 2016.
Source: Rimac Automobili
Sveta Nedelja, Croazia. 22 February 2016. The Concept_One was born of the idea that an electric powertrain can make a sportscar not only faster but also more adjustable, agile and fun. Rimac Automobili was founded to push the limits of technology and electric powertrains – the Concept_One combines all the know-how, technology and experience that the company has created since its founding.
The Concept_One is powered by four extremely powerful permanent magnet electric motors, one for each wheel, located in the centre of both axles. The architecture is radically different compared to traditional combustion engines so a completely new vehicle platform had to be developed to use all the advantages that such a layout brings. In order to reduce weight and make it possible to package such a powerful powertrain system into the chassis, all powertrain systems were developed alongside within the same team to enable a high degree of integration between the components. The result is a perfect weight distribution and extremely low centre of gravity.
Distributing a total of 800 kW / 1088 HP and 1600 Nm of torque, the Rimac All Wheel Torque Vectoring (R-AWTV) system precisely calculates the optimum torque for each wheel. R-AWTV uses inputs from several precise sensors strategically positioned around the chassis and suspension to calculate the optimal torque distribution between the wheels through complex mathematical models and control algorithms. The system provides unseen flexibility and grip by controlling each motor individually one hundred times per second.  This enables the Concept_One to accelerate from standstill to 100 km/h in just 2,6 seconds and, to 200 km/h in 6,2 and to 300 km/h in mind-blowing 14,2 seconds. The R-AWTV functions as a traction control, stability control and "electric ABS" system that also commands the 4-wheel regenerative braking of up to 400 kW that works together with the carbon-ceramic braking system.
To match the character, innovation excellence and sleek design of the Concept_One, a truly bespoke infotainment system was developed and manufactured in-house. All vehicle dynamics and powertrain functions such as the Rimac All Wheel Torque Vectoring System are controlled through physical buttons, machined from billet aluminium while secondary functions are controlled through the central touch-screen. The system shows an abundance of information through beautifully optimised graphics and gives insights into the Concept_One's nervous system. Browsing through the menus on the central display, the driver can change the settings of the Rimac All Wheel Torque Vectoring system, brake force distribution, torque distribution, as well as various other functions. By changing the settings, the driver alternates the nature of the car depending on his preferences, from a calm and neutral setting to a track-oriented setup or the extreme drift mode that helps experienced drivers to have fun on a closed track.
From basic energy consumption information via regenerative braking and Rimac All Wheel Torque Vectoring settings to telemetry data – the Rimac Infotainment system gathers information from over 500 different sensors and projects them in beautiful graphics on the central display in real time. The data is stored in the internal memory and sent to the Cloud via high-speed 4G Internet link. The telemetry data can be analysed during or after a lap on the racetrack, via the touch-screen, a PC or smartphone.
Handmade technology of the future
In the five years of development, the Concept_One went through numerous iterations and development phases to fulfil the highest criteria of performance and quality.
In the words of the founder and CEO of Rimac Automobili, Mate Rimac: "My goal was to not to create an electric version of existing supercars. I wanted to create technology to make the supercar considerably better in every regard – faster, more fun and more efficient. I wanted to make the supercar of the 21st century. The Concept_One showcases performances which were not considered possible for electric cars a few years ago. To reach that level of performance, we first had to develop the technology and then the car. The Concept_One has gone through four iterations from a concept to the production car. In every iteration, we have redesigned almost all systems from scratch in order to achieve the level of performance and quality that we have set for ourselves in the beginning. I am also extremely proud of our vertical integration – the Concept_One is a true Rimac Automobili product – down to the smallest details."
Rimac Automobili's Head of Design, Adriano Mudri:
"It is quite unique that a whole car can be designed, developed and manufactured under one roof. Rimac Automobili's extreme broadness of know-how and skill sets opens an array of possibilities for chasing perfection on every level."
The Concept_One continues the journey that the supercars with conventional drive have started
Similar to today's supercar classics, which marked an important part in automotive history, the Concept_One also began its life on a piece of paper. Starting from the first sketch to the hand-written mathematical theory of the Rimac All Wheel Torque Vectoring system down to the basic functions and the software code which brought it to life. Just like body panels of historical supercar legends were made by precise hits of a skilled hands to form sheet metal into beautiful shapes, an almost artistic manual process creates the Concept_One's numerous components. From laying carbon-fibre, machining light alloy parts, tailoring the wiring loom, to the artistically woven interior while carefully finishing each unique part, the Concept_One represents the harmony of skills developed throughout the years of car making.
"The Concept_One represents the perfect symbiosis of modern technology developed here in our company and traditional automotive craftsmanship for which we have the utmost respect. We stay true to the roots of motorsport and old skills of car makers and engineers who created the automotive world which made a profound influence on us when we were children. Every single part of the Concept_One has been through a hand-finishing process and is carefully assembled at our facilities. We invest tremendous effort into developing the feeling which this car gives to the driver. Not only in terms of driving characteristic but also the feeling and the sound from the driver's perspective. For example, all controls in the interior are beautifully crafted mechanisms similar to the world's best watches, with hundreds of individual components, carved from solid blocks of metal. There are no plastic parts; everything the driver touches is carbon, aluminium or Alcantara. We wanted to achieve that solid feeling of classic supercars. The goal was to achieve a true connection between the driver and the machine – and that is only possible with passion, attention to details and craftsmanship. The Concept_One is a truly hand-made car." said Mate Rimac.
In-house production
The ambitious goal Rimac Automobili set themselves is to produce as much as possible in-house. Painstaking attention to every detail requires high quality, which can best be maintained and controlled if the engineering and manufacturing teams are under the same roof.
Thousands of metal, electric and carbon fibre parts have to be manufactured, assembled and tested for each Concept_One. Even the tools, jigs and moulds are designed and produced by Rimac Automobili. Most of the parts start their lives as aluminium blocks or raw bare carbon fabrics which don't leave the Rimac facilities in Sveta Nedelja before they are assembled into cars.
Battery pack
Electric vehicle batteries are usually challenged by capacity requirements. While it is challenging to develop a battery system that holds sufficient energy for an acceptable range, Rimac Automobili has faced an additional challenge: delivering one megawatt of power.
The Concept_One's battery pack is designed to deliver 1000 kW or 1MW of power during acceleration and to absorb 400 kW during braking. A unique liquid thermal management and low-resistance conducting system had to be developed in order to master this challenge. The result is a highly advanced high-performance battery pack that is designed for demanding track- use, high power delivery and safety.
Each of the 8450 battery cells is individually controlled through the in-house developed Rimac Battery Management System, which ensures optimal conditions for a long battery life and long-term performance.
Rimac All Wheel Torque Vectoring
Conceived in a road car, perfected on the most demanding road in the world – the hill climb to Pikes Peak.
Rimac All Wheel Torque Vectoring system is designed and developed by Rimac Automobili and is currently the only system in the world with this principle available on a production car. The advantages of the R-AWTV over conventional drivetrains was most noticeable on the most demanding hill-climb race in the world – Pikes Peak Hill Climb in Colorado. Nobuhiro Monster Tajima drove the Tajima Rimac e-Runner, a race car developed by Rimac Automobili, on the Pikes Peak International Hill Climb 2015 and finished in front of all combustion engine powered cars. The invaluable experience gathered during the Pikes Peak project has been implemented in the development of the Concept_One's R-AWTV system. The result is a refined, yet powerful system that works in the background to enhance the natural potential of the vehicle.
Compared with a conventional powertrain with four-wheel drive where the torque on each wheel is controlled either by braking through a hydraulic braking system or cutting the power of the engine and thus the power on all four wheels, the Concept_One does not have to make any compromises.
R-AWTV can reduce or raise the torque on any wheel at any given moment, depending on the situation and driver input, without any limitations.
R-AWTV also increases safety as it can react faster and use the potential of each tire better than traditional stability systems. A dynamic "electric ABS" is moreover included in the R-AWTV system.
The Concept_One's regenerative braking system can slow the car down with up to 400 kW of regenerative braking energy or up to 0,6g of deceleration, without activating the carbon-ceramic brakes. R-AWTV can distribute the brake force smoother, faster and with greater precision than conventional ABS systems thus ensuring the maximum vehicle stability in cases of braking on surfaces at different grip levels. Still, the driver can also chose to disable regenerative braking and use friction brakes only. The throttle-off regenerative braking function can be adjusted separately.
Depending on the wishes and driving skills of the driver, the R-AWTV can change the character of the car. The driver can choose between four driving modes: comfort, control, track and drift mode, or set-up a custom setting with customised power distribution, regenerative braking settings, etc. The R-AWTV can also be completely turned off.
The driver can choose the driving modes via knobs on the central console. Depending on the chosen mode the car will act differently on the limit of grip. It can tend to understeer, be neutral, or for the more experienced drivers, have a tendency to oversteer and thus enable more aggressive driving style through corners.
Rimac Automobili's test driver Miroslav Zrncevic explains the endless possibilities that the Concept_One has to offer: "Thanks to its unique architecture and features, the Concept_One can use the maximum potential of the tires. Depending on the driver's preferences and R-AWTV setup, it offers multiple cars in one. The Concept_One represents the pinnacle of technology and design that we can give as a company. Every unit carries its romantic story. Concept_One is a different driving experience. A car that gives a new dimension of driving experience."
Four motors, four gearboxes
Despite having full torque from zero RPM, electric motors still need a transmission to meet maximum efficiency and performance. Most electric vehicles use a single-speed transmission that forces their designers to compromise between acceleration and top-speed.
Rimac Automobili is all about innovation and pushing the limits – not about compromises. We wanted to achieve lightning-fast acceleration, and a top speed worthy of a true supercar. In order to meet those targets, we had to come up with a unique solution.
Each of the four Concept_One's motors is coupled to a proprietary gearbox system. While the front motors feature single-speed gearboxes, the rear motors carry something truly unique – a two-speed double-clutch gearbox on each side. A proprietary carbon fibre double clutch system with Formula 1 clutch-disks enables either extremely fast or smooth and comfortable shifts that are supported by synchronising motor speed for interruption-free shifting. While the dual-speed transmission unlocks new performance levels at any speed, the Concept_One can be driven in one gear all the time as it has enough torque to outperform almost any sportscar even if driven in one gear only.
Limited production
The Concept_One will be produced in the total of eight units.
Rimac Automobili's collaborate philosophy is to share ideas and technologies with other manufacturers in various industries to accelerate the shift to a more efficient and better transportation system. As a showcase of its main business, Rimac Automobili will, in addition, display its technologies and abilities that are available to other companies. A special edition of the Greyp G12S bike, made by Rimac's sister company Greyp Bikes, will also be shown in Geneva.
Technical data
Performance
Maximum power: 1088 KS (800 kW)
Maximum torque: 1600 Nm from 0 to 6500 rpm
Top speed: 355 km/h
Acceleration: 0-100 km/h (0-62 mph) 2,6 seconds; 0-200 km/h 6,2 seconds, 0-300 km/h 14,2 km/h
Braking distance: 31.5m (100-0 km/h)
Lateral g-force: 1.4 g
Charging: 22 kW on-board charger, DC-Combo fast charger (up to 120kW)
Power to weight: 588 HP/T
Dimensions
Weight: 1850 kg
Length: 4187 mm
Width: 1842 mm
Height: 1070 mm
Front tires: Pirelli P Zero 245/35 R20,
Rear tires: Pirelli P Zero 295/30R 20
Weight distribution: 42% front, 58% rear
Battery package
Voltage: 650V nominal
Capacity: 82 kWh
Rimac Automobili Battery and Thermal Management Systems
Chassis
Cro-Mo space-frame with aluminium and carbon fibre semi-stressed members
Front and rear suspension: Double wishbones, fully adjustable, pushrod operated
Hydraulically adjustable ride height
Powertrain
Front: Rimac Automobili D-PM-OC-500 – high speed dual permanent magnet oil cooled motors, 500 kW peak, 12.000 RPM, up to 97% efficiency.
2 single speed gearboxes
Rear: Rimac Automobili D-PM-OC-600 – high speed dual permanent magnet oil cooled motors, 600 kW peak, 12.000 RPM, up to 97% efficiency. Two double clutch two-speed gearboxes.
Rotor and stator oil cooling
Milled aluminium housings
Steering system
Electro-hydraulic servo system
Brakes
Front brakes: Ventilated ceramic discs Ø 390 mm, 36 mm wide. 6-piston callipers, power-assisted.
Rear brakes: Ventilated ceramic discs Ø 380 mm, 34 mm wide. 4-piston callipers, power-assisted.
Up to 400 kW of regen-braking (adjustable)
Safety Systems
ABS
Torque Vectoring with stability function
Safety disconnect systems in case of a crash
Multiple ECU architecture for monitoring of safety-relevant electronic systems
no images were found

.