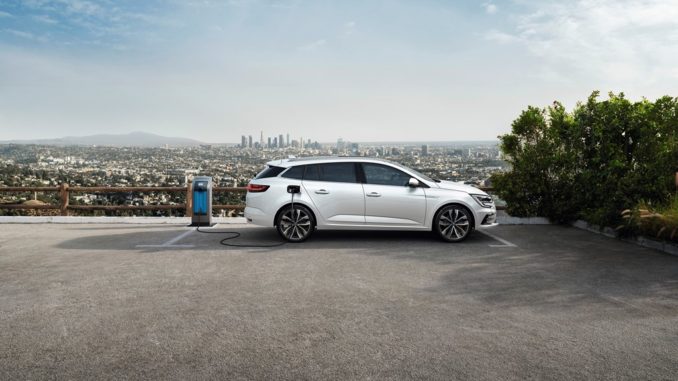 Renault introduce the first hybrid plug-in powertrain in a compact segment, powering the New Mégane E-Tech Plug-in engines.
The new Mégane E-Tech Plug-in uses technologies developed by the Alliance and the Renault Engineering Department and benefits from the electric-vehicle expertise acquired by Groupe Renault over the last ten years, as well as its experience in Formula 1 racing.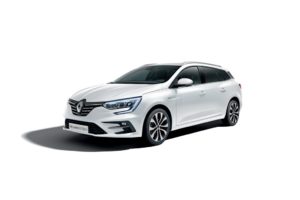 The New Mégane offers a revamped and modernised driver's cockpit. Featuring a new 9.3-inch screen for the multimedia system and a 10.2-inch screen for the dashboard, the techno cockpit benefits from all the features of the Renault EASY LINK multimedia system. Inspired by smartphone codes and uses, the system aims to be more ergonomic, functional and user-friendly.
The New Mégane is equipped with new driver-assistance systems for the safety and comfort of all passengers, including the Highway & Traffic Jam Companion, a Level 2 autonomous system that ensures comfort and peace of mind while driving.
Still boasting the same design and dynamic lines that have made it such a success, the New Mégane has become more elegant and sophisticated: all versions now feature new LED Pure Vision headlights, improving visibility and comfort on the road.
With five variations (hatch, estate, R.S. Line, R.S. and R.S. TROPHY) and a large choice of engines, including the new E-Tech Plug-in hybrid, the New Mégane caters for all needs.
The New Mégane will go on sale in the summer of 2020.
E-Tech Plug-in engine
The New Mégane's engine portfolio is expanding with the E-Tech Plug-in hybrid technology. It provides optimum versatility and a new electric-vehicle experience while reducing CO2 emissions and limiting fuel consumption, even over long distances.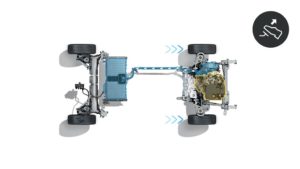 The core-market plug-in hybrid technology Renault, a leader and expert in electric mobility, brings its expertise to the New Mégane with the 160 hp E-Tech Plug-in hybrid engine, a unique energy-recovery technology that draws directly on our Formula 1 expertise to offer a unique driving experience. This core-market offering aims to address customer expectations. With various trim levels starting at the intermediate level, it will give most drivers an opportunity to experience electric driving and the pleasure associated with it. Available on launch on the New Mégane Estate, the E-Tech Plug-in engine will subsequently also be offered on the hatchback version.
F1 experience and electric expertise
The E-Tech Plug-in technology was developed by Renault's Engineering Department and has 150 patents. It uses components designed by the Alliance, like the latest four-cylinder 1.6-litre petrol engine with two electric motors and an innovative multi-mode clutch-less gearbox transmission which optimises gearshifting.
The design draws on the experience of the Renault F1 Team, which shared its energy-management expertise (energy recovered during deceleration and braking is used to recharge the battery outside charging cycles) so that the E-Tech Plug-in engine offers maximum energy efficiency. Paired with a braking system developed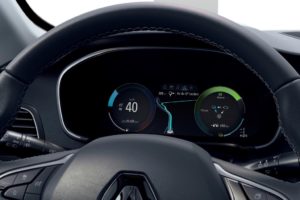 by Renault's electric vehicle experts, the New Mégane features optimum electric efficiency on the road: systematically starting in electric mode, it offers noiseless comfort when driving, immediate dynamic responsiveness for unique driving pleasure and minimised energy loss.
Versatility and fuel economy The E-Tech Plug-in engine with its 9.8 kWh (400V) battery means that the New Mégane can run on full-electric mode for 30 miles (50 km) up to a top speed of 85 mph (135 km/h) in mixed cycle (WLTP) and 40 miles (65 km) in urban cycle (WLTP City).
The New Mégane E-Tech Plug-in is versatile. It can run without using fuel on regular trips, then take you on longer weekend or holiday journeys without having to worry about the distance. Regardless of the state of charge of the battery the New Mégane E-Tech Plug-in engine benefits from the key advantages of the E-Tech hybrid system – systematic start in electric mode and lower consumption – even when the battery is discharged. In mixed cycle, the New Mégane E-Tech Plug-In emits less than 40 grams of CO2/km (WLTP figure pending final approval).
Custom settings
The New Mégane E-Tech Plug-in features specific Multi-Sense settings with three driving modes:
– Pure: available in the on-screen settings or by pushing a special button on the dashboard, it switches to full-electric mode provided there is enough power;
– MySense: it optimises the hybrid mode for lower running costs. Its "E-Save" feature helps to save battery power (at least 40%) so that it can switch to full-electric mode when required for driving in city centres, for example;
– Sport: it allows drivers to take advantage of maximum performance by combining the power of the three engines. Finally, although part of the boot is dedicated to cable storage, the New Mégane E-Tech Plug-in retains all its modularity features and a storage volume ranging from 434 to 1,247 litres.
Source: Renault