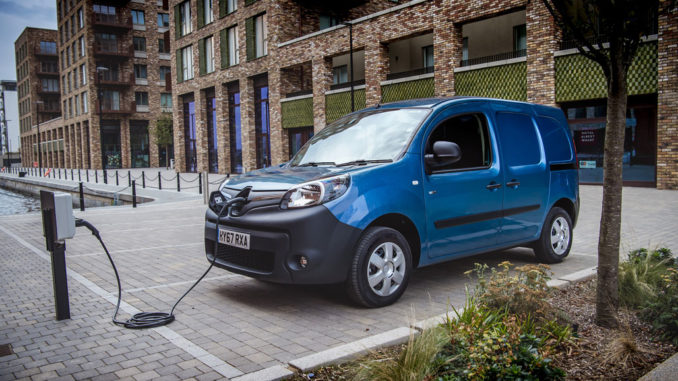 The 100% electric Renault Kangoo Z.E. has underlined its class-leading efficiency and environmental compatibility by winning the coveted Green Award at the What Van? Awards 2018, held last 13th December at the Brewery, London.
Updated in September 2017 with significant improvements to range and charging, the Kangoo Van Z.E. eclipsed the competition by impressing the leading LCV title and website's judging panel with its unrivalled real-world range and usability.
The latest Kangoo Van Z.E.33 offers an official NEDC (New European Driving Cycle) range of 170 miles, which represents an increase of over 60 per cent on the previous model and equates to a real-world range of 124 miles.
James Dallas, What Van? Editor said:
Renault, which has long led the way in demonstrating the environmental, economical and practical advantages of electric vans to light commercial vehicle operators, has once more raised the bar with the Kangoo Z.E.33, which now has a real-world range of 124 miles on a single battery charge – a 60 per cent increase compared to its predecessor.
On the success of the Kangoo Van Z.E.33 in the annual awards, Vincent Tourette, Managing Director, Groupe Renault UK, said:
With interest in fully electric vehicles at an all-time high and more business users attracted to the significant benefits they offer, we are delighted to see the Renault Kangoo Van Z.E.33 win an award that officially recognises its status as the best and most forward-thinking electric LCV in the market.

Renault is European leader in electric cars and vans and with this revised Kangoo Van Z.E.33 offers customers a relaxing-to-drive van that has instant pulling power together with ultra-low running costs and the same generous load capacity and options as the equivalent diesel version. Now with improved charging times and nearly 60 per cent more range Kangoo Van Z.E.33 is an even better business choice.
Making a significant contribution to the class-leading range of the latest Kangoo Van Z.E.33 is a new, higher density 33kWh battery, which although having significantly more storage capacity than the previous battery, is physically the same size. While ensuring the van can travel a longer distance between charges, the compact dimensions of the advanced battery also mean there is little impact on the available payload of up to 640kgs.
Together with the enhanced battery, the Kangoo Van Z.E.33 benefits from a new, more efficient, motor based on the R60, 44Kw (60hp) version that powers the game-changing ZOE Z.E.40.
Read the official Renault Group's press release here.