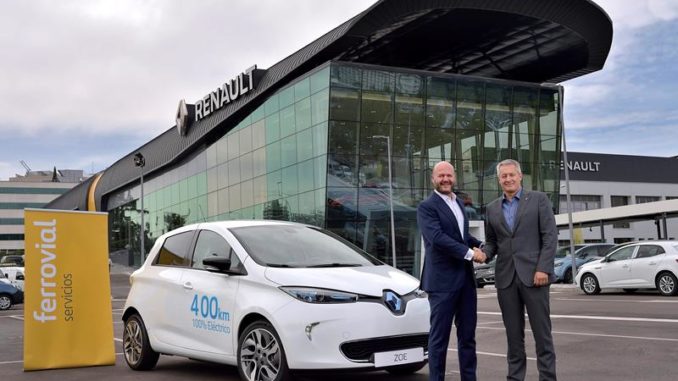 Source: Renault
Madrid, Spain. 31st August 2017. Renault and Ferrovial are joining forces to create Zity, a new car-sharing service in Madrid.
This service, launching in October, will make 500 ZOE available to Madrid residents.
Madrid, Spain. August 31, 2017. Ferrovial Services and Renault have signed an agreement to implement Zity, a car sharing service in Madrid. The project will start up with an initial fleet of 500 electric vehicles located within the M-30 beltway and in some adjoining areas.
This new car-sharing service in Madrid will become a reality thanks to the expertise of 2 leading companies Zity combines Ferrovial Services' capacities in the area of municipal services and environmentally-friendly solutions with Renault's experience as Europe's foremost supplier of electric cars and a leading brand in the field of sustainable mobility. The Madrid car sharing service will use the new ZOE. It is currently the only mass-market electric car on the market to offer an NEDC range of 400km, equivalent to about 300km in real-world conditions, thereby extending range and usage time and addressing an even larger number of users.
About Ferrovial
Ferrovial is one of the world's leading infrastructure operators and municipal services companies, committed to developing sustainable solutions. The company has 97,000 employees and operates in over 20 countries. Its main business areas are: Toll Roads, Services, Construction and Airports. It is a member of Spain's blue-chip IBEX 35 index and is also included in the Dow Jones Sustainability Index and FTSE4Good; all its operations are conducted in compliance with the principles of the UN Global Compact, which the company adopted in 2002.