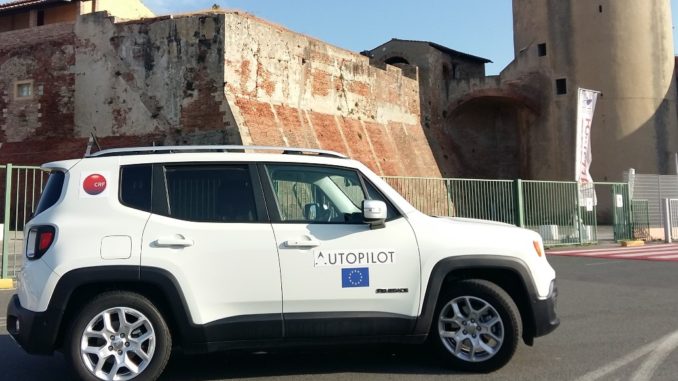 Un prototipo del CRF FCA a guida autonoma su base Jeep Renegade allo "Smart Road for AD cars" di Livorno dialoga con le infrastrutture stradali a supporto della sicurezza.
Il CRF (Centro Ricerche di Fiat Chrysler Automobiles) ha partecipato a "Smart Roads for AD cars", un workshop che si è svolto nella Cruise Terminal Meeting Hall all'interno del porto di Livorno. Il convegno ha messo in evidenza come la IoT (Internet of Things) può fornire un valido contributo nel promuovere le tecnologie necessarie per sviluppare la guida autonoma sulle auto.
FCA-CRF ha contribuito a questo evento con alcune dimostrazioni dal vivo da parte di un veicolo dimostratore prototipale – realizzato sulla base di una Jeep Renegade, nell'ambito del progetto di ricerca europeo AUTOPILOT – in grado di ricevere informazioni IoT (provenienti dall'infrastruttura e dagli altri mezzi circolanti che lo circondano) e di utilizzarle per presentare le potenzialità di queste tecnologie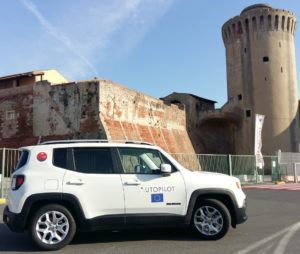 digitali a supporto di una mobilità sempre più sicura e confortevole. In questo modo, il conducente di un veicolo connesso che si muove all'interno di una rete stradale intelligente (le cosiddette smart road) sarà in grado di sfruttare le informazioni provenienti dall'esterno per migliorare la conoscenza dello scenario in cui si muove.
L'Internet of Things viene comunemente visto come un insieme di tecnologie e discipline di studio che potrà rivoluzionare o quantomeno influenzare diversi ambiti della società moderna e futura. La possibilità di avere oggetti intelligenti (smart thing) distribuiti nell'ambiente in cui viviamo, consentirà di abilitare nuovi servizi e migliorare quelli già esistenti in termini di costi e funzionalità aggiuntive. Gli oggetti a cui si fa riferimento sono dispositivi e sensori dotati di capacità computazionale e di comunicazione tali da consentire loro di interagire e raccogliere informazioni sull'ambiente che li circonda, limitando del tutto o in parte l'intervento umano.
Il progetto AUTOPILOT si inserisce in questo contesto, unendo gli stakeholder del settore automotive con quelli operanti nel campo del IoT per sviluppare architetture e piattaforme congiunte in grado di supportare il veicolo in ambienti smart. L'insieme dei sensori IoT integrati nell'infrastruttura stradale fa da complemento a quella presente sul veicolo per arricchire la descrizione dell'ambiente circostante. Così facendo si riesce a rilevare con maggior precisione (in qualità e quantità) la presenza di oggetti o eventi altrimenti difficili da identificare con la tradizionale "sensoristica" installata a bordo veicolo.
Per esempio, le informazioni sulla presenza di lavori in corso in una determinata corsia di marcia o di buche e pozzanghere sulla carreggiata possono essere diffuse con largo anticipo ai veicoli che si avvicinano, consentendo ai mezzi di pianificare la manovra più opportuna dal punto di vista della sicurezza e del comfort. Informazioni aggiuntive possono inoltre essere raccolte sulla presenza dei cosiddetti utenti vulnerabili – come biciclette cadute davanti al veicolo o pedoni che non rispettano il semaforo di un attraversamento pedonale – consentendo quindi di avvisare il conducente su potenziali situazioni di pericolo.
L'evento organizzato nel sito pilota italiano di Livorno ha così permesso a FCA-CRF di presentare i primi risultati delle attività progettuali a un ampio pubblico: stakeholder dei diversi settori interessati, imprese private, istituzioni, cittadini.