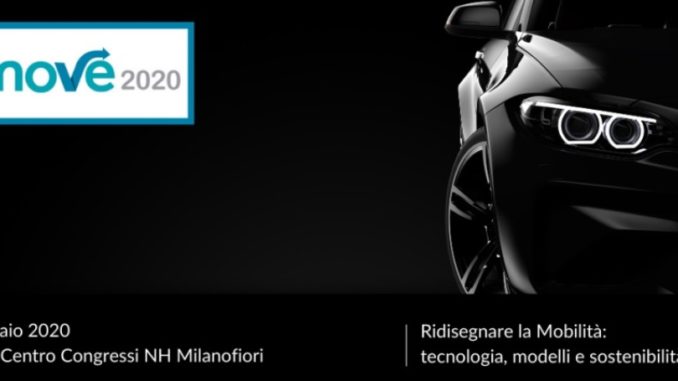 Sono attesi oltre 200 partecipanti e 55 Speaker alla prima edizione di Cmove che si terrà a Milano nel Centro Congressi NH Milanofiori organizzato da IKN Italy.
Cmove si svolgerà il 19 febbraio ed è l'unico appuntamento in Italia che raggruppa dealer, case auto, enti locali, trasporto pubblico e assicurazioni nella giornata che raggruppa 3 eventi, con l'obiettivo di Ridisegnare la Mobilità: tecnologia, modelli e sostenibilità.
Ideato e organizzato da IKN Italy, forte dell'esperienza maturata negli ultimi 4 anni grazie a InnovAuto, Cmove si articolerà in:
InnoMobilità, con focus sui sistemi di mobilità connessa, sostenibile e condivisa,
InnovAuto, in cui si tratteranno i temi inerenti il cross selling, la fidelizzazione ed experience on borad e si presenteranno le strategie 2020 di carmaker e dealer,
InnoFleet, da fleet manager a mobility manager: sicurezza, sostenibilità e costi di gestione.
Di particolare rilievo, il dibattito che si svolgerà nella sessione InnovAuto dal titolo "I nuovi sistemi di distribuzione nel settore dell'automotive nei prossimi 5 anni" che sarà una occasione per partecipare al confronto tra Francesco Maldarizzi, Presidente Maldarizzi Automotive Group, Stefano Sordelli, Future Mobility Manager Volkswagen Group Italia, Stefano Martinalli, Direttore Generale Autotorino, e Michele D'Ercole, Direttore Qualità, Performance Rete e Distribuzione Groupe PSA.
La tavola rotonda fornirà un approfondimento su diverse tematiche del settore, come le nuove strategie di vendita per affrontare il cambiamento del concetto di mobilità, dalla vendita online al potenziamento di rental service. Inoltre, si analizzerà la crescita esponenziale della presenza dei veicoli elettrici nel mondo, passati da 1,5 milioni nel 2016 agli odierni 5,3 con un focus sul ROI derivato da questo asset. Ci si confronterà sulle strategie comuni per carmaker e dealer, la centralità del cross selling delle Smart application, e , infine, un focus sul mondo dealer dove attualmente ci sono in media 10 esperti di prodotto ogni 70 venditori: ai presenti viene chiesto tra quanto questo rapporto sarà ribaltato.
"Connectivity, Autonomous Driving to Smart Mobility" è l'inspirational speech di apertura della sessione InnoMobilità a cura di Matthieu Lainne, Digital Vehicle Technology Director Nissan. Un Case History internazionale fortemente tech oriented che racconterà alla platea l'esperienza dell'importante casa automobilistica.
Un occhio di riguardo al tema della sostenibilità nella sessione InnoFleet. Il panel "Green Fleet & Sostenibilità: cosa ne pensano i Fleet Manager del motore elettrico e delle nuove forme di mobilità sostenibile?" sarà un'occasione di confronto tra due gruppi di Fleet Manager, favorevoli vs contrari, sull'adozione delle auto elettriche nelle flotte aziendali.
Guidati da Enrico Rainero, editore di BYinnovation.eu, parteciperanno al dibattito: Michela Di Giuseppe, Buying Associate Global Services Valagro; Andrea Bottazzi, Dir. Fleet Management Tper; Annapaola Grea, Fleet Manager The Boston Consulting Group; Marco Dainese, Head of Corporate Sales & Remarketing Italy Market MASERATI.
Nel rapporto costi-benefici, le voci tipologia di auto, prestazioni, consumi, sicurezza e prestigio hanno da sempre dettato le leggi della scelta dei veicoli aziendali. La legislazione europea sempre più attenta alle emissioni e a nuove forme di mobilità spingono le imprese a valutare nuove tipologie di veicoli sempre più tecnologici ed ecologici.
Gli speaker, si confronteranno sulle seguenti tematiche: Carburante alternativo, Green Fleet Technology e veicoli ibridi, quale potrebbe essere utile alla flotta aziendale; Come incentivare in azienda un guida sicura, economica ed ecologica; Veicoli e piani assicurativi: quali servizi sono indispensabili per garantire una guida sicura; NLT o proprietà quale la scelta sostenibile sia a livello economico che ambientale; Tecnologia digitali, auto connesse e tempi di ricarica: a che punto siamo?
Fonte: IKN Italy