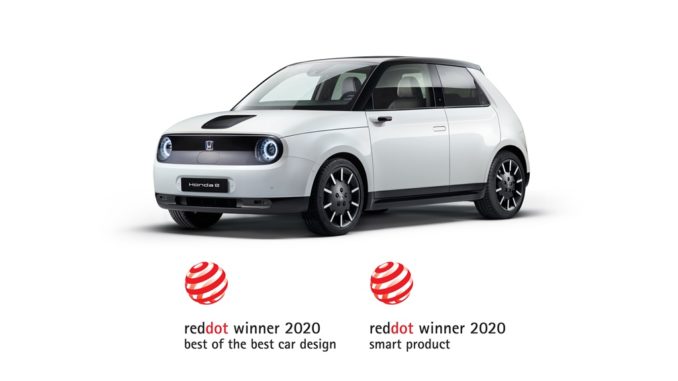 Honda e received the 'Red Dot: Best of the Best 2020' award for its ground-breaking product design of the recently launched new electric city car.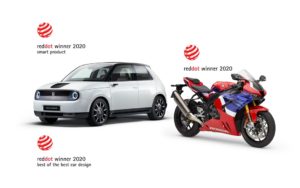 The 2020 Honda e also received recognition in the 'Smart product' category, along with Honda's all-new CBR1000RR-R Fireblade SP. This accolade for 'outstanding design' is and is the latest award win to highlight Honda's commitment to creating beautiful products that are designed without compromise.
The annual Red Dot awards honour excellence across product, brand and communication design from international businesses, with winning products showcased in the Red Dot Design Museum at the historical Design Zentrum Nordrhein Westfalen in Essen, Germany. The winning products are decided by a judging panel comprised of 40 international experts who test, evaluate and discuss each entry.
These prestigious awards place a spotlight on Honda's visionary and talented designers – Honda e, Executive Creative Director, Makoto Iwaki commented. As one of the most exceptional examples of contemporary car design in recent years, the Honda e is fully deserving of its 'Best of the Best' accolade.
Honda e is the latest arrival in the Honda Electrified Line up, providing a fully electric driving experience for future urban environments. From the signature front and rear LED lights, set in unique black, concave panels, to the stylish glass charging port cover, clean surfaces and flush features that optimise aerodynamic efficiency and refinement, the Honda e reimagines the identity of a small Honda for the next era of urban mobility.
The modern styling of the Honda e has attracted international acclaim since it was first previewed in the Urban EV at the 2017 Frankfurt Motor Show. The concept car was later recognised as 'Best Concept Car' in the renowned Car Design Award honours. The follow-up e Prototype concept, fresh from its world premiere at 2019 Geneva Motor Show, was the centrepiece of the 'Honda experience – Casa Connessa Tortona' exhibit at Milan Design Week 2019. The exhibition, which was the first time the brand has had a significant presence at the world's largest design event, offered visitors a unique insight into the design concept of the Honda e Prototype.
Source: Honda Europe