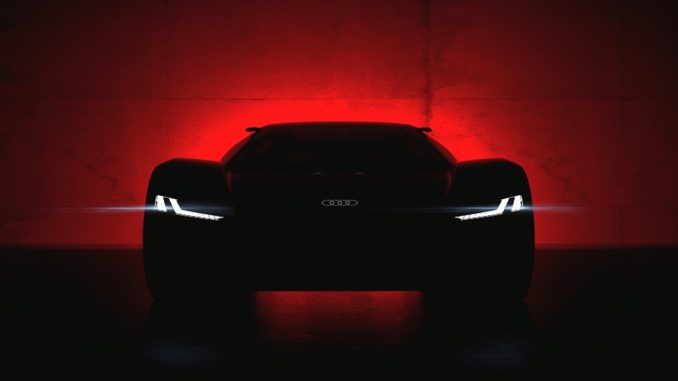 The new show car Audi PB e-tron will be unveiling at Laguna Seca racetrack on August 23, 2018 in a world first during the 2018 Pebble Beach Car Week in California.
The supercar concept car with electric drive is a design study for a puristic sports car of the future, offering emotion instead of emissions combining powerful electric drive.
Pebble Beach Car Week, held every August in and around the Californian coastal city of Monterey, has long been considered the world's most important forum for lovers of exquisite automobiles. Interest is not limited here to vintage cars but instead includes leading-edge design study concept cars and visionary technology.
The abbreviated name for the Audi premiere – Audi PB18 e-tron – refers to the Pebble Beach venue and the year of the debut. It likewise recalls the LeMans-series winner Audi R18 e-tron, whose technology inspired the solutions for various details. The styling of the Audi PB 18 e-tron was developed at the new Malibu Design Loft.
The Audi PB18 e-tron will be unveiled at 5 p.m. on August 23, 2018, on the Laguna Seca racetrack. The concept car will then be shown at the legendary vehicle presentation "The Quail" on August 24 from 8 a.m. to 4 p.m. Audi will present the concept car once more in Laguna Seca on August 25 (8:30 a.m. to 6 p.m.). And the concept car can be seen for the final time on Sunday, August 26, at the Concours d'Elegance in Pebble Beach. In parallel to the show car world premiere, Audi is also showing an extensive range of vintage cars and performance vehicles.