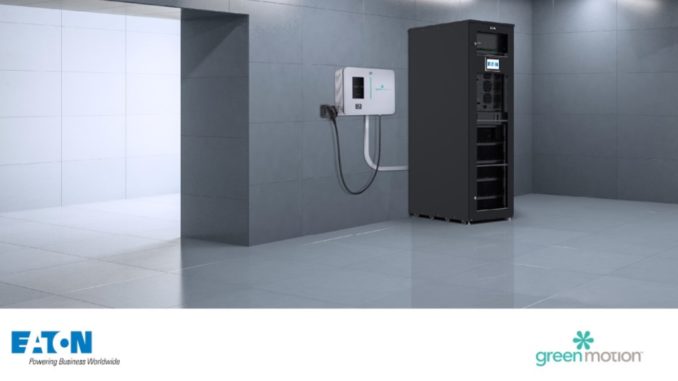 Eaton and Green Motion joined forces to integrate EV chargers in commercial buildings, residential housing and shopping malls.
The partnership between a power management company Eaton and 10-year pioneer in electric vehicle charging stations Green Motion, aimed to build combined intelligent EV charging and energy storage solution enabling building owners to access the power capacity required to install the EV charging infrastructure in efficient and sustainable way.
As the EV adoption is increasing with EV sales to reach 10 million globally by 2025 according to Bloomberg NEF, this significantly increases the energy demand putting grids under strain. Indeed, only six EVs charging close to each other at peak time could lead to local brownouts if the EV charging is not properly managed.
Connected to the grid or renewable energy sources such as solar panels, the combined intelligent EV charging and energy storage solution provides building owners with the power capacity needed to install the number of EV chargers they want. They can smoothly integrate EV chargers while ensuring grid stability for their buildings. They can save money on their utility bills by charging up when renewable energy is available, or energy is cheaper and releasing that stored energy when demand and costs are high. If the building is equipped with solar technology, this means that EV users can use more of the solar energy locally produced to power their EVs at night using the clean energy stored.
The energy storage system also provides the ultimate back-up solution, ideal at a time when energy grids are coming under enormous strain. Moreover, building owners can also generate additional revenues by selling stored energy back to the grid when demand and costs are high.
Craig McDonnell, Senior Vice President and General Manager, Power Quality and Electronics and Emerging Markets Division, EMEA at Eaton said:
With a rising number of Electric Vehicles on the road, there is a critical need to have the right EV charging infrastructure in place and the right power capacity to support. Eaton is a 100-year power management company with technology leadership in power quality and electronics. With our award-winning energy storage technology, we enable building owners who want to install EV chargers with complete power solutions. Our collaboration with Green Motion gives us the opportunity to further meet the needs of our customers with a well-integrated EV charging and energy storage solution.
François Randin, Founder and CEO, Green Motion said:
Since the very beginning more than ten years ago, Green Motion is a true visionary when it comes to charging electric cars; today, our collaboration with Eaton brings us one step further and enables to even better serve our customers giving them the opportunity to access the power capacity they need to install the EV charging infrastructure they want. Our combined intelligent EV charging and energy storage solution delivers real customer benefits whilst ensuring smarter and more sustainable energy management for the grid.
Source: Green Motion