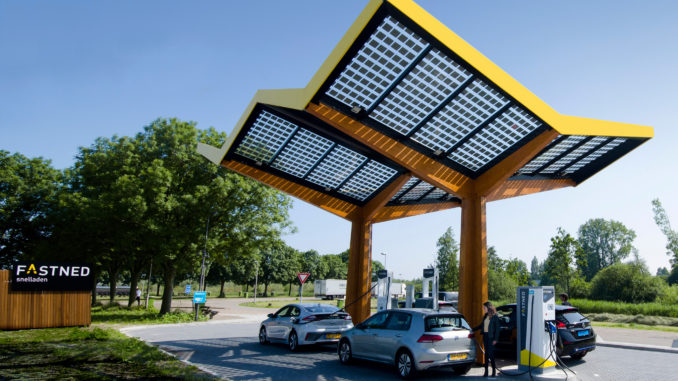 Leading electric vehicle (EV) charging provider ABB and network operator Fastned celebrates launch of 100th charging location.
As Europe approaches the introduction of stricter emission targets from 2020, the partnership between ABB and Fastned is facilitating the electric revolution set to transform European highways
The power of collaboration in driving progress to a more sustainable future is more evident than ever considering that since the launch of the pilot Fastned project in The Netherlands in 2013, the close working relationship between Fastned and ABB has facilitated the successful launch of charging sites across the Netherlands and Germany, with the UK's first high power station launching in Sunderland just a couple of weeks ago.
Located in Molenkamp along the A15 in the Netherlands, the latest launch takes Fastned one step closer to achieving its aim of 1,000 European fast charging stations on prime locations, where all electric vehicles can charge with renewable energy from the sun and wind.
Michiel Langezaal, CEO Fastned comments:
This is good news for electric drivers and a great milestone for Fastned. In 2013 we opened our first fast charging stations along the Dutch highway. Six years later we have built more than 100 stations in the Netherlands, Germany and the United Kingdom. The development of locations in Belgium and Switzerland is also well underway. With this fast charging network Fastned is now one of the largest players in Europe.
Charging technology provided by ABB for use at Fastned charging stations include ABB's Terra DC fast chargers and the company's future proof Terra High Power charger, which has the capability to provide 350kW of power and add 200 km of range to an electric vehicle in just eight minutes.
Connection to ABB's cloud-based platform ensures Fastned charging stations benefit from solutions like ChargerCare, including remote monitoring, diagnosis and maintenance, maximizing uptime and efficiency for the consumer.
ABB as pioneers in sustainable mobility have also developed added value services for Fastned users including Autocharge, which enables plug & play usability for EV drivers long before ISO15118 will become a reality on the road. A charger will automatically recognize the vehicle based on its unique vehicle identifier (EV-ID) and will commence charging after the vehicle is connected without requiring the use of an RFiD card, payment card or mobile app. This function is available for cars charging with CCS.
Frank Muehlon, Managing Director for electric vehicle charging infrastructure at ABB explains:
As a long-term technology partner of Fastned, we would like to congratulate them on achieving this significant milestone. We are delighted to have had the opportunity to support Fastned in mobilizing the growing generation of e-drivers in long-distance travel.

Serving as the sole technology partner for Fastned gave them the opportunity to focus on their core business objectives while ABB delivered the full electrification solution. We look forward to continuing our collaboration with Fastned as we share the same vision on e-mobility and on the pursuit of 1,000 European Fastned charging sites.
ABB has been at the forefront of EV technology for over 10 years, launching its first DC charger in 2010, its first national DC charging network in 2012 and the first electric bus charger in Europe in 2016. ABB has currently sold more than 10,500 DC high-speed chargers across 73 countries worldwide.
Source: ABB