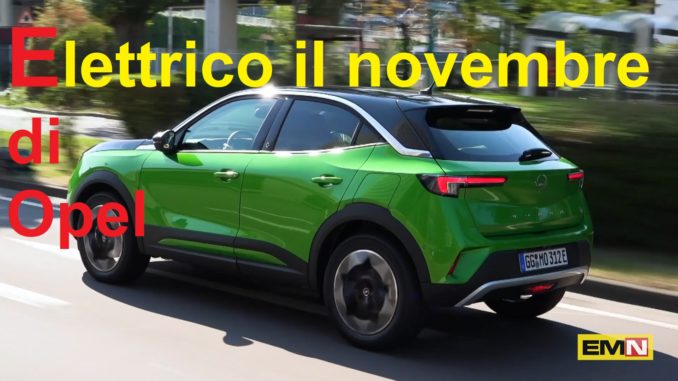 Ecco le news di Opel di novembre 2020, con Corsa-e che vince il "Volante d'Oro 2020", nuovi allestimenti di Mokka e Grandland X e una rinnovata Insignia.
Elettrizzante: la nuova Opel Corsa-e vince il "Volante d'Oro 2020"
Nuova Opel Corsa-e si è aggiudicata il "Volante d'Oro 2020", premio prestigioso assegnato dagli esperti e dai lettori delle riviste tedesche "Auto Bild" e "Bild am Sonntag". Riconoscimento ad un'auto che rende accessibile a tutti le tecnologie più avanzate per la mobilità a zero emissioni nella sua forma migliore. Con un'autonomia fino a 337 km nel ciclo WLTP e una batteria da 50 kWh ricaricabile all'80% in 30 minuti utilizzando le colonnine veloci, Opel Corsa-e è il mezzo ideale per l'uso quotidiano e offre una dotazione completa in materia di connettività e di sistemi di assistenza alla guida. Il "Volante d'Oro", già conquistato da altri 17 modelli Opel a partire dal 1978, occupa un posto d'onore nella sala dei trofei della nuova Opel Corsa, dopo essere stata eletta "Best Car of Europe 2020" e "Company Car of the Year" e aver ottenuto il "Connected Car Award 2019".
Allestimenti alto di gamma, Ultimate e GS Line, per nuovo Opel Mokka
Primo modello a presentarsi con il nuovo volto Opel Vizor e primo ad offrire il cockpit Pure Panel digitalizzato, Opel Mokka è disponibile con due allestimenti alto di gamma che ne esaltano design, funzionalità e dinamica. Esclusivo l'allestimento Ultimate, dalle dotazioni complete che comprendono fari a matrice Intellilux LED, sistema Multimedia Navi Pro e rivestimenti in Alcantara, oltre alla vasta gamma di sistemi di assistenza alla guida. Sportivo l'allestimento GS Line, caratterizzato all'esterno dai cerchi in lega da 18 pollici e da elementi in nero lucido. All'interno, pedali in alluminio e dettagli di finitura in rosso. Due nuove possibilità di scelta che accrescono le potenzialità di una gamma al vertice dell'offerta di categoria anche con la versione Mokka-e 100% elettrica.
L'ammiraglia in forma smagliante: la nuova Opel Insignia
Ammiraglia dalla forte personalità, Opel Insignia Grand Sport e Sports Tourer si presenta ora in una veste rinnovata con tratti più dinamici, eleganti ed originali. A caratterizzare l'estetica, i fari anteriori attivi Intellilux LED Pixel, che assicurano la migliore visibilità senza abbagliare le altre auto. Una prerogativa tecnologica che si aggiunge alla più ampia gamma, nella categoria di fascia superiore, di sistemi di connettività e assistenza alla guida. Ulteriormente migliorati anche gli allestimenti interni con i sedili ergonomici certificati AGR e i rivestimenti in tessuto, pelle e Alcantara. Di nuova generazione i motori, a tre o quattro cilindri, benzina e diesel, che hanno permesso una riduzione dei consumi fino al 18% rispetto alla serie precedente senza alterare le prestazioni d'eccellenza, grazie a potenze da 122 a 230 CV.
I nuovi allestimenti di Opel Grandland X offrono ora maggiore possibilità di scelta
Quattro nuovi allestimenti valorizzano lo stile dinamico e le doti funzionali del Suv Opel Grandland X, accrescendo le possibilità di scelta da parte della clientela. Business Edition rappresenta la soglia d'ingresso alla gamma, già forte di una ricca dotazione di sistemi di infotainment e assistenza alla guida, oltre all'attenzione al comfort sottolineata dai sedili ergonomici AGR. Con il Design Line si aggiungono dettagli estetici e funzionali, come i vetri posteriori oscurati, il tetto Black e i sensori di parcheggio. L'allestimento Elegance si distingue per la completezza negli equipaggiamenti che comprendono climatizzatore automatico bi-zona e assistenza automatica al parcheggio, mentre con Ultimate, Grandland X si pone al vertice assoluto della categoria, con cerchi in lega fino a 18 pollici, fari a LED adattivi, telecamera a 360° e il massimo dell'offerta tecnologica in materia di connettività e sicurezza.
Di seguito potete vedere i video, prima di quello che riguarda le vetture elettriche e di seguito quello delle vetture convenzionali del marchio Opel.
Fonte: Opel Italia