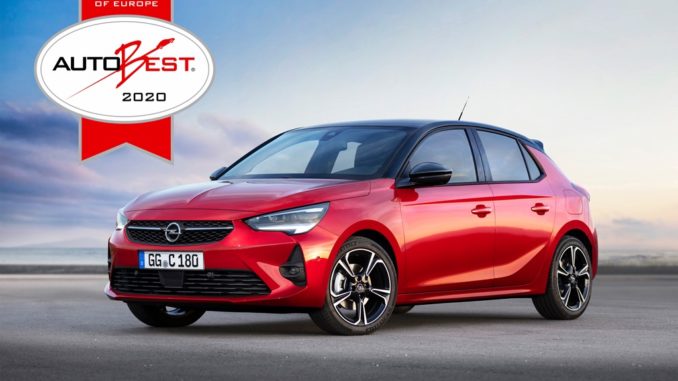 Opel Corsa vince per la terza volta il premio AUTOBEST come "Best Buy Car of Europe 2020" e "MANBEST 2019" per Michael Lohscheller che è il Manager dell'Anno.
La giuria del premio AUTOBEST, composta da giornalisti internazionali provenienti da 31 Paesi, ha giudicato la nuova Opel come la vettura con il miglior rapporto prezzo-prestazioni in Europa. Grazie a questo premio, la nuova Opel Corsa registra una tripletta AUTOBEST: nessun altro modello è infatti stato nominato "Best Buy Car of Europe" per tre generazioni di fila. Tra gli ospiti presenti alla serata di gala di Mainz vi erano Xavier Duchemin, Managing Director Marketing e Sales, Christian Müller, Managing Director Engineering, e Harald Hamprecht, Vice President Communication.
La nuova Opel Corsa è un'auto che guarda al futuro: modernissima, con eccellenti caratteristiche dinamiche e anche in versione elettrica. Offre tecnologie di vertice a prezzi corretti. Anche questo ha convinto la giuria di AUTOBEST – ha dichiarato Michael Lohscheller a Mainz. Ricevere il premio 'MANBEST' è per me un grande onore. Questo titolo è il riconoscimento dei traguardi che abbiamo raggiunto insieme a tutti i dipendenti di Opel. Abbiamo riportato Opel sulla via del successo, dove rimarremo – ha promesso il manager dell'anno 2019.
Dopo l'acquisizione di Opel da parte di Groupe PSA nel 2017, Michael Lohscheller e il suo team hanno elaborato e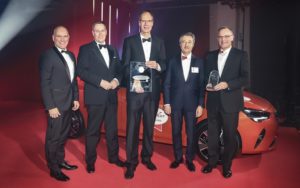 attuato un piano strategico chiamato "PACE!", grazie al quale Opel realizzerà profitti in modo sostenibile, diventando globale ed elettrica. La nuova Opel Corsa-e, presentata in anteprima mondiale la scorsa estate, ha avviato l'elettrificazione della gamma. Opel Corsa-e unisce la praticità di Corsa e un funzionamento a zero emissioni locali di CO2 con un'autonomia in modalità elettrica che raggiunge i 337 chilometri (nel ciclo WLTP1). Già nel 2007 e nel 2015, le generazioni di Corsa numero quattro e cinque hanno vinto i premi AUTOBEST. Grazie al terzo titolo AUTOBEST ottenuto dalla nuova Opel Corsa e da Corsa-e, la tradizione continua.
Riconoscimenti dagli esperti e dal pubblico: entusiasmo per i modelli Opel
La nuova generazione di Corsa è partita fortissimo. In Germania, per esempio, è già stata nominata "Company Car of the Year" e in Spagna ha vinto il "Premio Best Car Coche Global". Anche Insignia, l'ammiraglia Opel, sta mietendo successi in tutta Europa. Nel Regno Unito è stata recentemente nominata "Upper Medium Car of the Year" per il terzo anno consecutivo; in considerazione della sua elevata qualità, vanta anche il titolo di "Most reliable Midsize Car" per J.D.Power. In Germania, grazie alla modernissima trazione integrale Twinster con torque vectoring, Insignia è "All-Wheel Drive Car of The Year" e ha conquistato anche l' "Auto Test Award", oltre a detenere il "J.D. Power Award". Mokka X e Crossland X, i SUV compatti del marchio, completano la serie di riconoscimenti conquistati da Opel in quanto "Most Reliable Small SUV" nel Regno Unito e "Best Family Car" nei Paesi Bassi.
Anche i veicoli commerciali leggeri di Opel sono particolarmente popolari nel Regno Unito. Il terzetto composto da Combo Cargo, Vivaro e Movano ha ricevuto numerosi premi, da quello di "Small / Light / Medium Van of the Year" a quello di "Light Commercial Vehicle of the Year" e "TVD Best Trader's Choice Award". Il nuovo Vivaro ha ricevuto anche il "TVD Best Newcomer Award". In Europa, Opel è stato "Marchio dell'Anno" nel 2019.
[
1
] I dati relativi ai consumi di carburante e alle emissioni di CO2 sono stati calcolati utilizzando la procedura di test WLTP, ai sensi dei regolamenti R (CE) 715/2007 e R (UE) 2017/1151.
Fonte: Opel Italia