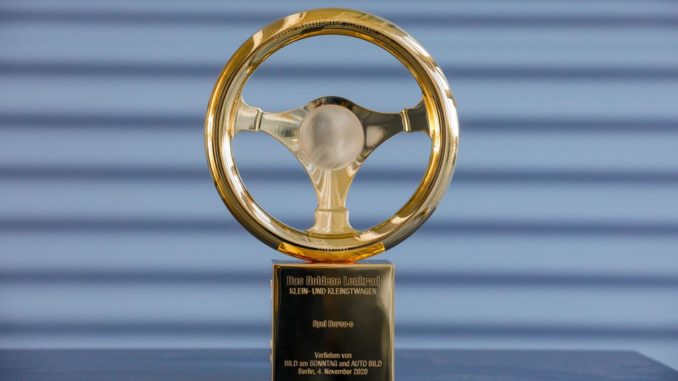 Dopo aver vinto il "Best Buy Car of Europe" e il "Company Car of the Year", Nuova Opel Corsa-e è la diciottesima vettura Opel a vincere il "Volante d'Oro".
Il "Volante d'Oro 2020" è uno dei premi più importanti nel settore automobilistico tedesco e la Opel Corsa-e completamente elettrica ha nettamente sconfitto rivali difficili, conquistando il primo premio nella categoria delle vetture piccole. La vettura di segmento B più venduta in Germania è elettrizzante sia per gli esperti e i lettori di Auto Bild e Bild am Sonntag che per i clienti.
Goldenes Lenkrad Opel Corsa

Opel is electric – dice il CEO di Opel, Michael Lohscheller – e la nostra nuova Opel Corsa-e ne è la prova migliore. Dimostra che un'auto elettrica oggi può essere non solo dinamica e pratica, ma anche accessibile a tutti. Siamo orgogliosi del modo in cui Opel Corsa-e convince tutti: i nostri clienti, i lettori di Auto Bild e Bild am Sonntag, così come la giuria di esperti e celebrità.
Come al solito, i vincitori hanno dovuto superare due ostacoli sulla strada della vittoria. In primo luogo, i lettori di Auto Bild e Bild am Sonntag hanno eletto, per ogni categoria, i loro tre favoriti per la finale. Una giuria di giornalisti, piloti di auto da corsa ed esperti di auto ha quindi testato ogni finalista sulla pista DEKRA-Lausitzring, utilizzando criteri basati sul metodo di test Auto Bild. Con un totale di 3.218 punti, la nuova Opel Corsa-e alla fine ha dominato la concorrenza nella categoria "vetture piccole", dalla Hyundai i20, finita al secondo posto, alla VW e-Up, arrivata terza, con un vantaggio rispettivamente di 141 e 431 punti.
Di seguito le vetture Opel che hanno vinto il premio "Volante d'Oro"
| | |
| --- | --- |
| "Volante d'Oro" per anno | Modello |
| 1978 | Opel Senator A |
| 1979 | Opel Kadett D |
| 1981 | Opel Ascona C |
| 1982 | Opel Corsa A |
| 1984 | Opel Kadett E |
| 1987 | Opel Senator B |
| 1990 | Opel Calibra |
| 1994 | Opel Omega B |
| 1995 | Opel Vectra B |
| 1999 | Opel Zafira A |
| 2002 | Opel Vectra C |
| 2005 | Opel Zafira B |
| 2009 | Opel Astra J |
| 2010 | Opel Meriva B |
| 2012 | Opel Zafira Tourer |
| 2015 | Opel Astra K |
| 2017 | Opel Ampera-e |
| 2020 | Opel Corsa-e |
Fonte: Opel Italia