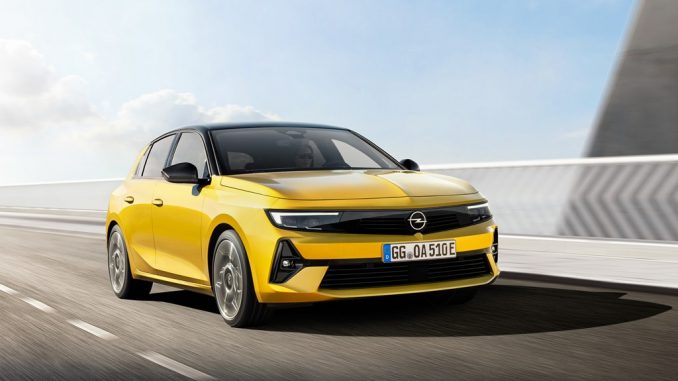 Bold and pure, o se preferite tradotto all'italiano, audace e pura; questo è il design che sfoggia la nuova Opel Astra, elettrificata per la prima volta.
Nuova Opel Astra è stata dotata di tecnologie di vertice e dinamica come non mai, caratterizzata da superfici nette e tese, con un detox di elementi superflui e con il nuovo volto del marchio, l'Opel Vizor oltre all'ultima versione del posto guida con il Pure Panel completamente digitale. Opel dimostra così che Astra è pronta a definire una nuova epoca.
Opel Astra è un perfetto esempio di precisione tedesca: il nuovo modello è stato progettato e sviluppato presso la sede di Opel, dove la produzione inizierà il questo autunno.
La nuova interpretazione della filosofia stilistica Opel 'bold and pure'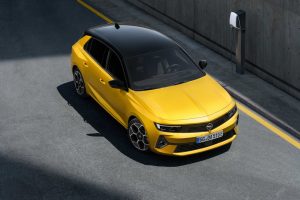 Dopo i SUV Opel Mokka, Crossland e Grandland, la nuova Astra è la prima berlina Opel a interpretare la filosofia stilistica 'bold and pure' del marchio. L'Opel Vizor (il nuovo volto del marchio comparso per la prima volta su Opel Mokka e Crossland e principale elemento stilistico del design esterno) segue l'Opel Compass (la bussola) dove gli assi verticale e orizzontale, la netta piega sul cofano e la grafica ad ala delle luci per la marcia diurna, si intersecano con il logo Opel al centro. Il Vizor si estende su tutto l'anteriore, facendo apparire ancora più larga la nuova Opel Astra, e integra tecnologie come i fari anteriori ultrapiatti Intelli-Lux LED e la telecamera anteriore del sistema Intelli-Vision. Vista dalla fiancata, la prossima generazione di Opel Astra ha un aspetto particolarmente dinamico grazie alla pronunciata inclinazione in avanti del montante posteriore.
L'Opel Compass si ripete al posteriore con il logo posizionato al centro, la luce di stop allineata verticalmente e posizionata in alto e i gruppi ottici posteriori (LED a risparmio energetico, come tutti i fari). Il logo funge anche da apertura per il portellone posteriore, realizzato in materiale composito all'avanguardia. La tecnologia non è solo leggera, ma consente anche la precisa esecuzione di dettagli stilistici come i fari posteriori particolarmente sottili.
La nuova Opel Astra rappresenta l'entusiasmante passo successivo del nostro nuovo design – ha dichiarato Mark Adams, Vice President Design. Con l'audace volto anteriore del Vizor, i robusti passaruota e le superfici nette, la nuova Opel Astra vanta una personalità molto sportiva e sicura. Anche l'abitacolo costituisce un audace passo nel futuro. Il posto guida, fortemente orientato verso il guidatore, con il nuovo Pure Panel completamente vetrato, regalerà ai nostri clienti un'esperienza emotiva completamente nuova.
Lunga 4.374 millimetri e larga 1.860 mm, la nuova Opel Astra si posiziona proprio al centro del settore delle compatte. La nuova generazione è solo 4 mm più lunga del modello precedente, nonostante il passo di 2.675 mm sia notevolmente maggiore (+13 mm). La vettura ha un aspetto sportivo, ma non perde nulla dal punto di vista della praticità nell'uso quotidiano. In futuro, i clienti potranno scegliere Opel Astra anche con la finitura bicolore a contrasto, che sottolinea ulteriormente il carattere sportivo del nuovo modello.
La prossima generazione del posto guida digitale Pure Panel con opzione completamente vetrata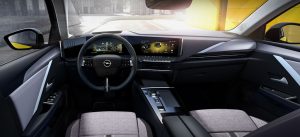 La stessa precisione tedesca si applica a tutto l'abitacolo, che ha fatto un vero e proprio salto quantico. L'elemento di maggior spicco è la prossima generazione del Pure Panel, presentato per la prima volta su Opel Mokka. Questo grande posto guida digitale (in opzione completamente vetrato) è dotato di due schermi da 10 pollici, perfettamente integrati insieme alla bocchetta di aerazione lato guidatore, in orizzontale. Sulla nuova Opel Astra la strumentazione analogica viene consegnata alla storia. La costruzione è fatta in modo da impedire i riflessi verso l'alto nel parabrezza e permette di fare a meno della copertura sopra gli schermi, evidenziando ulteriormente la funzionalità e l'atmosfera hi-tech.
Designer e ingegneri Opel si sono preoccupati particolarmente di fare in modo che chi guida riceva tutte le informazioni necessarie e utili opzioni operative, senza essere gravato da funzioni o dati superflui. Con i comandi fisici ridotti al minimo, sotto forma di tasti finemente lavorati, il Pure Panel raggiunge l'equilibrio ottimale tra digitalizzazione e funzionamento intuitivo, con un detox degli irritanti stimoli visivi e senza aver bisogno di sottomenu. Nessuna Opel è mai stata così intuitiva e semplice da utilizzare come la nuova Opel Astra. Non servono neppure cavi, dato che il sistema di infotainment di nuova generazione con servizi in connessione, che può essere comandato con il riconoscimento vocale e in modalità touch, può essere connesso di serie su tutte le versioni ad Apple CarPlay e Android Auto in modalità wireless attraverso gli smartphone compatibili.
Fonte: Opel Italia