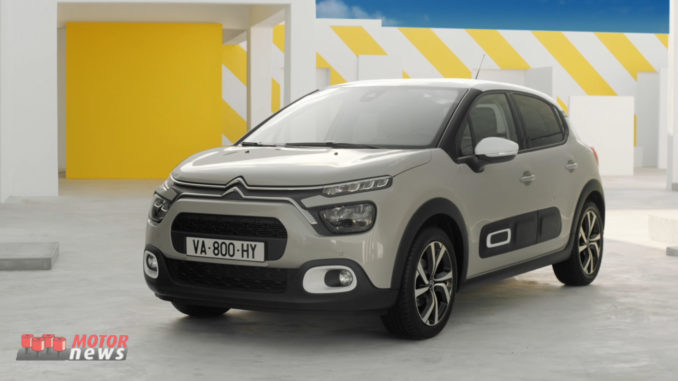 Le attività, promozioni, il debutto di nuovo SUV Citroën C5 Aircross Hybrid Plug-in  e il lancio di evoluzioni dei prodotti Citroën nel mese di ottobre 2020.
Nuova Citroën C3
Già presso le Concessionarie italiane Nuova Citroën C3, l'evoluzione della best seller della Marca che in questa terza generazione ha già conquistato oltre 850.000 clienti dal suo lancio a fine 2016. Nuova C3 si rinnova nel design e si distingue per il nuovo frontale, con la firma luminosa a forma di "V", i nuovi proiettori a LED, di serie su tutte le versioni, nuovi Airbump e nuovi cerchi da 16 e 17".
Aumenta la possibilità di personalizzazione, con 97 combinazioni di colore, grazie a 7 tinte per la carrozzeria, 4 pack color a contrasto, tetto bicolore disponibile in 4 tonalità e con 3 decorazioni specifiche. Offre 3 ambienti interni di cui 2 totalmente nuovi con i sedili Advanced Comfort, una novità nel segmento. La gamma motori comprende i PureTech a benzina (anche per neopatentati e anche con cambio automatico a 6 rapporti) e il diesel Blue Hdi da 100 cavalli, tutti Euro 6, parsimoniosi ed efficienti. Dodici le tecnologie di aiuto alla guida e tre i servizi di connettività.
Di seguito potete vedere il video…
SUV Citroën C5 Aircross Hybrid Plug-in
Debutto in Italia per SUV Citroën C5 Aircross Hybrid Plug-In, il più confortevole e modulabile del suo segmento: Best in Class grazie ai sedili posteriori individuali, scorrevoli e ripiegabili a scomparsa, oltre al volume del bagagliaio record fino a 600 litri.
La motorizzazione ibrida ricaricabile offre una grande versatilità di utilizzo: modalità elettrica, per tutti i giorni, con autonomia di 55 km, zero emissioni e accesso alle zone urbane; tutte le prestazioni del motore termico per le lunghe percorrenze; modalità ibrida, in grado di combinare il meglio delle due motorizzazioni. Ai massimi livelli le doti di comfort, grazie alle esclusive sospensioni con Smorzatori Idraulici Progressivi e ai sedili Advanced Comfort, a cui aggiunge tutto il piacere di una guida fluida e silenziosa in modalità 100% elettrica. Al servizio di sicurezza e benessere a bordo, 6 tecnologie di connettività e 20 sistemi di assistenza alla guida, tra cui il sistema di frenata rigenerativa, la funzione ë-Save, per accantonare una riserva di energia, e le modalità di ricarica semplificata e programmabile.
Nuova campagna TV di SUV Citroën C5 Aircross Hybrid Plug-in
Durante il mese di ottobre, per accompagnare il lancio in Italia di SUV C5 Aircross Hybrid Plug-In, on air la nuova campagna TV. Il film vede come protagonista il silenzio, qualità d'eccellenza del nuovo modello che abbinato alla modalità di guida 100% elettrica enfatizza una delle prerogative della Marca, il comfort.
Silent Urban Vehicle in classe ë-Comfort e primo modello ibrido plug-in della Marca, SUV Citroën C5 Aircross Hybrid offre un'esperienza di mobilità estesa: alla libertà di viaggiare in modalità termica in qualsiasi momento, aggiunge il piacere della guida in modalità elettrica: fluida e silenziosa, in assenza di vibrazioni a bordo, con un'autonomia di 55 km in ciclo WLTP, adatta per tutti i giorni, fino a 135 km orari.
Citroën @ Milano Design City
Con l'allestimento "TIME TO BE MY AMI", Citroën ha sorpreso alla Milano Design City, nel mese di ottobre, creando un percorso immersivo alla scoperta di Ami-100% ëlectric, innovativo oggetto di mobilità urbana, ad emissioni zero, accessibile a tutti, a partire dai 14 anni. Una soluzione rivoluzionaria e anticonformista che interpreta in maniera contemporanea la creatività e l'innovazione di Citroën e risponde alle nuove esigenze di mobilità in città. Dalle dimensioni ultra compatte, offre ampio spazio a bordo per due persone sedute di fianco, autonomia di 75 km e una ricarica facile e veloce, da una normale presa di corrente, in sole 3 ore. 
"Ami Loves Milan"
All'interno della Milano Design City, Citroën ha svelato "Ami loves Milan", progetto sviluppato a settembre con il coinvolgimento di quattro giovani designer diplomati presso il prestigioso Istituto Europeo di Design per proporre una personalizzazione grafica di Ami-100% ëlectric ispirandosi alla città di Milano. Durante la Milano Design City, è stato esposto il progetto creativo più apprezzato, realizzato con una grafica geometrica, razionale, dai colori vivaci, che riproduce i simboli più rappresentativi della capitale lombarda.
Di seguito il video delle vetture ecologiche del brand…
Fonte: Citroën Italia