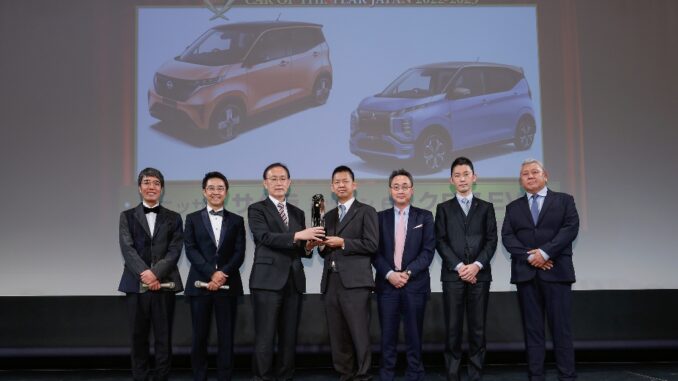 For the first time in the 43-year history of Japan's Car of the Year awards, fully electric 'K-minicars' (Nissan Sakura and Mitsubishi eK Cross EV) captured the country's highest automotive award.
As integral partners in the Renault-Nissan-Mitsubishi Alliance, Nissan and Mitsubishi collaborated to create the electric 'Sakura' and 'eK Cross EV' K-cars which share platforms, powertrains and underpinnings. But this potentially game-changing K-car combination was not finished with one award. The two sister cars went onto win the 'K-car of the Year' special prize as well. Many jurors praised the EV's size and roomy packaging, its perky 64hp and 195Nm powertrain, its 180 km range, its accessibility to the average motorist, and its price, that sees the car's sticker price dropping under ¥2 million (@£12,000) with tax credits deducted.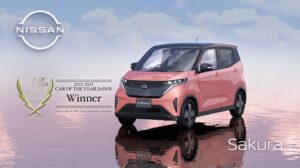 The 60 jurors of Japan's Car of the Year organization gathered at the 73-story tall Yokohama Landmark Tower to select the best cars of 2022. Pre-ceremony hype had centered on the expected battle between the electric Nissan Sakura and Mitsubishi eK Cross EV, the Honda Civic and the Toyota Crown, with the strongest imported model appearing to be the Hyundai Ioniq 5. That tussle did not eventuate as the Nissan Sakura and Mitsubishi eK Cross EV polled strongly from that start and with a convincing total of 399 votes, triumphed to win the 2022 Japan Car of the Year.
The Hyundai Ioniq 5 polled 75 votes to be crowned the Japan Import Car of the Year for 2022-23, making it the first Asian model to win a major award in Japan.
The Honda Civic came second with 320 votes, the Toyota Crown received 236 votes to come in third while the Mazda CX-60 was awarded 141 votes for fourth and the Nissan X-Tail got 84 votes to be ranked fifth.
In the special awards categories, in addition to the above-mentioned K-car trophy going to the Sakura and eK Cross, the Honda Civic Type R picked up the Japan COTY Performance Award, and the BMW iX captured the Japan COTY Design award. Nissan actually picked up three awards on the night, including the Technology award for the X-Trail's powertrain, in addition to the main COTY trophy and the K-car award.
Source: JCOTY – Japan Car of the Year