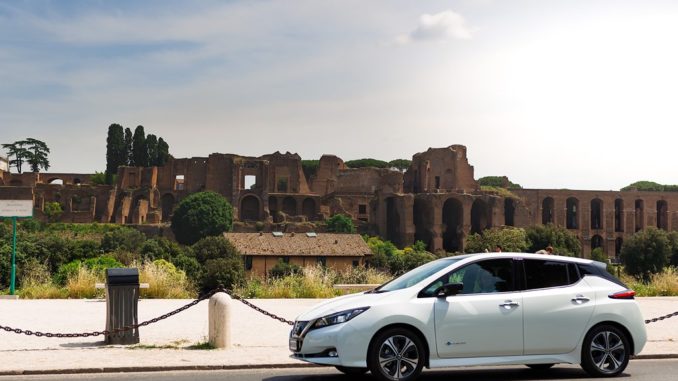 Nissan Leaf all'UIGA day 2012: in piazza a Eataly per promuovere la mobilità a emissioni zero
Fonte: Nissan Italia
Roma, Italia. 11 ottobre 2012. Prende oggi il via l'edizione 2012 dello storico evento organizzato da UIGA (Unione Italiana dei Giornalisti dell'Automotive). Anche quest'anno, molte le vetture in lizza per il prestigioso titolo di Auto Europa.
Dopo ventisei edizioni, l'evento approda a Roma, nello spazio antistante Eataly, in piazzale XII Ottobre 1492. Fino a sabato 13 ottobre, i visitatori potranno ammirare e testare le vetture di ultima generazione e provare le nuove tecnologie automobilistiche disponibili sul mercato. Nissan sarà presente con la LEAF, la vettura 100% elettrica più venduta la mondo.
Grazie al suo concentrato di innovazioni e alla sua capacità di regalare un'esperienza di guida divertente, brillante e pulita, con oltre 40.000 unità vendute dal lancio. Dotata di un motore in corrente alternata da 80 kW di potenza e 280 Nm di coppia, Nissan LEAF è alimentata da una batteria laminata agli ioni di litio di oltre 90 kW, che può essere ricaricata da zero a 100% in otto ore con una ricarica standard, oppure da zero all'80% in soli 30 minuti utilizzando una colonnina di ricarica rapida.
Nissan LEAF è stato il primo veicolo elettrico prodotto in serie su larga scala ad avere vinto i titoli di European World Car Of The Year 2011, nonché di Auto dell'Anno 2011-2012 in Giappone. Lanciata sul mercato statunitense e giapponese nel 2010 e commercializzata anche in Italia a partire dallo scorso aprile, è la prima vettura a zero emissioni prodotta su larga scala per il mercato mondiale. Oltre 40.000 unità sono state vendute globalmente dalla sua introduzione nel dicembre 2010, facendo di Nissan LEAF il veicolo elettrico più venduto al mondo. Il motore in corrente alternata sviluppa 80 kW di potenza e 280 Nm di coppia, sufficienti a raggiungere 145 km/h di velocità massima. Il motore elettrico è alimentato da una batteria laminata agli ioni di litio di oltre 90 kW. Per ricaricare da zero al 100% la batteria sono necessarie otto ore con una ricarica standard, ma occorrono solo 30 minuti per ripristinare da zero all'80% dell'autonomia utilizzando una presa di ricarica rapida in condizioni ottimali. Nissan LEAF è la prima vettura elettrica al mondo ad aver ottenuto le cinque stelle Euro NCAP per la sicurezza. L'equipaggiamento di serie di Nissan LEAF è ricco e comprende: aria condizionata, sistema di navigazione satellitare, retrocamera per il parcheggio. La produzione europea di Nissan LEAF prenderà il via a Sunderland all'inizio del 2013.
In Europa, Nissan è uno dei maggiori costruttori extraeuropei presenti. Impiega oltre 14.500 persone nelle sue attività di design, ricerca e sviluppo, produzione, logistica, vendite e marketing. L'anno scorso, gli stabilimenti Nissan in Gran Bretagna, Spagna e Russia hanno prodotto 677.000 veicoli, tra cui mini-monovolume, crossover, SUV e veicoli commerciali. Oggi Nissan offre sul mercato europeo 24 diversi prodotti, tutti innovativi. La sua presenza all'UIGA day 2012 va letta come un'ulteriore spinta alla promozione della mobilità elettrica in Italia.
Ma altrettanto positivi sono i numeri del mercato globale di Nissan Motor Co., Ltd., seconda Casa automobilistica giapponese per volumi di vendita. Ha sede a Yokohama, in Giappone, ed è partner dell'Alleanza Renault-Nissan. Conta infatti 248.000 dipendenti in tutto il mondo e ha venduto più di 4,1 milioni di veicoli nel 2010, generando un fatturato pari a 8,77 trilioni di yen (102,37 miliardi di dollari USA). Nel quadro dell'impegno volto a sviluppare prodotti interessanti e innovativi per tutti, offre una gamma completa di 64 modelli commercializzati con i marchi Nissan e Infiniti. Pioniere della mobilità a emissioni zero, Nissan ha segnato un traguardo storico con l'introduzione di Nissan LEAF, il primo veicolo totalmente elettrico per il mercato di massa venduto a un prezzo accessibile, vincitore di numerosi riconoscimenti internazionali, tra cui i prestigiosi titoli di Auto dell'Anno 2011-2012 in Giappone, Auto dell'anno 2012 conferito dalla RJC, Auto dell'anno 2011 in Europa, nonché World Car of the Year 2011.