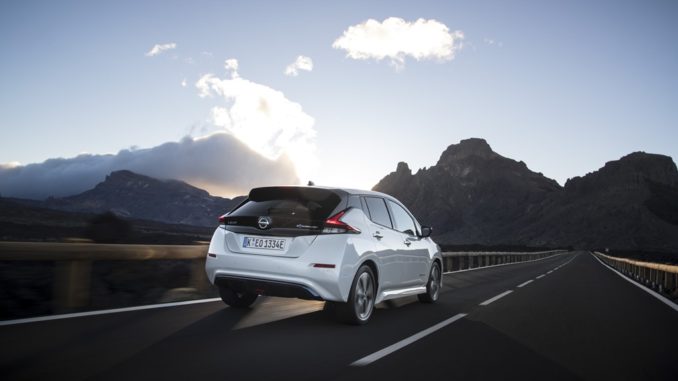 Nissan ha incrementato del 10% le sue vendite di veicoli elettrici nell'anno fiscale giapponese appena concluso e la Nissan Leaf si conferma come l'auto a emissioni zero più venduta in tutto il mondo.
Nell'anno fiscale terminato lo scorso 31 marzo, la berlina 100% elettrica ha fatto registrare una solida crescita in tutti i principali mercati di veicoli elettrici: Giappone, Europa e Stati Uniti.
Secondo le previsioni, la domanda è destinata ad aumentare ulteriormente dopo il lancio della seconda generazione di Nissan Leaf, che offre un'autonomia superiore e nuove tecnologie all'avanguardia. La nuova versione sta riscuotendo particolare successo in Giappone e negli Stati Uniti e nel corso del nuovo anno fiscale sarà commercializzata anche in altri mercati, tra cui America Latina, Asia e Oceania.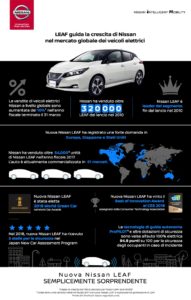 In Italia la nuova Nissan Leaf, lanciata lo scorso dicembre 2017, tra immatricolazioni e ordini ha totalizzato ad oggi oltre 1.000 unità, pari a quanto venduto negli ultimi 2 anni con la precedente generazione.
Daniele Schillaci, Executive Vice President, Global Marketing and Sales, Zero Emission Vehicle and Battery Business di Nissan ha dichiarato:
Le forti vendite dei veicoli elettrici Nissan a livello globale confermano la nostra esperienza e la nostra leadership nelle tecnologie a zero emissioni. Un notevole contributo alla crescita di Nissan nel 2017 è stato determinato dalle elevate richieste dell'auto elettrica più all'avanguardia al mondo, la Nissan Leaf. Straordinaria dal punto di vista tecnologico e già disponibile in numerosi mercati, Nissan Leaf è il veicolo elettrico più venduto al mondo. Una leadership che ci aspettiamo di riconfermare anche nel 2018.
Nell'anno fiscale 2017 i clienti hanno acquistato 54.451 Nissan Leaf, con un aumento del 15% rispetto alle 47.423 unità dell'anno precedente. In totale, sono oltre 320.000 le Nissan Leaf vendute dal lancio della prima generazione del 2010 e, attualmente, l'auto è commercializzata in 51 mercati.
In Italia, dal lancio della prima generazione avvenuto nel 2011, sono state vendute in totale 2.266 Nissan Leaf, confermandosi l'auto elettrica più venduta in Italia. Anche nel 2017 Nissan Leaf si è posizionata al primo posto nelle vendite dei veicoli elettrici sul territorio nazionale con 465 unità.
La nuova versione della berlina è dotata di molte tecnologie e caratteristiche all'avanguardia, tra cui il sistema di guida autonoma ProPILOT, il ProPILOT Park, l'e-Pedal e una maggiore autonomia e potenza.
Presto Nissan Leaf sarà disponibile anche in Argentina, Australia, Brasile, Cile, Cina, Colombia, Costa Rica, Ecuador, Hong Kong, Malesia, Nuova Zelanda, Porto Rico, Singapore, Corea del Sud, Tailandia e Uruguay.
A febbraio, il Japan New Car Assessment Program ha premiato la sicurezza della nuova Nissan Leaf con un punteggio di 5 stelle. La tecnologia di guida autonoma ProPILOT ha permesso al modello di conquistare ben 94,8 punti sui 100 assegnati per la sicurezza degli occupanti in caso di incidente. Tra le altre dotazioni che hanno contribuito alla valutazione positiva rientrano anche la struttura della scocca altamente resistente, i sei airbag SRS, i sedili con poggiatesta e schienali rinforzati e le cinture di sicurezza con pretensionatori e limitatori di carico per i sedili anteriori e posteriori esterni.
A marzo la nuova Nissan Leaf è stata eletta anche "2018 World Green Car" nei World Car Awards.