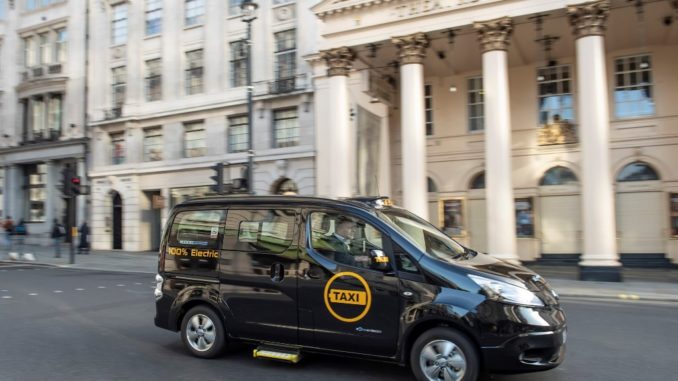 Dynamo launched the UK's first Transport for London approved electric taxi based on the Nissan e-NV200 wheelchair accessible and capable of carrying up to five passengers.
Dynamo is UK-based vehicle manufacturer and its 'Hackney Carriage' black cab for London is named Dynamo Taxi.
The last time London had a 100% electric taxi was 120 years ago, when Queen Victoria was still on the throne. The Bersey Taxi, was introduced in 1897 and was operational until 1899*. It had a range of 30 miles between each recharge.
Dynamo Managing Director Brendan O'Toole unveiled the Dynamo Taxi, based on a Nissan e-NV200 Evalia MPV, at the International Clean Air Conference at London City Hall in front of attendees including New Minister for the Future of Transport George Freeman, Mayor of London Sadiq Khan and Nissan Motor (GB) Ltd. Managing Director Kalyana Sivagnanam.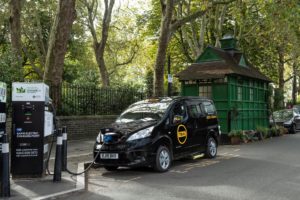 The Dynamo Taxi is expected to accelerate the retirement of current diesel taxis from city streets across the UK, improving air quality. Taxis currently account for 16% of all vehicle nitrogen oxide (NOx) emissions in central London, according to TfL figures**.
To curb emissions, Transport for London has introduced new, tougher, licencing requirements for new taxis, limiting their emissions to 50g/km CO2 and a mandatory zero emissions range of at least 30 miles. Any new taxi vehicle has to meet these emissions criteria to operate within London***.
London has also committed to being a zero carbon city by 2050, with plans to introduce local zero emissions zones on top of the current ULEZ****. Research by the Mayor of London's office found the London's Ultra Low Emissions Zone has reduced roadside Nitrogen Oxide pollution by a third since its introduction earlier this April Ŧ.
The Dynamo Taxi costs £55,495, and is eligible for £7,500 in Government Plug-in Car Grant funding bringing the price down to £47,995 for drivers, making it very competitive in the EV taxi market.
Taking the highly successful Nissan e-NV200 Evalia MPV as a basis, each Dynamo Taxi is re-engineered into a wheelchair-accessible vehicle capable of carrying up to five passengers by Dynamo at its Coventry headquarters.
Drivers can currently view the taxi at Dynamo's London dealership in Colindale, NW9, which opened in June. Deliveries of the first Dynamo Taxi's begun in October 2019.
Source: Dynamo