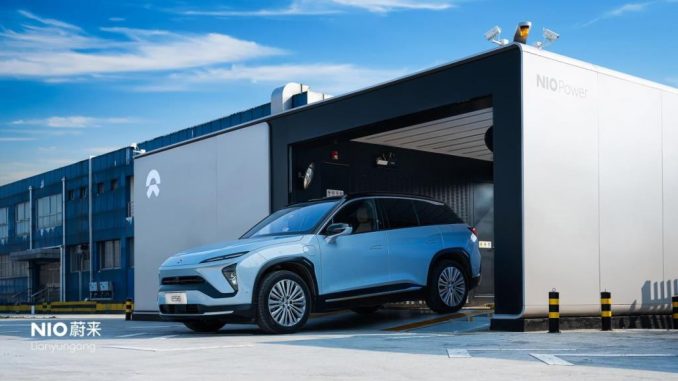 The NIO's 700th battery swap station has been installed in Lianyungang City, Jiangsu Province in eastern China.
The swap station enables users to choose Battery-as-a-Service (BaaS) for optimum flexibility and pricing
Roll out of swap stations will extend beyond China with 1000th set to be outside of China by 2025.
In three minutes, NIO's second-generation battery swap station enables the vehicle to automatically park into the station and switch for a fresh, fully-charged unit. The service forms part of NIO Power, a comprehensive suite of battery management services that simplify electric car usage. Alongside swap stations and chargers, NIO users have the option to flex between different battery capacities thanks to its Battery-as-a-Service (BaaS) programme.
Prior to July, NIO's goal was to have 500 battery swap stations running by the end of the year, a target it has now exceeded. In addition to the 700 battery swap stations, NIO's power network comprises 3,020 power chargers and 3,319 destination chargers. In Shanghai alone there are 60 swap stations, 63 supercharging stations, 21 destination charging stations and via NIO Power, access to 32,942 third-party charging piles in Shanghai.
The accelerated rollout has focused on urban areas to best serve NIO users. At the end of November, 42.34 per cent of NIO users lived within three kilometres of their nearest battery swapping station. The latest "Station to Vehicle" ratio means on average, each battery swap station serves 258 cars, down from 272 in October.
By the end of 2025, NIO will have 4,000 active battery swap stations worldwide with around 1,000 outside of China. As part of the NIO Power 2025 plan, NIO has confirmed its charging and swapping system, as well as BaaS (Battery-as-a-Service), will be fully available to the industry. To support NIO's rollout of services it recently signed a new strategic cooperation agreement with Shell. Together, NIO and Shell will construct and operate battery charging and swapping facilities in China by 2025 and in Europe from next year. Shell's charging network in Europe will also become available to NIO users.
Source: NIO Inc.