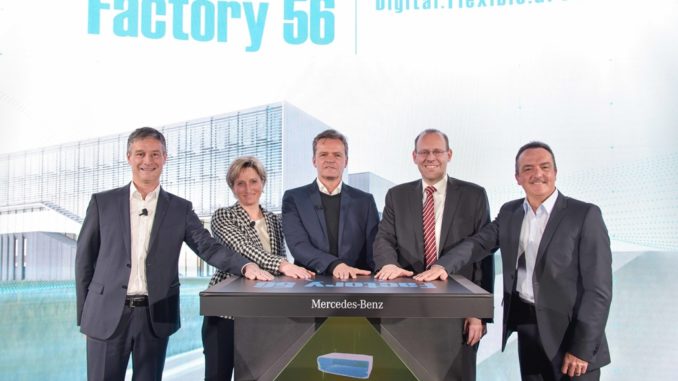 The "Factory 56" by Mercedes Benz Cars in Sindelfingen is the plant of the future that combines three actually trend-setting features; it is consistently digital and flexible – and it brings the term 'green production' to life reinventing the way to produce cars.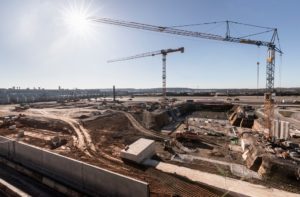 In 2020, the "Factory 56" will already start production of upper- and luxury-class cars and electric vehicles at the Mercedes-Benz Sindelfingen plant. Passenger cars, electric vehicles of the upper and luxury class and robo-taxis will be produced.
These include the new generation of the S-Class as well as the first electric vehicle of the product and technology brand EQ "made in Sindelfingen".
The production concept of the "Factory 56" is setting new standards. This includes man-machine-cooperations and digitally supported processes including work organization as well as logistics and quality assurance.
The plant is not only digitised consistently according to Industry 4.0, it is also connected to other productions in the global production network.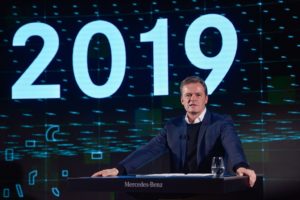 The 360 degree linkage along the whole value chain is an essential feature – from the suppliers, through to the development department, design and our production and to our customers. In the future, for example, the finished vehicles shall drive off the line automated to the loading station. Under "Digital Anticipation" in the Mercedes me App and online, customers purchasing new vehicles can already today gain exclusive insights into the production of their vehicles and thus have a much more enjoyable wait for delivery.
In the assembly hall itself state-of-the-art Industry 4.0 technologies are used. Driverless transport systems (DTS) with product baskets support logistics in the assembly and ensure the seamless supply of the required materials for the employees at the line. Innovative Radio Frequency Identification-technologies (RFID) are integrated into the "Factory 56". Components and vehicles can thus be digitally tracked and linked with one another.
Artificial Intelligence, Big Data analyses and Predictive Maintenance guarantee high transparency and support in production planning, control and also in quality assurance. Through the analysis of existing production data, for instance, predictions on potential faults or due maintenance work can be made in advance.