Fonte: MLCA Ltd
Shenzhen, Cina. 4 Marzo 2016. La supercar elettrica Windbooster Titan ha debuttato nella mostra AAIT a Shenzhen, Cina, lo scorso 26 febbraio 2016, .E' una nuova supercar con un design ispirato alla Mc Laren P1, ma che in ogni caso è un nuovo modello assolutamente originale di EV completamente progettata e prodotta da Windbooster Car Corporation, che è interamente di proprietà di Camus, un grande produttore di ricambi auto.
Camus ha deciso di andare in produzione con l'auto nel 2013 e la Titan è il primo risultato.
Il piano aziendale è quello di iniziare con la produzione di una piccola serie solo per l'impiego in pista per poi passare alla produzione di una versione stradale. La vettura mostrata a Shenzhen era un Concept completamente funzionante della versione stradale.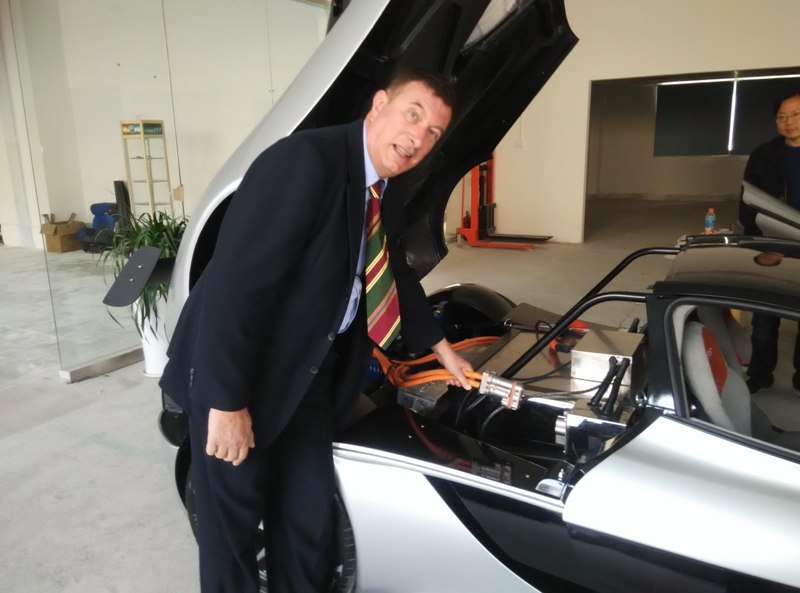 La Windbooster Titan è equipaggiata da due motori elettrici, uno per ogni ruota posteriore, con una potenza combinata di 500 kW e una coppia massima di 1000 NM, ad un regime di 12.000 rpm.
La velocità massima è di 260 km/h, mentre l'accelerazione da fermo fino a 100 km/h avviene in 3,9 sec.
Il peso totale della vettura è di 1600 kg, le dimensioni sono di 450/195/120 cm ed il passo di 2.650 mm.
La batteria è, allo stato attuale, fatta da 18650 elementi cilindrici Panasonic con una densità di energia di 200 Wh/kg. Nel prossimo futuro il pacco batteria sia per la versione da corsa che per quella stradale sarà aggiornato con le nuove cellule con densità di energia di circa 300 Wh/Kg per aumentare l'autonomia dagli attuali 400 km, a circa 600 km con una sola carica.
L'autonomia eventualmente sarà ulteriormente incrementata da una cella primaria alluminio aria opzionale che sarà in grado di fornire energia per un altri 1000 km.
La tecnologia della nuova batteria sarà fornito da MLCA Ltd, Hong Kong, una società specializzata in sistemi di batterie a celle ad alta densità di energia, il cui direttore e proprietario è l'italiano  Marco Loglio, veterano di oltre 20 anni di esperienza in veicoli elettrici.
In English
Italian hand in the Chinese supercar Windbooster Titan
Source: MLCA Ltd
Shenzhen, China, 4th March 2016. The Windbooster Titan electric supercar debuted on AAIT show in Shenzhen on February 26 2016, .It is a new supercar with design inspired by the Mc Laren P1, but that in other way is a completely original new model of EV completely designer and manufactured from Windbooster Car Corporation, which is fully owned by Cammus, a large maker of Auto parts .
Cammus decided to go into car production in 2013 and the Titan is the first result . The company plan to start with making a small series for track-use only and then move on to make a road version. The car shown in Shenzhen was a fully functional concept of the road version.
The Windbooster Titan is powered by two electric motors , one on each rear wheel, with a combined output of 500 Kw and a massive torque of 1000 nm, rotation is 12.000 rpm.
The top speed is 260 Km/h acceleration 0/100km/h is 3,9 sec.
Total weight 1600 kg, size 450/195/120 cm, wheelbase 2650 mm
The battery is, at the present, made by Panasonic cylindrical cells 18650 with an energy density of 200 Wh/Kg. In the near future the battery pack for the racing and road version will be upgraded with new cells with energy density of about 300 Wh/Kg to boost the range from the actual 400 km, to about 600 Km with one charge.
The range will eventually be further increased by an optional aluminum air primary cell that will be able to supply energy for another 1000 km.
The technology for the new battery pack will be provided by MLCA Ltd, Hong Kong, a battery system company specialized in high energy density cells, owned and directed by the Italian veteran of EV and battery technology  Dr Marco Loglio
no images were found

.