BYD mostra la sua forza costruttiva di veicoli elettrici nella parata militare per commemorare la Seconda Guerra Mondiale a Pechino
Fonte: BYD
Pechino, Cina. 6 settembre 2015. L'attenzione della Cina – e di gran parte del mondo – è stata rivolta alla grande parata militare di piazza Tienanmen a Pechino per celebrare il 70° anniversario della fine della seconda guerra mondiale lo scorso 3 settembre 2015.
La sfilata si è aperta con la flotta della città di nuova acquisizione dei veicoli elettrici BYD T8SA adibiti a spazzatrici stradali e costruiti da BYD e Beijing Environmental Sanitation Engineering Group Ltd., l'organismo responsabile per la sanificazione della città.
Questa è la prima volta che si è tenuta una parata militare per commemorare l'evento, in una mossa per mostrare non solo la potenza militare della Cina, ma anche l'importanza del Paese in termini di sostenibilità e lo sviluppo delle sue tecnologie nazianali pulite ed i processi e capacità di produzione.
BYD T8SA è un camion elettrico puro specificamente progettato per l'igiene urbana – ad emissioni zero, a basso rumore e bassa radiazione di calore, spazza fino a 3,5 metri di larghezza, ha una velocità massima di 85 km/h (53 mph), 350 kWh di potenza batterie che carica completamente in sole 3,5 ore e garantiscono al veicolo 7 ore di funzionamento continuo.
Complessivamente, tali caratteristiche sono in grado di ottimizzare notevolmente gli obiettivi di contenimento dei costi operativi e di riduzione delle emissioni di una città, dimostrandosi così la scelta ideale per Pechino.
Con l'aumento della pressione ambientale in tutto il mondo e le persistenti preoccupazioni circa l'uso di combustibili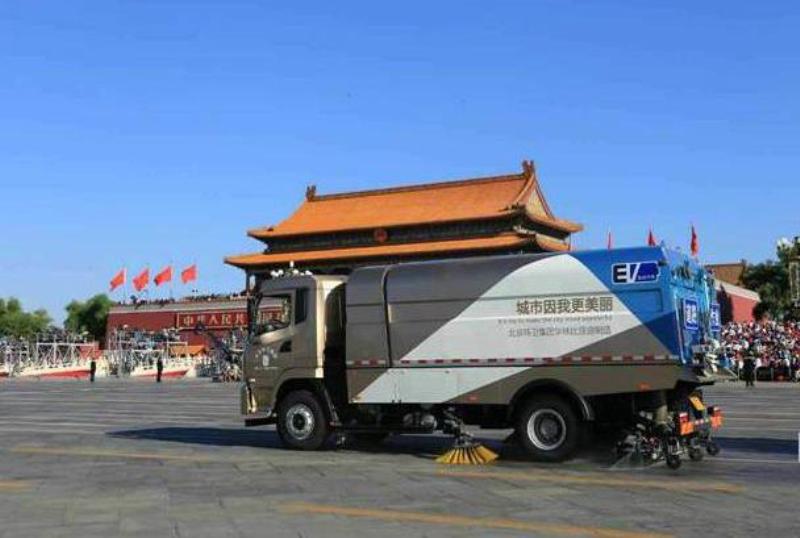 fossili, molti paesi stanno adottando politiche di incentivazione per ridurre il consumo di combustibili fossili e promuovere le fonti di energia alternative, con la Cina che ha preso l'iniziativa su tutti i livelli con politiche a livello di città, provincie e nazionale che fissano obiettivi di emissione e di elettrificazione chiare per il prossimo futuro.
Come risultato, BYD ha sviluppato la strategia di trasporti elettrici denominata 7 + 4, la quale è impostata per fornire veicoli elettrici per ogni esigenza di trasporto. Ci sono 7 veicoli per i settori convenzionali: autobus, pullman, taxi, veicolo da logistica, veicoli per il settore delle costruizoni, veicoli per la gestione dei rifiuti – categoria del BYD T8SA di Pechino – e veicoli di consumo; e 4 veicoli per settori specializzati: Veicoli per la logistica dei Magazzini, Mining Utility Vehicles, Veicoli per gli Aeroporti e Veicoli per i porti di mare.
In English
BYD Showcases Its EV strength at Beijing's World War II Military Parade
Source: BYD
Beijing, China. 6 September 2015. China's attention – and much of the world's – was turned to the huge military parade in Beijing's Tiananmen Square celebrating the 70th anniversary of the end of World War II on September 03, 2015.
The parade opened with the city's fleet of newly acquired BYD T8SA electric road sweepers – built by BYD and Beijing Environmental Sanitation Engineering Group Ltd., the body responsible for the city's sanitation. This is the first time a military parade has been held to commemorate the event, in a move to showcase not only China's military might, but also the importance the country places in sustainability and the advancement of its domestic green technologies and manufacturing.
The BYD T8SA is a pure electric truck specifically designed for urban sanitation – with zero emissions, low noise and low heat radiation, it sweeps widths of up to 3.5 meters, has a maximum speed of 85 km/h (53mph), 350 kWh power batteries that fully charge in just 3.5 hours and grant the vehicle 7 hours of continuous operation. Altogether, such features can greatly optimize a city's cost and emission reduction targets, thus proving the ideal choice for Beijing.
With increasing worldwide environmental pressure and the continuing concerns about the use of fossil fuel, many countries are adopting incentive policies to reduce consumption of fossil fuels and promote alternative energy sources, with China taking the lead on all levels with city, province and country policies that set clear emission and electrification targets for the near future.
As a result, BYD has developed its 7+4 electrified transportation strategy, in which it is set to provide electric vehicles for every transportation need. There are 7 vehicles for conventional fields: Transit Buses, Coaches, Taxis, Logistics Vehicles, Construction Vehicles, Waste Management Vehicles – the category of Beijing's T8SA – and Consumer Vehicles; and 4 vehicles for specialized fields: Warehouse Logistics Vehicles, Mining Utility Vehicles, Airport Utility Vehicles and Sea-port Utility Vehicles.
no images were found

.