Nel 2015, Renault è stato il miglior marchio effettuazione delle vendite EV in Europa.
Vendite EV di Renault è salito del 49% a 23.086 unità nel 2015, con una quota di mercato del 23,6%.
ZOE è la più venduta auto full-elettrica in Europa.
Kangoo Z.E. è la LCV elettrico più venduto in Europa.
Fonte: Renault
Parigi, Francia. 18 Gennaio 2016. Renault è la marca di migliori prestazioni in Europa nella vendita di veicoli elettrici, con una quota di mercato del 23,6% (o 25,2% se si includono le Twizy*) e 23.086 unità immatricolate nel 2015. In altri termini, nel 2015, una su 5 auto elettriche vendute in Europa è stata una Renault ZE.
Il mercato europeo dei veicoli full-elettric è pari a 97,687 unità, in crescita del 47,8% rispetto al 2014. In Europa, il mercato EV rappresenta una quota di mercato dello 0,61% (+ 0,16% rispetto al 2014) del mercato automobilistico globale.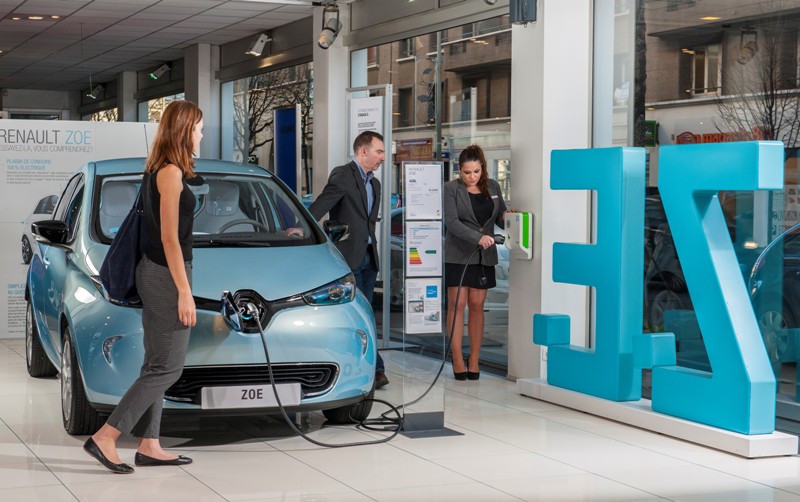 Renault ZOE è l'autovettura completamente elettrica più venduta, la sua quota di mercato è aumentata di 2,2 punti al 19,2% e 18,453 nuove immatricolazioni nel 2015.
Ha venduto particolarmente bene in Francia, dove ha registrato una quota di mercato del 48,1% (contro il 41,2% nel 2014) e 10.670 unità vendute, grazie all'incentivo "superbonus" istituito dal governo francese nel aprile 2015. Più della metà delle ZOE vendite in Francia hanno beneficiato di tale incentivo.
Renault Kangoo Z.E. è la LCV elettrica più venduta in Europa, con 4.325 unità vendute nel 2015, pari al 42,6% del mercato full-elettric di LCV.
Renault ha venduto il maggior numero di veicoli elettrici tra il 2010 – l'anno in cui il primo EV è stato lanciato in Europa, e il 2015, con un record di 62,228 unità vendute. Dal suo lancio, 16.331 unità di Renault Twizy sono state vendute.
I modelli della gamma Renault Z.E. venduti in Europa nel 2015: ZOE, una berlina compatta lanciata nel 2013; Kangoo ZE, la versione elettrica di LCV di Renault lanciata nel 2011; e Twizy, una due posto per circolare in ambiente urbano, non è omologata come una vettura, lanciata nel 2012.
* tutti gli altri numeri non includono registrazioni Twizy.
In English
Renault is the electric vehicle market leader in Europe
*  In 2015, Renault was the best performing brand in EV sales in Europe.
* Renault's EV sales rose 49% to 23,086 units in 2015, with a 23.6% market share.
* ZOE is the best-selling full-electric car in Europe.
* Kangoo Z.E. is the best-selling electric LCV in Europe.
Source: Renault
18 January 2016. Renault is the best performing brand in Europe in electric vehicles sales, with a market share of 23.6% (or 25.2% if you include Twizy*) and 23,086 units registered in 2015. In other terms, in 2015, one out of 5 electric cars sold in Europe was a Renault Z.E. vehicle.
The European full-electric vehicle market stands at 97,687 units, up 47.8% compared to 2014. In Europe, the EV market represents a 0.61% market share (+0.16% compared to 2014) of the overall car market.
Renault ZOE is the top-selling all-electric passenger car, its market share increased by 2.2 points to 19.2% of market share and 18,453 new registrations in 2015.
It performed particularly well in France, where it recorded a 48.1% market share (versus 41.2% in 2014) and 10 670 units sold, thanks to the "superbonus" incentive set up by the French government in April 2015. More than half of ZOE sales in France benefitted from that incentive.
Renault Kangoo Z.E. is the best-selling electric LCV in Europe with 4,325 units sold in 2015, accounting for 42.6% of the full-electric LCV market.
Renault has sold the most EVs between 2010 -the year the first EV was launched in Europe, and 2015, with a record of 62,228 units sold. Since its launch, 16,331 units of Renault Twizy were sold.
Renault Z.E. models sold in Europe in 2015: ZOE, a compact hatchback launched in 2013; Kangoo Z.E., the electric version of Renault's LCV launched in 2011; and Twizy, an urban two-seater, not homologated as a car, launched in 2012.
*all other numbers exclude Twizy registrations.
no images were found