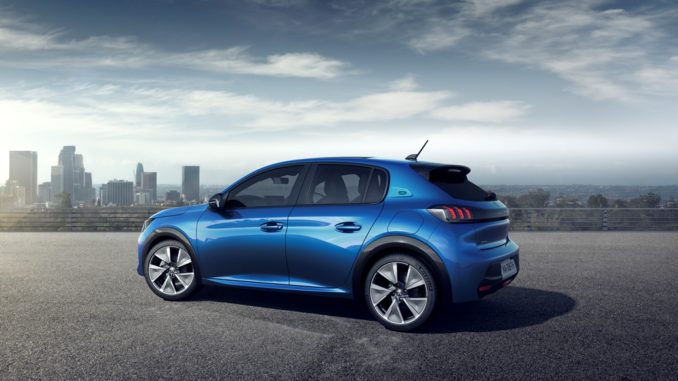 Nuova Peugeot e-208 full-electric è finalmente prenotabile online in Italia, dopo il debutto al Salone di Ginevra ed esposta per la prima volta in Italia alla Milano Design Week.
Prima declinazione del concetto di transizione energetica in un prodotto di serie della Casa del Leone, Nuova Peugeot e-208 è prenotabile nell'iconico allestimento GT Line e in 6 tinte di carrozzeria, per essere tra i primi a poterla guidare in Italia.
In parallelo alla versione 100% elettrica, andando su http://new208booking.peugeot.it sarà possibile configurare Nuova 208 GT Line anche con motorizzazione benzina o Diesel. In tutti i casi, l'offerta di noleggio privati a lungo termine è realizzata con Free2Move Lease e permette di mettersi alla guida di Nuova e-208 100% elettrica con un canone mensile di 349 euro: le versioni termiche hanno invece un canone mensile di 289 euro, uguale per benzina o Diesel.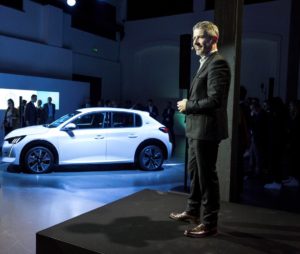 Nuova e-208 arriva in Italia in anteprima nazionale alla Milano Design Week dove è protagonista nello spazio Peugeot di via Savona 56 assieme a Peugeot e-Legend Concept e al Leone monumentale, simbolo della Casa da oltre 160 anni. Prima espressione del concetto di transizione energetica in un prodotto di serie, Nuova Peugeot e-208 inizia il suo percorso di lancio nel nostro mercato.
In occasione della serata di anteprima della MDW 2019 è iniziata la fase di prenotazione online della nuova nata di casa Peugeot. Nuova e-208 100% elettrica è prenotabile nell'iconico allestimento GT Line, in 6 diverse tinte di carrozzeria. In alternativa alla nuova e inedita alimentazione 100% elettrica accreditata di 136 CV, si può scegliere la versione benzina 1.2 PureTech turbo 100 con cambio automatico EAT8 o il Diesel 1.5 16v BlueHDi 100 con cambio manuale a 6 rapporti.
Andando su http://new208booking.peugeot.it, il Cliente può configurare la versione preferita e scoprire l'offerta finanziaria di noleggio privati a lungo termine realizzata con Free2Move Lease, della durata di 4 anni e
per una percorrenza di 60.000 km. A fronte di un anticipo di 5.900 euro, si pagherà un canone mensile di 349 euro (IVA inclusa). Nel caso delle versioni termiche di Nuova 208, invece, il canone mensile è di 289 euro (IVA inclusa) e l'anticipo è lo stesso della versione elettrica. In tutti i casi, l'importo include un pacchetto completo di manutenzione e di servizi assicurativi: manutenzione ordinaria e straordinaria, assicurazione RCA, antifurto con polizza furto e incendio.
Fatta la configurazione, il Cliente può prenotare online la sua Nuova 208 GT Line selezionando il punto vendita a lui più vicino, inserendo i propri dati personali e i dati della propria carta di credito e autorizzandone il blocco di 500 euro. Il perfezionamento del contratto avverrà a giugno in occasione dell'apertura ufficiale degli ordini. Nel frattempo, qualora il Cliente cambiasse idea, potrà cancellare la prenotazione senza alcuna penale, in maniera molto semplice.
Il mondo cambia e il futuro riserva tante domande. Le nuove sfide richiedono risposte pertinenti nel mondo dell'auto, ma anche altrove. Forte dei suoi 208 anni di storia, il Marchio Peugeot sta affrontando con serenità e determinazione l'era della transizione energetica, proponendo una visione entusiasmante e rassicurante del futuro con il messaggio Unboring The Future.
Quale nuovo elemento di questa visione del futuro, Nuova 208 rappresenta la prima declinazione concreta di questa visione e afferma la propria modernità trasmettendo energia, spontaneità e i valori del Marchio Peugeot: Esigenza, Fascino ed Emozione. Il suo aspetto dinamico evoca sportività e vitalità, indice di un potenziale molto promettente. Il suo design curato e di grande qualità le conferisce un aspetto alto di gamma che la inserisce perfettamente nella crescita del Marchio Peugeot all'interno del mercato.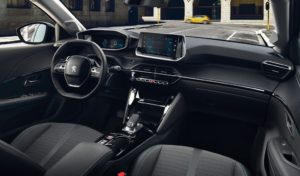 Con Nuova 208, Peugeot concretizza la propria visione sulla mobilità del futuro, anticipata dall'ammiratissima Peugeot e-Legend concept, sintesi perfetta di elettrificazione, connettività e guida autonoma, perfettamente sintetizzato sotto il concetto dell'Unboring The Future.
Nuova 208 rappresenta, concretamente, l'ingresso di Peugeot nella transizione energetica grazie alla disponibilità, per la prima volta, anche della motorizzazione 100% elettrica. Porta al debutto un'evoluzione tridimensionale del Peugeot i-Cockpit, quel concetto rivoluzionario che ha ridefinito totalmente l'ergonomia del posto guida allo scopo di esaltare le emozioni che si provano al volante di una Peugeot, elevare la sicurezza ed aumentare il confort. Nuova 208 compie inoltre un ulteriore passo verso la guida autonoma adottando un pacchetto di ADAS di ultima generazione, fino ad ora appannaggio di segmenti superiori.
Fonte: Peugeot Automobili Italia