Il Presidente dell'Uruguay attende il lancio di un'altra soluzione di bus BYD elettrico per la mobilità urbana
Fonte: BYD
Montevideo, Uruguay. 6 maggio 2016. Seguendo la propria intenzione di promuovere lo sviluppo sostenibile in Sud America e di tagliare l'impronta di carbonio, l'Uruguay fa un ulteriore passo avanti nella sua piattaforma di trasporto pubblico elettrificata nella capitale, Montevideo. Dopo il lancio di una flotta di taxi elettrici – prodotti dal gigante della Green Tech BYD Company Ltd. – nella seconda metà del 2015; il 5 maggio 2016 si è tenuta una cerimonia organizzata dall'Ufficio del Presidente della Repubblica e il Ministero dell'Energia e dei Trasporti con l'obiettivo di annunciare il lancio del primo della flotta dei bus elettrici BYD.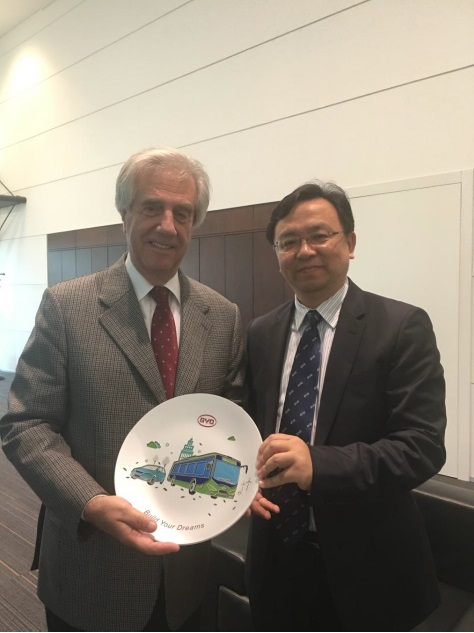 Presenti alla cerimonia sono stati il ​​Presidente dell'Uruguay, Tabaré Vázquez, il Ministro dell'Industria, dell'Energia e delle Miniere Carolina Cosse e il Sindaco di Montevideo Daniel Martinez; insieme con il Presidente della UTE (Amministrazione Nazionale delle centrali elettriche e trasmissioni elettriche dell'Uruguay) Gonzalo Casaravilla, e il Presidente della CUTCSA (il più grande operatore di autobus in Uruguay) Juan A. Salgado.
Il Presidente di BYD Co., Ltd., il signor Wang Chuanfu, il presidente di BYD Motors Inc., la signora Stella Li, ed il vicepresidente della BYD America, il signor Fred Ni, hanno effettuato la consegna formale del veicolo. Prima della cerimonia ufficiale, il presidente, i ministri ed i dignitari hanno fatto un tour lungo le strade della capitale a bordo del bus elettrico BYD K9 per provare la sua qualità, le sue prestazioni ed il comfort.
In English
New pure electric urban bus BYD in Uruguay
President of President Uruguay Attends Launch of Yet Another BYD Pure Electric Urban Mobility Solution
Source: BYD
Montevideo, Uruguay. May 6th, 2016. Firm on its intent to boost sustainable development in South America and slash its carbon footprint, Uruguay takes a step further in its electrified public transportation platform in the capital, Montevideo. Following the launch of a pure electric taxi fleet – produced by green tech giant BYD Company Ltd. – in the second half of 2015; on May 5, 2016, a launch ceremony organized by the Presidential Office and the Ministries of Energy and Transport was held to announce the launch of the city's first vehicle of its BYD pure electric bus fleet.
Attending the ceremony were the President of Uruguay, Tabaré Vázquez, the Minister of Industry, Energy and Mining Carolina Cosse, and the Mayor of Montevideo Daniel Martinez; along with the President of UTE (Uruguay's National Administration of Power Plants and Electrical Transmissions) Gonzalo Casaravilla, and the President of CUTCSA (the largest bus operator in Uruguay) Juan A. Salgado. The Chairman and President of BYD Co., Ltd., Mr. Chuanfu Wang, President of BYD Motors Inc., Ms. Stella Li, and Vice-President of BYD America, Mr. Fred Ni, made the formal delivery of the vehicle. Prior to the official ceremony, the President, Ministers and dignitaries went on a ride along the streets of the capital aboard the BYD K9 electric bus to try its quality, performance and comfort.
no images were found

.