La nuova Nissan Leaf viene offerta da Eco-Rent a 24.658 Euro IVA e immatricolazione escluse
Il prezzo include batterie e caricabatterie da 6 kW
5 anni di garanzia officiale Nissan sulle batterie e le parti elettriche
3 anni di garanzia sul veicolo
Di Marcelo Padin
Direttore editoriale Electric Motor News
Bergamo, Italia. 19 Marzo 2015. Eco Srl, l'azienda bergamasca impegnata nella mobilità ecologica, offre ora anche la possibilità di acquistare una Nissan Leaf nuova, con batterie di proprietà e model year 2014, al prezzo di 24.658 Euro, IVA e immatricolazione esclusa con un sensibile risparmio rispetto al modello top of the line che Nissan Italia offre in listino e che si attesta ad un prezzo di da  € 33.890.
"Abbiamo avuto diverse richieste di acquisto di vetture elettriche e ci siamo attivati per soddisfare i nostri clienti" – ha detto Giuliano Campagnola; aggiungendo: "La Nissan Leaf che siamo in grado di offrire è la versione nuova dell'anno 2014/2015 e possiamo farlo al prezzo indicato grazie ai nostri contatti a livello Europeo".
Giuliano Campagnola precisa che l'offerta è limitata, che tutte le vetture disponibili sono di colore bianco standard.
"Abbiamo deciso di comunicare il prezzo escluso di IVA ed immatricolazione perché in modo particolare è rivolto ad un mercato aziendale, ma ovviamente se un privato ha intenzioni di acquistare la vettura può farlo tranquillamente senza nessun problema, mantenendo le garanzie originale comunicate che sono in linea con quelle offerte dal costruttore" – ha aggiunto Campagnola, il Direttore Tecnico di Eco Srl.
In questo modo, l'azienda bergamasca fa un salto in avanti riguardo le proprie offerte di prodotti, che già includono noleggio e vendita di biciclette a pedalata assistita, noleggio e vendita di scooter elettrici, noleggio e vendita di quadricicli elettrici leggeri e pesanti ed ora anche la vendita di autovetture elettriche.
I dati tecnici della Nissan Leaf offerta: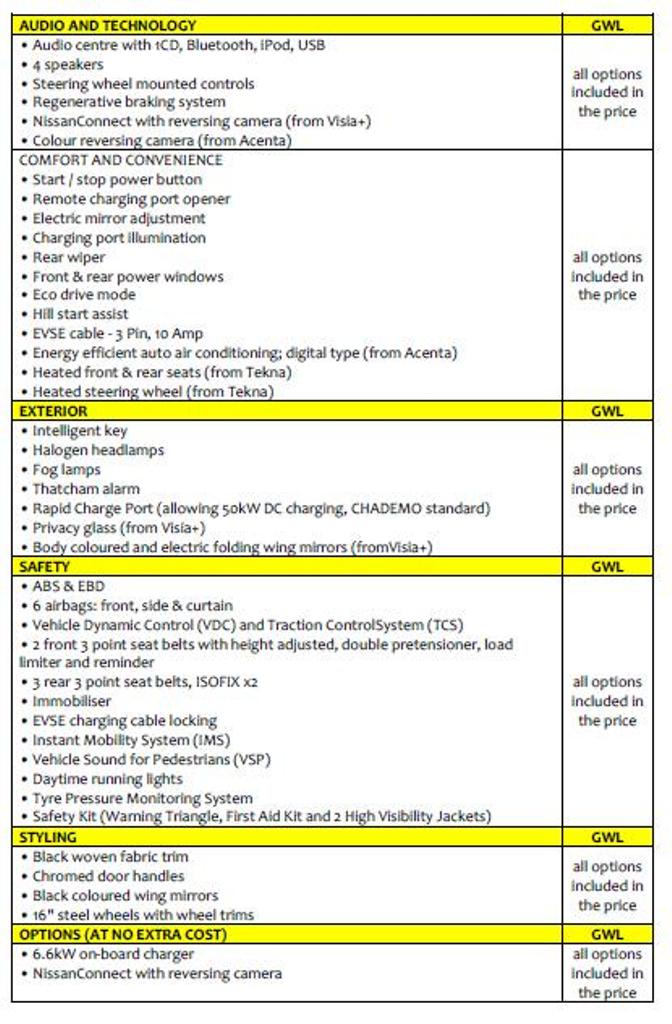 no images were found