La Nissan LEAF è la terza autovettura bestseller e prima tra i veicoli elettrici (EV) in Norvegia nel 2016
Le vendite di Nissan LEAF in Norvegia sono cresciute in modo significativo rispetto allo scorso anno, 2.450
unità sono state vendute finora nel 2016 – con un aumento del 58,7 per cento rispetto allo stesso periodo dello scorso anno
Il modello mantiene la sua posizione di best-seller EV di tutti i tempi, con oltre 224.000 vendite in tutto il mondo
Fonte: Nissan International
Oslo (Norvegia) 20 giugno 2016. I nuovi dati mostrano che finora nel 2016, Nissan LEAF non è solo il veicolo elettrico (EV) bestseller nel mondo veicolo elettrico, ma anche il terzo bestseller tra le autovetture in generale in Norvegia.
Ci sono già circa 25.000 Nissan LEAF sulle strade norvegesi e le vendite nel paese sono in rapida crescita, con 2.450 unità vendute finora nel 2016 – con un aumento del 58,7 per cento rispetto allo stesso periodo dello scorso anno.
Queste cifre provengono dopo che Nissan ha annunciato un nuovo record annuale di vendite complessive di 16.916 veicoli elettrici in Europa nell'anno fiscale 2015/16.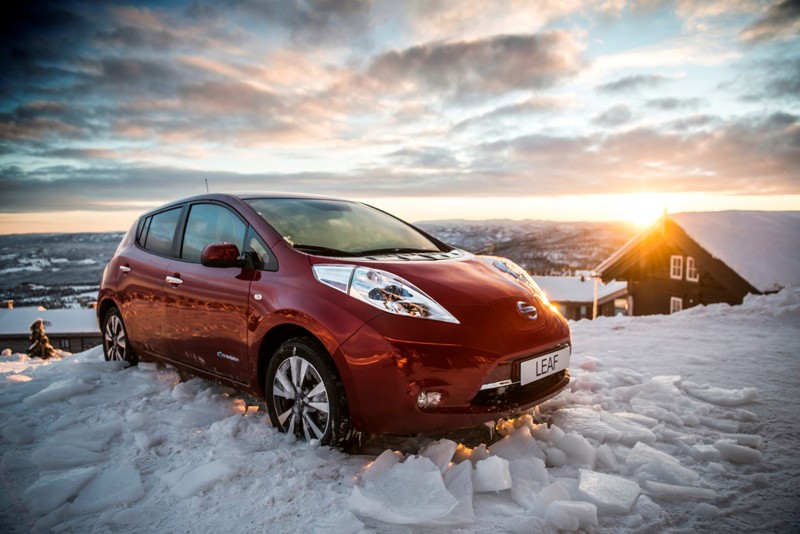 Nissan si è presto impegnata nella tecnologia a zero emissioni, riconoscendola come sostenibile e soluzione di trasporto pratica. Nissan ha sostenuto la mobilità elettrica al 100 per cento dal 2010, molto prima dei concorrenti entrati nel mercato, l'introduzione di Nissan LEAF come prima auto elettrica al mondo destinata al grande pubblico e la eNV200, un veicolo commerciale tutto elettrico pratico e versatile.
La Norvegia è uno dei più grandi mercati di EV in Europa, con i veicoli elettrici che rappresentano finora il 15 per cento delle vendite di auto nuove nel 2016. Nissan ha sostenuto lo sviluppo di infrastrutture di ricarica rapida per veicoli elettrici in Norvegia, in partnership con la catena di supermercati, Kiwi, per installare 50 stazioni di ricarica rapida presso i loro punti vendita in tutto il paese.
Gareth Dunsmore, direttore dei veicoli elettrici, Nissan Europe, ha dichiarato:
"La Norvegia guida il passaggio alla mobilità sostenibile e siamo lieti che la Nissan LEAF continua ad essere classificata come uno dei più popolari veicoli nel paese. Nissan è stata in prima linea nel movimento di veicoli elettrici a partire dall'introduzione della Nissan LEAF nel 2010 e con la sua terza generazione ora disponibile, siamo sicuri che manterrà una posizione di leader nel mercato in continua espansione degli EV".
Lanciata in Europa all'inizio di quest'anno, Nissan LEAF 30 kWh offre fino a 250 km* di autonomia pratica con una singola carica – un aumento del 26 per cento sul suo predecessore. Accoppiato con i suoi bassi costi di esercizio, la spaziosità, l'innovativa caratteristiche di tecnologia e sicurezza, la Nissan LEAF offre una divertente e pratica soluzione di mobilità ad emissioni zero per tutti.
In English
Nissan LEAF is one of the top three 2016 passenger cars in Norway
The Nissan LEAF is the third bestselling passenger car and the number one electric vehicle (EV) in Norway in 2016
Sales of the Nissan LEAF in Norway have grown significantly since last year 2,450 units have been sold in 2016 so far – an increase of 58.7 percent compared with the same period last year
The model retains its position as the bestselling EV of all time with over 224,000 sales worldwide
Source: Nissan International
Oslo, Norway. 20 June 2016. New figures show that so far in 2016, the Nissan LEAF is not only the world's bestselling electric vehicle (EV), but also the third bestselling passenger car overall in Norway.
There are already close to 25,000 Nissan LEAFs on Norwegian roads and sales in the country are growing rapidly, with 2,450 units sold so far in 2016 – an increase of 58.7 percent compared with the same period last year. These figures come after Nissan announced sales of 16,916 electric cars in Europe for the 2015/16 fiscal year a new annual record.
Nissan made an early commitment to zero emission technology, recognising it as a sustainable, practical transport solution. Nissan has supported 100 percent electric mobility since 2010, long before competitors entered the market, introducing the Nissan LEAF as the world's first massmarket electric car and the eNV200, a practical and versatile all electric commercial vehicle.
Norway has one of the largest EV markets in Europe, with EVs accounting for 15 percent of new car sales so far in 2016. Nissan has supported the development of quick charging infrastructure for EVs in Norway, partnering with supermarket chain, KIWI, to install 50 quick chargers at their stores throughout the country.
Gareth Dunsmore, Director of Electric Vehicles, Nissan Europe, said:
"Norway is spearheading the switch to sustainable mobility and we're delighted that the Nissan LEAF continues to be ranked as one of the most popular vehicles in the country. Nissan has been at the forefront of the electric vehicle movement since the introduction of the Nissan LEAF in 2010 and with its third generation now available, we are confident that we will retain a leading position in the everexpanding EV market."
Launched in Europe earlier this year, the Nissan LEAF 30 kWh delivers up to 250 km* of driving range on a single charge – a 26 percent increase on its predecessor. Coupled with its low running costs, spaciousness, innovative technology and safety features, the Nissan LEAF offers a fun, practical, zero emission mobility solution for all.
no images were found

.