Mercedes-Benz presenta il primo camion completamente elettrico per la distribuzione pesante
• L'e-truck urbano Mercedes-Benz consente il trasporto completamente elettrico di un peso totale di 26 tonnellate
• Autonomia massima di 200 chilometri, capacità di carico paragonabile ai motore diesel
• La produzione in serie per la distribuzione urbana a breve raggio inierà all'inizio del prossimo decennio
• Fuso Canter E-Cell: trazione completamente elettrica di Daimler Trucks in un camion leggero da 6 Tonn già in fase di test con i clienti
• Dr. Wolfgang Bernhard: "I sistemi di azionamento elettrici precedentemente visti permettevano solo un uso estremamente limitato nei camion. I costi operativi giornalieri, i tempi di esecuzione e di ricarica si sviluppano ulteriormente e molto rapidamente, quindi ora c'è un'inversione di tendenza nel settore della distribuzione. I tempi sono maturi per il camion elettrico. Un camion leggero, il nostro Fuso Canter E-Cell, è già in fase di sperimentazione intensiva dai clienti dal 2014. E con il Mercedes-Benz Urban eTruck , ora stiamo elettrizzando il segmento della distribuzione pesante fino a 26 tonnellate. Abbiamo intenzione di stabilire la guida elettrica in modo sistematico insieme alla guida autonoma e connessa."
Fonte: Daimler AG
Stoccarda, Germania. 27 Luglio 2016. Il produttore di autocarri di maggior successo del mondo, Daimler Trucks, presenta il Mercedes-Benz Urban eTruck a Stoccarda, come il primo camion completamente elettrico con un peso totale ammissibile di fino a 26 tonnellate. Ciò significa che, in futuro, gli autocarri pesanti prenderanno parte alle operazioni di distribuzione urbana a zero emissioni locali e appena un sussurro durante la marcia. Il lancio sul mercato di questa tecnologia è concepibile per Daimler Trucks, all'inizio del prossimo decennio. Nel settore della distribuzione leggera, Daimler Trucks ha già dimostrato l'idoneità dell'uso quotidiano del camion completamente elettrica negli studi effettuati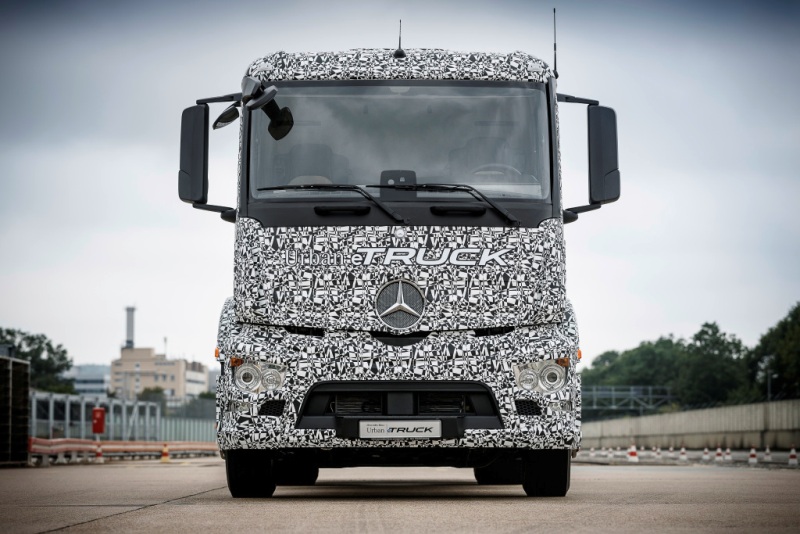 con il Fuso Canter E-Cell dal 2014. Lo sviluppo di camion elettrici e la ricerca della maturità per la produzione in serie sono parti fisse della strategia di Daimler Trucks per costruire la leadership tecnologica. A tal fine, una parte considerevole del flusso dei futuri investimenti del settori camion divisione ricerca e sviluppo sarà rivolta al ulteriore sviluppo della trazione completamente elettrica.
"I precedenti sistemi di azionamento elettrici permettevano solo un uso estremamente limitato nei camion. Al giorno d'oggi i costi, i tempi di operazioni e di ricarica si sono sviluppati così rapidamente che ora c'è una inversione di tendenza nel settore della distribuzione. I tempi sono maturi per il camion elettrico da distribuzione leggera. Il nostro Fuso Canter E-Cell è già in fase di sperimentazione intensiva dai clienti dal 2014. E con il Mercedes-Benz Urban eTruck, ora stiamo elettrizzando il segmento della distribuzione pesante fino a 26 tonnellate. Abbiamo intenzione di stabilire la guida elettrica in modo sistematico contemporaneamente alla guida autonoma e connessa", ha detto il Dr. Wolfgang Bernhard, responsabile del Consiglio di Amministrazione di Daimler Trucks e Buses.
La crescente urbanizzazione richiede camion completamente elettrici per una migliore qualità dell'aria. Rumore più basso ed accesso limitato alle ZTL sono ormai le parole chiave importanti nelle grandi metropoli di tutto il mondo, perché sempre più persone in tutto il mondo si stanno muovendo nelle città.
Il 2008 è stato il primo anno in cui più persone vivevano nelle città che nelle campagne. La tendenza continua: l'ONU prevede una popolazione globale di nove miliardi di persone entro il 2050, con circa il 70 per cento di loro che vivranno in città. In futuro, sarà necessario il trasporto merci in ambito urbano per un numero crescente di persone – e con le minori emissioni e rumore possibile. Ormai grandi città come Londra o Parigi stanno prendendo in considerazione il divieto dei motori a combustione interna nei centri cittadini in futuro. Ciò significa che ci saranno i camion completamente elettrici a garantire la fornitura delle merci, sia il cibo che altri beni di prima necessità quotidiana.
Rapido potenziamento della capacità della batteria e costi significativamente più bassi
Fino a poco tempo fa, l'uso di sistemi di azionamenti completamente elettrici nei camion sembrava essere inimmaginabile – soprattutto a causa degli alti costi delle batterie accoppiati alle ridotta autonomia.
La tecnologia è diventata molto più matura. In modo particolare nello sviluppo delle celle.
Daimler Trucks si aspetta che il costo delle batterie si abassi per il fattore di 2,5 tra il 1997 e il 2025 – da 500 Euro/kWh fino a 200 euro/kWh. Allo stesso tempo, le prestazioni migliorano dello stesso fattore nello stesso periodo – da 80 Wh/kg fino a 200 Wh/kg.
Stefan Buchner, Responsabile Mercedes-Benz Trucks:
"Con il Mercedes-Benz Urban eTruck, stiamo sottolineando la nostra intenzione di sviluppare in modo sistematico la trazione elettrica nei camion per renderla pronta alla produzione in serie. Questo significa che inizieremo ad integrare i clienti, in modo da acquisire una preziosa esperienza comune rispetto ai campi operativi e le infrastrutture di ricarica nelle operazioni di trasporto quotidiane. Poiché pensiamo che l'ingresso di questa tecnologia nella produzione di serie sia già concepibile all'inizio del prossimo decennio".
Tecnologia innovativa delle batterie per Urban eTruck
Tecnicamente il Mercedes-Benz Urban eTruck si basa su un robusto veicolo a tre assi per la distribuzione a breve raggio di Mercedes-Benz. Tuttavia gli sviluppatori di Daimler Trucks hanno completamente modificato il concetto di guida: l'intera trasmissione convenzionale è stata sostituita da un nuovo assale posteriore ad azionamento elettrico con motori elettrici direttamente adiacenti ai mozzi delle ruote – derivato dall'asse posteriore elettrico che è stato sviluppato per l'autobus ibrido Mercedes-Benz Citaro. L'alimentazione è fornita da una batteria che consiste in tre moduli batteria agli ioni di litio. Questo si traduce in un'autonomia di fino a 200 km – sufficiente per un tipico giro di consegne. Grazie al concetto dei motori integrati nei mozzi delle ruote, le batterie sono alloggiate in un luogo a prova di incidente all'interno del telaio.
Considerando che la Commissione Europea è a favore di un aumento del peso totale dei camion con le unità alternative di fino a una tonnellata, questo livello sarà più o meno il surplus di peso della trazione elettrica. Ciò consentirà di aumentare il peso totale dell'Urban eTruck da 25 a 26 tonnellate, che porterà il peso extra originale fino a 700 kg rispetto ad un camion a combustione interna con motore direttamente paragonabile.
Fuso Canter E-Cell: il camion elettrico in funzione dal cliente dal 2014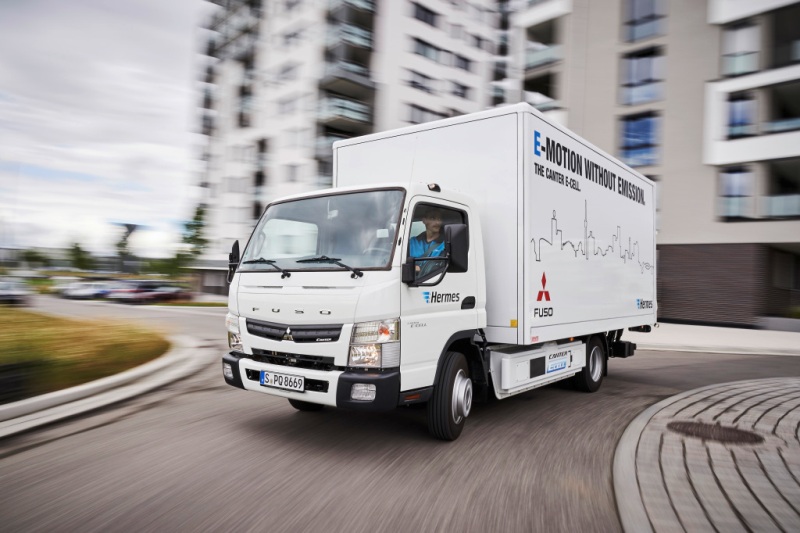 Dove gli autocarri leggeri sono interessati, la trazione elettrica è già una realtà. Lo dimostra il Fuso Canter E-Cell. Fuso ha già presentato la prima generazione di Canter completamente elettrico nel 2010. Nel 2014 ha fatto seguito la seconda generazione, che ha rivelato il suo valore nelle prime prove di flotta in Portogallo. Con autonomia di oltre 100 chilometri, i veicoli hanno superato la distanza media giornaliera coperta da molti camion leggeri nella distribuzione a breve raggio. Sotto svariate ed ampie condizioni di funzionamento, i camion hanno percorso più di 50.000 km in un anno. Nel processo i veicoli ha funzionato a zero emissioni locali e, prendendo in considerazione la produzione di energia, hanno ridotto le emissioni di CO2 del 37 per cento rispetto ai motori diesel. I costi operativi sono stati del 64 per cento in meno in media.
Marc Llistosella, responsabile di Daimler Trucks Asia e Presidente e CEO di Mitsubishi Fuso Trucks e Bus Cooperation (MFTBC):
"L'attuale generazione di Canter E-Cell offre ai nostri clienti servizi di trasporto che non sono solo ecologici, ma anche economici. La nostra prova a Lisbona ha rivelato risparmi rispettabili di circa 1000 Euro a 10.000 chilometri rispetto ai camion diesel."

"Noi di Fuso abbiamo ormai acquisito una vasta esperienza nello sviluppo di veicoli commerciali senza emissioni locali e di conseguenza porteremo avanti questo sviluppo anche in futuro. All'IAA Commercial Vehicle Show di settembre, si vedrà un ulteriore passo avanti verso la produzione in serie con la nostra prossima generazione con il nuovo nome: Fuso eCanter", continua Llistosella.
Prove di flotta attuale con il Fuso Canter E-Cell in Germania
Dal aprile 2016 la città di Stoccarda e il provider di servizi Hermes stanno testando cinque Fuso Canter E-Cell in Germania. Soprattutto vengono utilizzati in un'ambiente topograficamente molto esigente a Stoccarda dove questo test urbano fornisce spunti importanti per Daimler Trucks per quanto riguarda il funzionamento e la soddisfazione del cliente per l'ulteriore sviluppo della trasmissione completamente elettrica. I primi risultati di questo studio sono attesi dal cliente all'inizio del 2017.
Dirk Rahn, Direttore Operations di Hermes Germania ha sottolineato durante l'evento di oggi:
"Siamo molto orgogliosi della nostra collaborazione con Daimler nello sviluppo di future tecnologie per molti anni anche per quanto riguarda il progetto in corso, abbiamo accettato con piacere l'invenzione di Daimler per sostenere attivamente la sperimentazione del Fuso Canter E-Cell nella logistica della nostra vita quotidiana. In tal modo, i risultati dei nostri test sono estremamente positivi! Per quanto riguarda le crescenti esigenze di logistica urbana siamo ora in attesa di testare ulteriormente le classi di veicoli e le loro rispettive portate da commercializzare. L'e-mobility più economica presto è il nostro obiettivo comune".
In English
Mercedes-Benz is presenting the first fully electric truck for heavy distribution operations
Mercedes-Benz Urban eTruck enables fully electric transport for the first time ever with anadmissible total weight of 26 ton
Ranges of up to 200 kilometres, load capacity comparable with diesel drive
Series production for urban short-radius distributionconceivable at the beginning of the next decade
Fuso Canter E-Cell: fully electric drive of Daimler Trucks in a light distribution truck (6tonnes) already undergoing customer trials
Dr Wolfgang Bernhard: "Electric drive systems previously only saw extremely limited use in trucks. Nowadayscosts, performance and charging times develop further so rapidly that now there is a trend reversal in the distribution sector: the time is ripe for the electric truck. In light distribution trucks, our Fuso Canter E-Cell has already been undergoing intensive customer trials since 2014. And with the Mercedes-Benz Urban eTruck, we are now electrifying the heavy distribution segment up to 26 tonnes. We intend to establish electric driving as systematically as autonomous and connected driving."
Source: Daimler AG
Stuttgart, Germany. 27th July 2016. The world's most successful truck manufacturer Daimler Trucks is presenting the Mercedes-Benz Urban eTruck in Stuttgart today, as the first fully electric truck with an admissible total weight of up to 26 tonnes. This means that in the future, heavy trucks will take part in urban distribution operations with zero local emissions and hardly a whisper. The market launch of this technology is conceivable for Daimler Trucks at the beginning of the next decade. In the light distribution sector, Daimler Trucks has already been impressively demonstrating the day-to-day suitability of the fully electric truck in customer trials with the Fuso CanterE-Cell since 2014. The development of electric trucks and series production maturity are fixed parts of the strategy of Daimler Trucks to build on our technological leadership. For this purpose a considerable part of the future investments by the truck divisioninthe fields of research and development flow in the further development of the full electric drive.
"Electric drive systems previously only saw extremely limited use in trucks. Nowadays costs, performance and charging times develop further so rapidly that now there is a trend reversal in the distribution sector: the time is ripe for the electric truck. In light distribution trucks, our Fuso Canter E-Cell has already been undergoing intensive customer trials since 2014. And with the Mercedes-Benz Urban eTruck, we are now electrifying the heavy distribution segment up to 26 tonnes. We intend to establish electric driving as systematically as autonomous and connected driving,"says Dr Wolfgang Bernhard, responsible for Daimler Trucks & Buses at theBoard of Management.
Growing urbanisation requires fully electric trucks
Better air quality, lower noise and restricted-access zones are now important keywords in large metropolises worldwide, because more and more people worldwide are moving to cities.2008 was the first year in which more people lived in cities than in the countryside. The trend is continuing: The UN predicts a global population of nine billion people by 2050, with approximately 70 percent of them living in cities. In future, it will be necessary to transport goods in urban environments for increasing numbers of people – and with the lowest possible emissions and noise. By now large cities such as London or Paris are considering a ban on internal combustion engines in city centres in the future. That means: there will be fully electric trucks ensuring the supply of humas with food or other goods of daily needs.
Fast enhancement of battery capacity while significantly lower costs
Until quite recently, the use of fully electric drives systems in trucks seemed to be unimaginable – especially because of the high costs of the batteries coupled with a low range. The technology has now become much more mature. In particularbattery cells rapidly developing further.Daimler Trucks expects the costs of batteries to lower by the factor 2.5 between 1997 and 2025 – from 500 Euro/kWh down to 200 Euro/kWh. At the same time, performance will improve by the same factor over the same period – from 80 Wh/kg up to 200 Wh/kg.
Stefan Buchner, Head of Mercedes-Benz Trucks:
"With the Mercedes-Benz Urban eTruck, we are underlining our intention to systematically developing the electric drive in trucks to series production maturity. This means that we will begin to integrate customers, so as to gain valuable joint experience with respect to the operating ranges and the charging infrastructure in daily transport operations. Because we think the entry of this technology into the series production is already conceivable at the beginning of the next decade."
Innovative battery technology for Urban e Truck
Technically the Mercedes-Benz Urban eTruck is based on a heavy-duty, three-axle short-radius Mercedes-Benz distribution truck. In addition, however, the developers at Daimler Trucks have totally revised the drive concept: The entire conventional drivetrain being replaced by a new electrically driven rear axle with electric motors directly adjacent to the wheel hubs – derived from the electric rear axle which was developed for the Mercedes-Benz Citaro hybrid bus. The power is supplied by a battery pack consisting of three lithium-ion battery modules. This results in a range of up to 200 km – enough for a typical daily delivery tour. Thanks to the integrated concept with motors adjacent to the wheel hubs, the batteries are housed in a crash-proof location inside the frame.
As the EU Commission is in favour of increasing the permissible gross vehicle weight of trucks with alternative drives by up to one tonne, this will more or less level out the weight surplus of the electric drive. This will raise the permissible gross vehicle weight of the Urban e Truck from 25 to 26 tonnes, which will bring the original extra weight down to 700 kg compared with a directly comparable IC-engined truck.
Fuso Canter E-Cell:all-electric drive in customer operation since 2014
Where light-duty trucks are concerned, all-electric drive is already a reality. This is demonstrated by the Fuso Canter E-Cell.Fuso already presented the first generation of the fully electrically powered Canter in 2010. In 2014 this was followed by the second generation, which proved its worth in the first fleet trials in Portugal. With ranges of over 100 kilometres, the vehicles exceeded the average daily distance covered by many trucks in light-duty short-radius distribution.Under widely varying operating conditions, the trucks covered more than 50,000 km within one year. In the process the vehicless were locally emission-free and, taking power generation into account, reduced CO2 emissions by 37 percent compared to diesel engines. The operating costs were 64 percent lower on average.
Marc Llistosella, Head of Daimler Trucks Asia and President &CEO of Mitsubishi Fuso Trucks and Bus Cooperation (MFTBC):
"The current generation Canter E-Cell offers our customers transport services which are not only environment-friendly, but also economical. Our test in Lisbon revealed respectable savings of around 1000 euros per 10,000 kilometres in comparison to diesel trucks."

"We at Fuso have now acquired extensive experience in the development of local emission-free commercial vehicles und we will consequently pursue this development also in future. At the Commercial Vehicles show IAA in September, will will take a step further towards series production with our next generation under the new name: Fuso eCanter," continues Llistosella.
Current fleet trials with the Fuso CanterE-Cell in Germany
Since April 2016 the city of Stuttgart and the parcel service provider Hermes are testing five Fuso CaterE-Cell in Germany. Especially the using in the topographically very demanding environment in urban Stuttgart provides important insights for Daimler Trucks from the customer operation with regard to the further development of the fully electric drive. First results from this customer trial are expected at the beginning of 2017.
Dirk Rahn, Managing Director Operations at Hermes Germany underlined during the today's event:
"We are very proud of our successful cooperation withDaimler in the development of relevant future technologies for many years. Also regarding the current project, we accepted with pleasurethe invention of Daimler to actively support the testing of the Fuso CanterE-Cell out of our logistical everyday life. Thereby, the results of our trest run are extremely positive! With regard to the growing requirements in city logistics we are now looking forward to test further vehicle classes and to bring them to market maturity soon. Our common goal:making e-mobility more economical."
no images were found

.