• La prima vettura elettrica sportiva SP:01 è uscita dallo stabilimento di Leamington Spa, Regno Unito
• La nuova sportiva ad alte prestazioni è destinata al primo cliente
• SP:01 è la macchina sportiva elettria a due posti più leggera e più veloce al mondo
Fonte: Detroit Electric
Leamington Spa, Gran Bretagna. 29 ottobre 2015. La prima Detroit Electric SP:01, l'auto elettrica sportiva a due posti più leggera e più veloce al mondo, è uscita dalla la linea di produzione della società a Leamington Spa. La nuova SP:01 è destinata ad uno dei mercati di esportazione di Detroit Electric per essere consegnata al primo cliente della società EV.
La SP:01, che sarà in vendita in Asia e in Europa nelle prossime settimane, combina un corpo in fibra di carbonio con un telaio in alluminio. Ha una potenza ai vertici della categoria per rapporto peso e promette importante accelerazione, raggiungendo 60 mph da fermo in soli 3,7 secondi * (0-100km/h in 3,9 secondi) e sprint ad un velocità massima di 155 mph (249 kmh). Equipaggiata da un motore elettrico da 285HP/210kW, la vettura è dotata di un cambio automatico a singola velocità come versione standard, con la possibilità di dotarla di un cambio automatico a doppia velocità oppure un cambio manuale a 6 marce.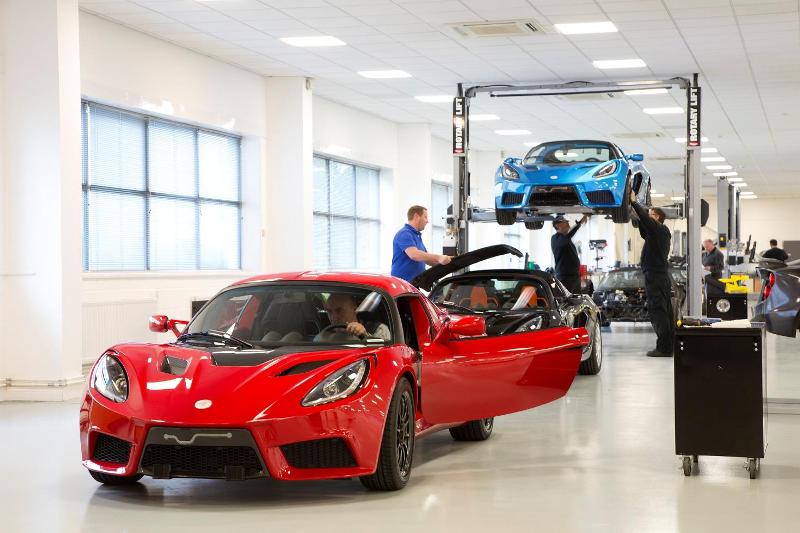 Albert Lam, Presidente e CEO di Detroit Electric Group ha commentato:
"Siamo entusiasti di vedere la nostra prima auto uscire dalla catena di produzione sul nostro sito nel Regno Unito. Siamo sicuri che il nostro primo cliente apprezzerà l'esperienza unica di guidare la SP:01 perché abbiamo lavorato duramente per sviluppare tecnologie che assicurano una delle più gratificanti auto elettriche sportive pure da guidare.

"Vedere la nostra visione realizzata è estremamente soddisfacente e ora possiamo concentrarci sulla realizzazione per una banca crescente di ordini. Dato che il nostro processo di produzione si basa sulle ordini, ci auguriamo di poter offrire quest'unica vettura sportiva elettrica ai nostri clienti in tutto il mondo", ha aggiunto.
La batteria della SP:01 è stata integrata nel telaio come elemento portante, aggiungendo rigidità per migliorare la maneggevolezza e la sicurezza. La batteria è la batteria automobilistica a più alta densità energetica in tutto il mondo, che offre oltre 140Wh/kg, beneficiando l'autonomia pur mantenendo complessivamente basso peso del veicolo.
Ogni Detroit Electric viene fornita con built-in carica bidirezionale e capacità di scarica. Resa possibile attraverso l'unità brevettata Detroit Electric, può eseguire la ricarica a casa e funzionare come fornitrice di energia di riserva – denominata '360-PowerBack' – il gruppo trasforma il veicolo in una fonte di energia sia per la rete che per la casa. Un avanzato sistema di gestione della batteria (BMS) raccoglie i dati sulla salute della batteria della vettura e della telematica di bordo la comunicano direttamente alla fabbrica.
SP:01 è dotata di un sistema basato su app chiamato 'SAMI' (Smartphone Application Management Infotainment), che utilizza la tecnologia Android ed è completamente compatibile con Android Auto, che fornisce un accesso sicuro a una serie di applicazioni e funzionalità Internet. SAMI consente agli utenti di cercare i punti di ricarica nelle vicinanze della strada e quindi impostare il tempo di ricarica pre-book, così come la recensione della fatturazione e del credito e le informazioni relative al loro uso nei punti di ricarica.
Quando si è lontani dalla SP:01, i proprietari possono utilizzare SAMI come telecomando via GSM, consentendo loro di localizzare il veicolo, accendere il climatizzatore e controllare lo stato di carica. Quando si è in macchina, lo smartphone SAMI è installato nella console centrale e diventa l'interfaccia per una vasta gamma di funzioni, tra cui lettore musicale, navigazione satellitare, la regolazione di frenata rigenerativa, l'illuminazione interna e lo stato dei sistemi del veicolo – come ad esempio il livello di carica della batteria, l'autonomia per ricaricare e altri dati della telemetria.
Detroit Electric ha stabilito distributori in tutta Europa e in Asia che si estendono dal Nord (Islanda e Norvegia) all'Oriente (Azerbaijan, Corea del Sud, Cina e Hong Kong) al Sud (Sud Africa), mentre altri paesi entreranno a far parte della crescente rete globale nei prossimi mesi.
I prezzi al dettaglio della SP:01 in Europa e in Asia saranno annunciati a breve.
In English
First Detroit Electric SP:01 rolls off the assembly line
First SP:01 pure electric sports car is produced at Leamington Spa, UK, facility
All-new high-performance model destined for first customer
SP:01 is the world's lightest and fastest two-seat pure-electric sports car
Source: Detroit Electric
Leamington Spa, UK. October 29, 2015: The first production Detroit Electric SP:01, the lightest and fastest two-seat pure-electric sports car in the world, has rolled off the line at the company's Leamington Spa manufacturing facility. The new SP:01 is destined for one of Detroit Electric's export markets to be delivered to the EV company's first customer.
The lightweight SP:01, which goes on sale in Asia and Europe over the coming weeks, combines a carbon fibre body with an aluminium chassis. It has a class-leading power to weight ratio and promises blistering acceleration, reaching 60mph from standstill in just 3.7 seconds* (0-100km/h in 3.9 seconds) and sprinting to an impressive top speed of 155mph (249km/h). Featuring a 285HP / 210kW electric motor, the car is fitted with a single-speed automatic transmission as standard, with the option of twin-speed automatic or 6-speed manual transmissions.
Albert Lam, Chairman and Group CEO of Detroit Electric commented:
"We are thrilled to see our first production car roll off the line at our UK manufacturing site. Our first customer is sure to appreciate the unique experience of driving the SP:01 as we've worked hard to develop technologies that ensure it is one of the most rewarding pure electric sports cars to drive.

"Seeing our vision realised is hugely satisfying and we can now focus on fulfilling a growing bank of orders. As our production process builds momentum, we look forward to providing this unique electric sports car to our customers all over the world," he added.
The battery in the SP:01 has been integrated into the chassis as a stressed member, adding stiffness to enhance handling and safety. The battery is the most energy-dense automotive battery pack in the world, offering over 140Wh/kg, benefitting range while keeping overall vehicle weight low.
Every Detroit Electric comes with built-in bi-directional charge and discharge capability. Made possible through the patented Detroit Electric home charging and power back-up unit – named '360-Powerback' – the unit turns the vehicle into a power source for both the grid and the home. An advanced Battery Management System (BMS) gathers data about the car's battery health and on-board telematics communicate it directly to the factory.
The SP:01 comes equipped with an app-based system called 'SAMI' (Smartphone Application Managed Infotainment), which utilises Android technology and is fully compatible with Android Auto, providing safe access to a host of apps and internet functionality. SAMI allows users to search for nearby roadside charge points and then pre-book charging time, as well as review billing and credit information relating to their charge-point use.
When away from the SP:01, owners can use SAMI as a remote control unit via GSM, enabling them to locate the vehicle, turn on the climate control system and check the charge status. When in the car, the SAMI-enabled smartphone is installed in the centre console and becomes the interface for a wide range of functions, including music player, satellite navigation, regenerative braking adjustment, interior lighting and vehicle systems status – such as the level of battery charge, range to recharge and other telemetry.
Detroit Electric has established distributors throughout Europe and Asia extending from the North (Iceland and Norway) and the East (Azerbaijan, South Korea, China and Hong Kong) to the South (South Africa), with additional countries due to join the growing global network over the coming months.
Retail prices for the SP:01 in Europe and Asia will be announced shortly.
no images were found