Gli attenti conducenti di veicoli elettrici hanno inviato oltre 2.500 aggiornamenti dei punto di ricarica auto elettriche sulla nuova Zap-Map app
Fonte: Zap-Mapp
25 Febbraio 2016. L'ultima versione di Zap-Map, leader delle mappe dei punti di ricarica auto elettrica del Regno Unito, ha già registrato oltre 2.500 aggiornamenti dei punti di carica da un abbonamento in crescita e impegnato, aiutando i conducenti EV ad individuare i punti di ricarica idonei ed operativi per i loro viaggi a emissioni zero.
Il nuovo Zap-Map, ora incorpora Zap-Chat, un servizio di aggiornamento della comunità, che è stato implementato sul web e come un'app iOS (2.0) nel mese di dicembre con la versione di Android (2.0) per essere rilasciato a metà febbraio. L'ultimo mese ha visto più di 1.200 messaggi Zap-Chat, tra cui 500 ricariche effettuate con successo, da una base di utenti che ora raddoppiano ogni mese.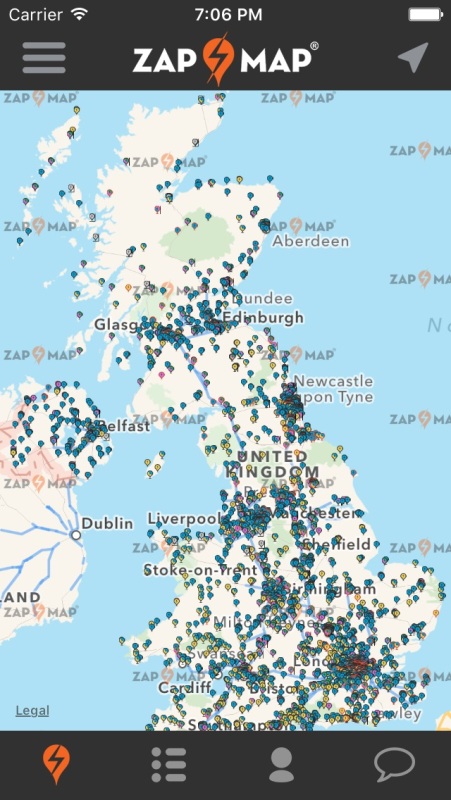 Con i dati di stato di funzionamento in tutto il Regno Unito di molti di ricarica situati in reti difficile da raggiungere e controllare, i conducenti EV hanno molte fonti di informazione per scoprire se un punto di ricarica è in funzione o meno. Con la nuova struttura comunitaria in materia di Zap-Map, i conducenti EV possono ora indicare una carica effettuata con successo, lo stato dei punti di carica, aggiornare o aggiungere foto e/o commenti per aiutare a fornire una migliore informazione a tutta l'intera rete di ricarica nel Regno Unito.
Altre nuove caratteristiche di Zap-Map includono una maggiore pianificazione del percorso sul desktop e filtri avanzati che permettono i veicoli elettrici di filtrare qualsiasi combinazione di modello di EV, il tipo di caricatore, la velocità, la rete o l'accesso.
La crescita del mercato delle auto elettriche del Regno Unito continua ad essere forte con i più recenti dati di mercato che dimostrano che ora ci sono ben oltre 50.000 auto plug-in sulle strade del Regno Unito. Le cifre SMMT / OLEV mostrano che le auto plug-in hanno rappresentato l'1,7% di tutte le automobili vendute a dicembre 2015 – il più alto mai fatto registrare nel Regno Unito.
In parallelo con il crescente numero di veicoli elettrici, le infrastrutture dei punti di ricarica sono in costante crescita con Zap-Map che mostra oltre 3.800 sedi di ricarica, 5.000 dispositivi di ricarica e 10.000 connettori. La disponibilità di dispositivi rapidi, essenziali per la crescita del mercato, sta migliorando, con oltre 850 dispositivi rapidi in 650 location che vengono mostrate su Zap-Map.
Melanie Shufflebotham, direttore della Next Green Car Ltd, la società che controlla Zap-Map, ha commentato:
"Siamo lieti che ci sono stati tanti i messaggi degli utenti su Zap-Chat. Il nostro obiettivo è quello di fornire una risorsa centrale di informazioni e di strumenti intelligenti per consentire ai conducenti di EV di individuare punti di ricarica adeguati ed operativi per i propri spostamenti a emissioni zero, e fornire aggiornamenti per la comunità EV in generale".
Per visualizzare Zap-Map e gli ultimi messaggi su Zap-Chat Vai a: https://www.zap-map.com/live/
Per ulteriori informazioni sulla app Zap-Map e per scaricare la versione più recente, visitare il sito: https://www.zap-map.com/app/
In English
EV drivers post over 2,500 electric car charge point updates on new Zap-Map app
Source: Zap-Mapp
25th February 2016. The latest version of Zap-Map, the UK's leading electric car charging point map, has already logged over 2,500  charge point updates from a growing and engaged membership, helping EV drivers locate suitable and operational charge points for their emission-free journeys.
The new Zap-Map, now incorporating Zap-Chat, a community update facility, was rolled out on web and as an iOS app (2.0) in December with the Android version (2.0) being released in mid-February. The last month saw more than 1,200 Zap-Chat posts, including 500 successful charges, from a user-base which is now doubling each month.
With operational status data across the many UK charging networks difficult to obtain, EV drivers often have to check many information sources to find out whether a charge point is working or not. With the new community facility on Zap-Map, EV drivers can now indicate a successful charge, update charge point status or add photos/comments to help provide better information for all across the whole UK charging network.
Other new features on Zap-Map include enhanced route planning on the desktop and enhanced filters enabling EV drivers to filter by any combination of EV model, charger type, speed, network or access.
Growth in the UK electric car market continues to be strong with the latest market figures showing there are now well over 50,000 plug-in cars on UK roads. Figures from SMMT/ OLEV show plug-in cars accounted for 1.7% of all cars sold in December 2015 – the highest ever share recorded in the UK.
In parallel with the increasing number of EVs, the charging point infrastructure is growing steadily with Zap-Map showing over 3,800 charging locations, 5,000 charging devices and 10,000 connectors. The availability of rapid devices, essential for market growth, is also improving, with over 850 rapid devices at 650 locations showing on Zap-Map.
Melanie Shufflebotham, director of Next Green Car Ltd, the company behind Zap-Map, commented:
"We are delighted that there have been so many user posts on Zap-Chat. Our aim is to provide a central information resource and smart tools to enable EV drivers to locate suitable, operational charging points for their zero emission journeys, and provide updates for the EV community at large".
To view Zap-Map and latest posts on Zap-Chat go to: https://www.zap-map.com/live/
For more information about the Zap-Map app and to download the latest version, visit: https://www.zap-map.com/app/
no images were found

.