· Prototipi di veicoli commerciali TEVVA percorrono quasi 30.000 miglia in meno di sei mesi
· La distanza percorsa dai tre veicoli è pari ad oltre la circonferenza della terra
· L'affidabilità dei veicoli ha permesso una percorrenza superiore alle aspettative
· La tecnologia collaudata è ora disponibile su ordinazione come pacchetto di retrofit
Fonte: TEVVA Motors
Wooburn City, Bucks. Gran Bretagna. Aprile 2016. I prototipi di sviluppo Tevva Motors hanno appena percorso una distanza complessiva di 27.000 miglia (43.443 km), un risultato di riferimento per la prossima generazione di veicoli commerciali elettrici ad autonomia estesa.
La distanza – che è maggiore dell'equatore terrestre – è stata coperta in meno di sei mesi, dai tre prototipi di veicoli costruiti dal pioniere della tecnologia con sede nell'Essex.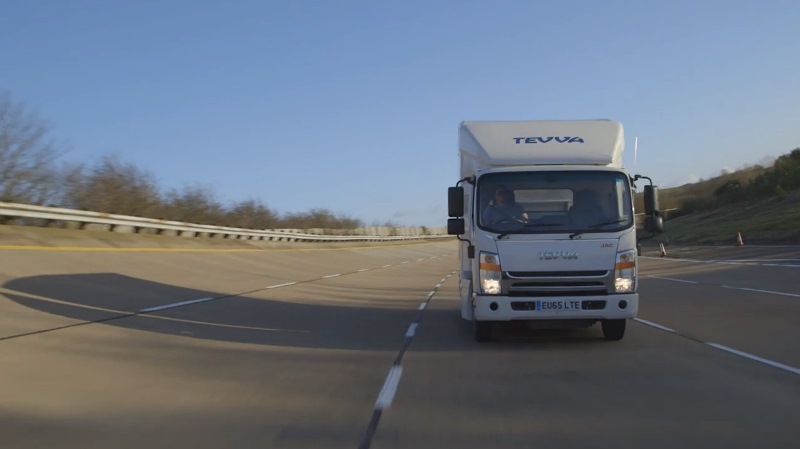 Ogni veicolo elettrico con il powertrain range extender di prossima generazione di Tevva è in grado di ridurre le emissioni di gas serra fino all'80%*, a fronte di un camion medio da 7,5 tonnellate dotato di motore diesel.
Il propulsore innovativo, che è ora disponibile su ordinazione, può essere montato sulla linea di produzione durante il processo produttivo oppure montato in un secondo momento come un pacchetto di retrofit di un veicolo già esistente. Entrambe le soluzioni sono in fase di sperimentazione durante il processo di sviluppo, con due veicoli TEVVA di prova – 'JAC1' e 'JAC2' – basati sul telaio JAC N-Series e di un retrofit Mercedes Benz Vario in funzione tutti i giorni gestito dal gigante della logistica UPS.
Il pacchetto di retrofit offre agli operatori la possibilità di dare ai veicoli esistenti una nuova vita, riducendo le emissioni ed i costi di gestione. Indipendentemente dall'applicazione, il propulsore range extender dell'autonomia in modo elettrico utilizza un Management System brevettato di proprietà TEVVA (PREMS), che assicura lo sfruttamento del pieno potenziale da entrambe le fonti di combustibile.
Tutti e tre i veicoli sono stati spinti ai loro limiti e oltre al Millbrook Proving Ground, ma sono stati anche messi alla prova attraverso le strade del Regno Unito, viaggiando in lungo e in largo il Paese, così come in tutti i giorni di operazioni con UPS. Ciascuno ha eseguito turni eccezionali negli ultimi sei mesi, con l'affidabilità del trio che ha consentito una maggiore percorrenza del previsto. Anche questo ha permesso al team di sviluppo di mettere davvero PREMS alla prova lo sviluppo del software, così come la tecnologia di powertrain.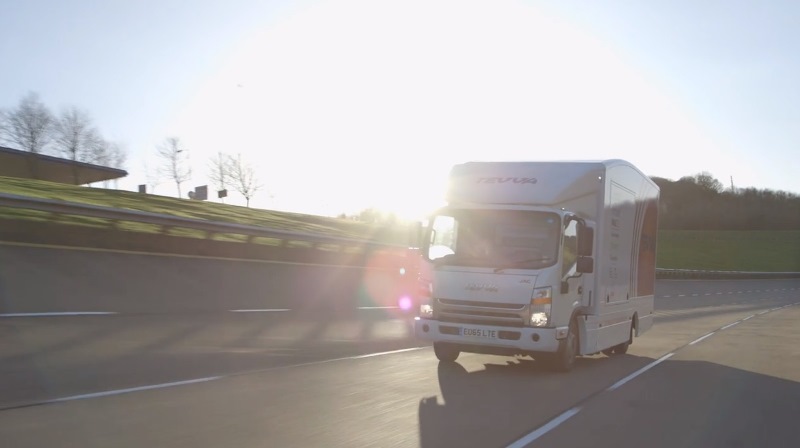 Il veicolo UPS continua ad impressionare, essendo guidato e gestito con gli stessi metodi e le routine come il resto della flotta di consegna UPS.
Asher Bennett, CEO Tevva Motors, ha aggiunto:
"Tutti e tre i veicoli sono stati costruiti per essere rotti; è così che troviamo i punti deboli e miglioriamo la progettazione in modo da essere pronti per la produzione. Il fatto che tutti e tre i veicoli continuano a svolgere le proprie funzioni oltre le aspettative è la prova delle bontà del nostro design e della tecnologia. Si può fare ed è usato quotidianamente nelle operazioni in modo efficace. Sono estremamente soddisfatto e orgoglioso dei nostri risultati, ma questo è solo l'inizio; il nostro progetto continuerà a fornire una riduzione dei costi e delle emissioni, contribuendo a salvare il pianeta attorno al quale il camion viaggia ogni giorno".
Note:
* Basato su modelli previsti per l'utente tipico
Tevva Motors ha sviluppato un veicolo commerciale con propulsore a basse emissioni che combina un motore elettrico per azionare le ruote e un motore diesel compatto per alimentare un generatore ed estendere l'autonomia. In combinazione con il sistema di controllo del gruppo propulsore TEVVA, il pacchetto PREMS è un vero e proprio GameChanger, calibrando l'utilizzo di fonti di energia doppie per l'alimentazione ottimale e il minimo impatto.
Il Predictive Range Extender Management System ottiene il massimo da ogni fonte di combustibile ed evita gli svantaggi di ciascuno, scatenando l'interesse nel settore della logistica.
L'autonomia in modo elettrico del powertrain range extender di TEVVA entrerà in produzione nei veicoli nuovi in un paio d'anni, ma pacchetti retrofit sono già disponibili su ordinazione per i clienti che cercano di migliorare la loro flotta esistente, riducendo le emissioni ed i costi di gestione e la fornitura di veicoli, con una vita di servizio aggiuntiva.
In English
UK built TEVVA electric test trucks lap the world
· Tevva's prototype vehicles clock up almost 30,000 miles in less than six months
· Distance travelled by the three vehicles is equal to more than the circumference of the earth
· Reliability of the vehicles has enabled greater distance to be covered, surpassing expectations
· Proven technology is now available to order as a retrofit package
Source: TEVVA Motors
Wooburn City, Bucks. UK. April 2016. Tevva Motors' prototype development vehicles have just achieved a combined total distance of 27,000 miles, a landmark achievement for the next generation electric, range extended commercial vehicle.
The distance – which is greater than the Earth's equator – has been covered in less than six months by three prototype vehicles built by the Essex-based technology pioneer.
Each vehicle has Tevva's next-generation electric range extender powertrain, capable of reducing greenhouse gas emissions by up to 80%*, compared to an average 7.5 tonne diesel engine truck.
The innovative powertrain, which is now available to order, can be fitted on the production line during the build process or fitted as a retrofit package to an existing vehicle. Both solutions are being tested during the development process, with Tevva's two test vehicles – 'JAC1' and 'JAC2' – based on the JAC N-Series chassis, and a retrofitted Mercedes-Benz Vario in daily operation with logistics giant UPS.
The retrofit package provides operators the option to give existing vehicles an additional life while reducing emissions and running costs. Regardless of application, the electric range extender powertrain utilises Tevva's patented Predictive Range Extender Management System (PREMS), which ensures the full potential of both fuel sources is exploited.
All three vehicles have been pushed to their limits and beyond at the Millbrook Proving Ground but have also been put through their paces on UK roads, travelling the length and breadth of the country, as well as in daily operations with UPS. Each has performed outstandingly over the last six months, with the reliability of the trio enabling a greater distance to be covered than expected. This also enabled the development team to really put PREMS to the test, developing the software as well as the powertrain technology.
The UPS vehicle also continues to impress, being driven and managed using the same methods and routines as the rest of the UPS delivery fleet.
Asher Bennett, Tevva Motors CEO, added: "All three vehicles were built to be broken; that is how we find weaknesses and improve the design to be production-ready. The fact all three vehicles continue to perform beyond expectation is testament to our design and the technology. It can – and is – used daily, in operations, effectively. I am extremely pleased and proud of our achievements, but this is only the start; our design will continue to deliver reduced costs and emissions, helping to save the planet the truck travels around every day."
no images were found