• Fuso porta la terza generazione dell'autocarro elettrico leggero sul mercato
• Fuso eCanter con il nuovo motore elettrico sincrono permanente
• Valorizzazione sistematica del modello precedente, il Fuso Canter E-Cell, in termini di autonomia e costi
• Fuso è leader nei "camion verdi"
Fonte: Daimler AG
Hannover, Germania. 21 settembre 2016. Fuso presenta la terza generazione dell'autocarro elettrico leggero, denominato eCanter, presso lo stand Daimler nel padiglione 14/15 al IAA Commercial Vehicles Show 2016. Con questa mossa Fuso annuncia l'inizio della produzione in piccola serie di veicoli che saranno consegnati ai clienti in Europa, USA e Giappone dal 2017. Il Fuso eCanter è la valorizzazione sistematica del Fuso Canter E-Cell e si differenzia dal modello precedente non solo in termini visivi, ma anche tecnicamente. I nuovi vantaggi del Fuso eCanter sono i frutti dei risultati dei lunghi test con i clienti condotti in Portogallo e Germania con la seconda generazione del veicolo. Per questo, la potenza del sistema di azionamento è stata aumentata mentre i costi tecnologici di batterie e componenti sono stati ridotti.
Individualità: una varietà di combinazioni di pacchi batteria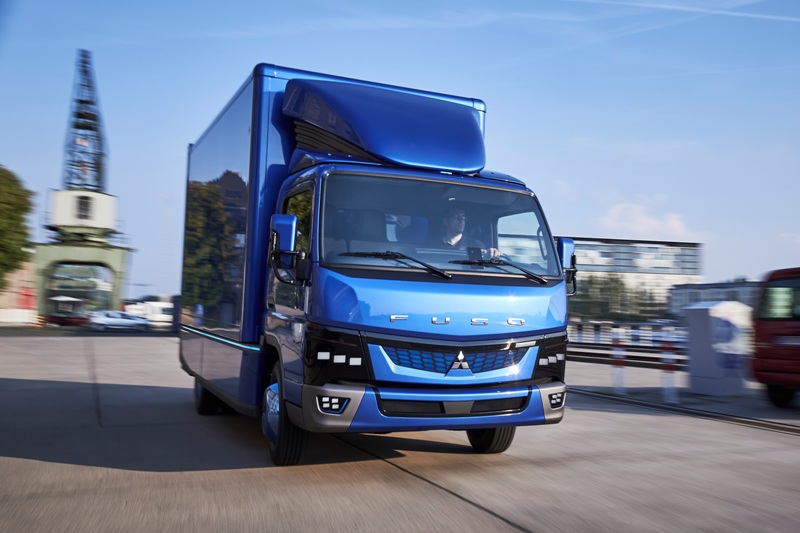 Il nuovo eCanter utilizza un motore elettrico sincrono a magneti permanenti con una potenza di 185 kW e una coppia di 380 Nm. La potenza viene trasferita al retrotreno da una trasmissione standard a velocità singola.
Il veicolo che è in anteprima al IAA dispone di una capacità della batteria di 70 kWh. A seconda dell'allestimento dello spazio di carico e anche dell'utilizzo, raggiunge un'autonomia di oltre 100 km con una singola carica. Le batterie sono distribuite su cinque pacchi, uno centrale nel frame di destra dietro la cabina e due su ciascun lato del telaio. Sono batterie raffreddate ad acqua agli ioni di litio che dispongono di una lunga durata, alta efficienza, in particolare a temperature ambiente elevate. Il design delle unità delle batterie è compatto. Nonostante il peso del pacco batterie, il Fuso eCanter vanta comunque un bilanciamento del peso eccezionale: la capacità di carico del telaio del veicolo di 7,49 tonnellate è 4,63 t inclusa la carrozzeria e il carico.
Ogni pacco batterie con tre a sei gruppi di batterie da 14 kWh ciascuno sono previsti per il prossimo ciclo di produzione su piccola scala. Questo permette l'eCanter di essere adattato alle esigenze del cliente per quanto riguarda autonomia, prezzo e peso. Il concetto si basa sull'esperienza di alcuni operatori, per i quali il carico utile è più importante dell'autonomia, mentre altri sono felici di sacrificare il carico per avere un'autonomia più elevata, cioè più pacchi batteria. Ugualmente adattabile sono le opzioni di ricarica: capacità fino all'80 per cento in meno di un'ora in corrente continua ad una stazione di ricarica rapida, o il 100 per cento in sette ore in corrente alternata. In futuro, la ricarica rapida da 170 kW sarà anche possibile in solo mezz'ora, il che significa  l'80 per cento della capacità della batteria. Una spina standard Combo 2 (noto come sistema combinato di carica) viene utilizzato per la ricarica.
Fuso eCanter con nuovo design
Il veicolo in mostra presenta un design unico e accattivante, con proiettori a LED e anche diversa griglia e paraurti, oltre un interno ridisegnato tra cui un tablet estraibile centrale. La cabina comfort ampia è dipinta in blu metallizzato, mentre i lati completamente rivestiti sono finiti in colore grigio antracite con una striscia blu a LED. Un pavimento in vetro walk-on nel cassone del veicolo in mostra offre una vista del powertrain e le batterie.
Autocarro elettrico leggero con potenziale di risparmio rispetto ai motori diesel
Localmente a zero emissioni, il Fuso eCanter non solo riduce l'impatto delle emissioni di scarico e acustiche nei centri urbani, ma è anche un'alternativa economicamente valida ai motori diesel. Grazie alla tecnologia ed ai costi più bassi, l'eCanter può essere offerto ad un prezzo competitivo al lancio sul mercato. I minori costi di gestione rispetto a un modello diesel equivalente significa che qualsiasi spesa aggiuntiva può essere ammortizzata in circa tre anni.
I risultati dei test di flotta lungo un anno con la seconda generazione del Fuso Canter E-Cell hanno dimostrato che possono essere risparmiati circa € 1000 per 10 000 km con questo veicolo rispetto ad una versione diesel. Accoppiato con i costi di manutenzione, che sono circa il 30 per cento più bassi, questo rende il Fuso una soluzione economica per i clienti. Questi veicoli hanno dimostrato la loro idoneità all'uso quotidiano in distribuzione a breve raggio e nel trasporto urbano.
Fuso è leader nei "camion verdi"
Accanto a Mercedes-Benz e Freightliner, Fuso è il terzo marchio di Daimler Trucks. La società ha la sua sede centrale a Kawasaki vicino a Tokyo. Il Fuso Canter per i mercati europei viene prodotta nello stabilimento di Tramagal in Portogallo. Fuso è il principale produttore di autocarri leggeri "verdi" e ha oltre 40 anni di esperienza come sviluppatore di azionamenti elettrici.
La fabbricazione in serie del Canter Eco Hybrid è iniziata nel 2006, mentre la seconda generazione è in produzione dal 2012. Fuso ha presentato la prima generazione del Canter E-Cell alimentato elettricamente al Salone di Francoforte del 2010, con la seconda generazione seguente nel 2014. Il Fuso eCanter elettrico celebra la sua anteprima mondiale al Salone del Veicolo Commerciale di Hannover di quest'anno, è la terza generazione del veicolo e andrà in produzione in piccola serie entro il 2017.
In English
The new Fuso eCanter in small series production from 2017
Fuso brings the third generation of the all-electric light-duty truck to market
Fuso eCanter with new permanent synchronous electric motor
Systematic enhancement of the preceding model, the Fuso Canter E-Cell, in terms of range and costs
Fuso is a leader in "green trucks"
Source: Daimler AG
Hannover, Germany. September 21st, 2016. Fuso is presenting the third generation of the world's first all-electric light-duty truck, in the guise of the eCanter, at the Daimler stand in hall 14/15 at the 2016 IAA Commercial Vehicles Show. With this move Fuso is announcing the start of a small series production run of vehicles which will be delivered to customers in Europe, the USA and Japan from 2017. The Fuso eCanter is the systematic enhancement of the Fuso Canter
E-Cell, which differs from the preceding model not just in visual terms but also technically. The new Fuso eCanter benefits from the extensive findings of customer trials conducted in Portugal and Germany with the second generation. For this, the output of the drive system was increased while the technology costs for batteries and components were reduced.
Individuality: a variety of combinable battery packs
The new eCanter uses a permanent synchronous electric motor with an impressive output of 185 kW and torque of 380 Nm. Power is transferred to the rear axle by a standard single-speed transmission.
The vehicle being premiered at the IAA features a battery capacity of 70 kWh. Depending on the body, load and also usage, a range of more than 100 km without stationary recharging is possible. The batteries are spread over five units, one centrally in the frame right behind the cab and two more on each side of the frame. They are water-cooled lithium-ion batteries that feature a long service life, high efficiency, especially at high ambient temperatures, and also compact design of the battery units. Despite the weight of the battery pack, the Fuso eCanter nevertheless boasts an outstanding weight balance: the chassis load capacity of the 7.49-tonne vehicle is 4.63 t including the body and load.
Individual battery packs with three to six sets of batteries of 14 kWh each are planned for the upcoming small-scale production run. This allows the eCanter to be adapted to customer requirements with regards to range, price and weight. The concept is based on the experience that for some operators, payload is more important than range, while others are happy to sacrifice payload for longer range, i.e. more battery packs. Equally adaptable are the charging options: up to 80 percent capacity within an hour with direct current at a quick charging station, or 100 percent in seven hours with alternating current. In the future, rapid charging with 170 kW will also be possible in only half an hour, meaning 80 percent battery capacity. A standard Combo 2 plug (known as Combined Charging System) is used for charging.
Fuso eCanter with new design
The exhibition vehicle features a unique and attractive design, with LED headlamps and also a distinct grille and bumper, and a redesigned interior including a central, removable tablet. The wide comfort cab is painted in metallic blue, while the fully-clad sides are finished in anthracite grey with a blue LED strip. A walk-on glass floor in the exhibition vehicle's box body offers a view of the drive unit and the batteries.
All-electric light-duty truck with high savings potential over diesel engines
The Fuso eCanter's locally zero-emission drive will not only reduce the impact of exhaust and noise emissions on city centres, but will also be an economically attractive alternative to diesel engines. Thanks to lower technology costs, the eCanter can be offered at a competitive price at market launch. Lower running costs compared with an equivalent diesel model mean that any additional expense can be repaid in around three years.
The results of a year-long fleet test with the second generation of the Fuso Canter E-Cell have shown that around €1000 per 10 000 km can be saved with this vehicle compared with a diesel version. Coupled with maintenance costs which are around 30 percent lower, this makes the Fuso an economical solution for customers. These vehicles have proven their suitability for daily use in short-radius distribution and urban transport.
Fuso is a leader in "green trucks"
Alongside Mercedes-Benz and Freightliner, Fuso is the third brand from Daimler Trucks. The company has its headquarters and largest plant in Kawasaki near Tokyo. The Fuso Canter for European markets is produced at the Tramagal plant in Portugal. Fuso is the leading manufacturer of "green" light-duty trucks and has over 40 years of experience as a developer of electric drives.
Series manufacture of the Canter Eco Hybrid began in 2006, while the second generation has been in production since 2012. Fuso presented the first generation of the electrically powered Canter E-Cell at the IAA 2010, with the second generation following in 2014. The all-electric Fuso eCanter celebrating its world premiere at the IAA this year marks the third generation of the vehicle and will go into small series production by 2017.
no images were found

.