Otto città inglesi hanno condiviso il fondo del governo di £ 40 milioni per potenziare le auto elettriche
Fonte: Go Ultra Low Cities
Londra, Gran Bretagna. 25 Gennaio 2016. Otto città campione nel Regno Unito sono diventate le prime 'Go Ultra Low Cities' di veicoli elettrici
La quota finanziamente statale di £ 40 milioni spingerà l'innovazione e farà crescere il mercato dell'auto elettrica.
I piani per il parcheggio gratuito, l'accesso alle corsie preferenziali ed i centri di esperienza per auto elettriche diventeranno realtà per i residenti della città
Oggi (Lunedi 25 gennaio) ad otto città sono stati assegnati un investimento multi milionario in sterline da parte del Governo con l'obiettivo di aumentare la diffusione dei veicoli elettrici. Bristol, Londra, Nottingham e Milton Keynes sono state nominate come 'Go Ultra Low City' ed i principali benefattori del fondo di £ 40 milioni, con Dundee, il Nord Est, Oxford e York che condivideranno la cifra per svilu ppareprogetti specifici.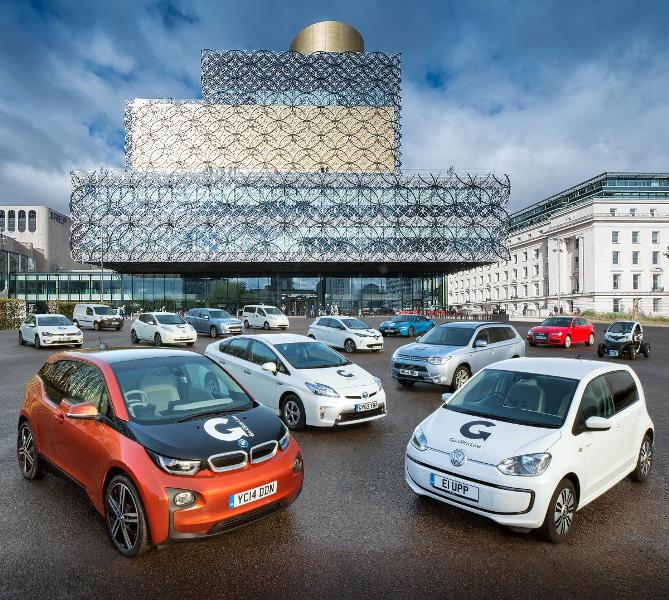 Le città a cui sono stati garantiti i finanziamenti si sono impegnate nello sviluppo di idee innovative e come quota dell'iniziativa si prevede di impiegare tecnologie all'avanguardia, quali hub di ricarica rapida e illuminazione stradale che possano avere la doppia funzione di punti di ricarica insieme a una serie di proposte che darà la spinta ad ulteriori privilegi locali come i proprietari di EV che avranno accesso alle corsie preferenziali dei bus nei centri urbani.
La rivoluzione plug-in è già ben avviata, con le immatricolazioni di auto elettriche 2015 aumentate fino al 94% rispetto all'anno precedente. Le iniziative proposte da Go Ultra Low Cities sono impostate per aumentare il numero di auto elettriche di servizio di circa 100.000 unità nel Regno Unito entro il 2020, con queste città a rappresentare una tesi pratica di studi per altre regioni del Regno Unito.
Il Segretario dei Trasporti Patrick McLoughlin ha detto:
"Queste Go Ultra Low Cities hanno proposto interessanti idee innovative che incoraggieranno i conducenti a scegliere un'auto elettrica. Voglio vedere migliaia di veicoli più ecologici sulle nostre strade e sono orgoglioso di sostenere questa ambizione con £ 40 milioni per aiutare il Regno Unito a diventare pioniere internazionale della tecnologia di riduzione delle emissioni.

"Il Regno Unito è leader mondiale nella diffusione di veicoli a basse emissioni e il nostro piano economico a lungo termine sta investendo £ 600 milioni entro il 2020 per migliorare la qualità dell'aria, creare posti di lavoro e raggiungere l'obiettivo che ogni nuova auto e furgone immatricolato in Inghilterra sia ad emissioni ultra basse entro il 2040."
Iniziative Go Ultra Low Cities
Tra le città di successo, Londra è stata premiata con fondi per £ 13 milioni  per creare i "Quartieri del futuro", in modo di dare la priorità agli ULEV nei diversi quartieri della capitale. Le proposte includono zone a basse emissioni che offrono il parcheggio e la priorità del traffico ai proprietari di veicoli plug-in.
Milton Keynes riceverà £ 9 milioni per aprire un Electric Vehicle Experience Center, un 'one stop shop' che fornisce dei buoni consigli al consumatore e prestiti di veicoli a breve termine. La città ha anche proposto di aprire tutti i 20 mila posti auto gratuitamente ai veicoli elettrici, danno ai veicoli elettrici la stessa priorità al semaforo degli autobus locali, mentre avranno anche accesso alle corsie preferenziali.
Con una fondo fissato di £ 7 milioni, Bristol darà accesso a tre corsie carpool di ULEVs in città e introdurrà uno schema di leasing di auto elettrica. Nottinghamshire e Derby utilizzeranno £ 6 milioni di finanziamenti per l'installazione di 230 punti di ricarica ed i proprietari di auto elettriche avranno sconti nel, più l'accesso a corsie bus in strade principali in tutta la città. L'investimento pagherà anche un nuovo programma di sostegno alle imprese lasciando 'provare prima di acquistare' le aziende locali.
Lo schema prevede di fornire £ 5 milioni di finanziamenti per lo sviluppo di iniziative specifiche nelle regioni di Dundee, Oxford, York e North East per aiutarle a rilanciare la loro quota per una rivoluzione dell'automobilismo pulito nel paese. Nuovo punti di ricarica si apriranno a Dundee con i collegamenti in tutta l'area per i proprietari di veicoli plug-in, mentre gli hub con pensiline solari di Park and Ride di York aiuteranno a ridurre l'inquinamento atmosferico in città e nei dintorni.
Poppy Welch, capo della britannica Go Ultra Low Cities, ha dichiarato:
"Siamo entusiasti di vedere che le idee innovative formulate da ciascuna delle città vincitrici diventerà realtà GB Ultra Low nei prossimi mesi. L'investimento di £ 40 milioni da parte del governo, in combinazione con i fondi vincente in ogni area, trasformerà le strade per i residenti dentro e intorno alle città GB Ultra Low.

"Con Altre migliaia di auto plug-in ad essere vendute, riducendo i costi di esercizio per gli automobilisti e aiutando l'ambiente, questo investimento contribuirà a mettere il Regno Unito in prima linea nella corsa globale alle emissioni ultra-basse. Iniziative come i centri di customer experience, parcheggi gratuiti, il permesso di circolare nelle corsie riservate agli autobus e centinaia di nuove sedi di ricarica pubblica, le renderà convenienti, sicuri di fare appello ai conducenti e ispirerà altre città e Autorità locali ad investire nella rivoluzione elettrica".
Il fondo Go Ultra Low Cities è solo un elemento di un vasto pacchetto di misure dall'Ufficio per veicoli a basse emissioni di £ 600 milioni entro il 2020, che include anche £ 400 milioni di soldi garantiti per individuale sotto forma di sovvenzioni, gli investimenti sui bus e taxi a basse emissione e il finanziamento della R&S per le tecnologie innovative, come i veicoli leggeri e la maggior autonomia delle batterie.
Go Ultra Low esiste per aiutare gli automobilisti a comprendere i vantaggi, il risparmio sui costi e le capacità dei veicoli a ultra basse emissioni sul mercato. La campagna collaborativa è la prima esperienza che riunisce un consorzio dei più importanti costruttori di veicoli, il governo e la Società di produttori di motori e Traders (SMMT). Ulteriori dettagli sono disponibili nel sito www.goultralow.com.
In English
Eight UK cities share £40 milion government fund to boost plug-in car uptake
Source: Go Ultra Low Cities
London, UK. 25 January 2016. Eight electric vehicle champion cities become UK's first 'Go Ultra Low Cities'
Share of £40 million funding will spark innovation and grow electric car market
Plans for free parking, access to bus lanes and electric car experience centres will become reality for city residents
Today (Monday 25 January) eight cities have been awarded a multi-million pound investment from Government to increase uptake of electric vehicles. Bristol, London, Milton Keynes and Nottingham were named as 'Go Ultra Low Cities' and the main benefactors of the £40 million scheme, with Dundee, the North East, Oxford and York sharing seed funding for EV specific projects.
Cities secured funding by pledging innovative ideas and as part of the initiative will deliver a roll-out of cutting edge technology, such as rapid-charging hubs and street lighting that can double as charging points, along with a range of proposals that will give plug-in car owners further local privileges such as access to bus lanes in city centres.
The plug-in revolution is well underway already, with 2015's electric car registrations up 94% compared to the previous year. The initiatives proposed by the Go Ultra Low Cities are set to boost plug-in car numbers by around 100,000 across the UK by 2020, with these cities acting as best practice case studies for other UK regions to echo.
Transport Secretary Patrick McLoughlin said:
"These Go Ultra Low Cities have proposed exciting, innovative ideas that will encourage drivers to choose an electric car. I want to see thousands more greener vehicles on our roads and I am proud to back this ambition with £40 million to help the UK become international pioneers of emission cutting technology.

"The UK is a world leader in the uptake of low emission vehicles and our long-term economic plan is investing £600 million by 2020 to improve air quality, create jobs and achieve our goal of every new car and van in the UK being ultra-low emission by 2040."
Go Ultra Low City initiatives
Among the successful cities' bids, London is awarded £13 million to create 'Neighbourhoods of the Future', prioritising ULEVs in several boroughs across the capital. Proposals include Low Emission Zones that offer parking and traffic priority to owners of plug-in vehicles.
Milton Keynes will receive £9 million to open a city centre Electric Vehicle Experience Centre, a 'one stop shop' providing consumer advice and short-term vehicle loans. The city also proposes to open up all 20,000 parking bays for free to EVs, give plug-in vehicles the same priority at traffic lights as local buses, while also having access to bus lanes.
With a £7 million grant secured, Bristol will give ULEVs access to three carpool lanes in the city and introduce a plug-in car leasing scheme. Nottinghamshire and Derby will use £6 million of funding to install 230 charge points and offer plug-in owners discount parking, plus access to bus lanes in key routes across the city. The investment will also pay for a new business support programme letting local companies 'try before they buy'.
The scheme is also providing £5 million of development funding for specific initiatives in Dundee, Oxford, York and North East regions to help them play their part in kick-starting a country-wide clean motoring revolution. New commuter charging hubs in Dundee will open up links across the region for plug-in vehicle owners, while solar-canopied Park and Ride hubs in York will help reduce air pollution in and around the city.
Poppy Welch, Head of Go Ultra Low said:
"We're excited to see the innovative ideas put forward by each of the winning Go Ultra Low cities become reality over the coming months. The £40 million investment by government, combined with funds from each winning area, will transform the roads for residents in and around the Go Ultra Low cities.

"With thousands more plug-in cars set to be sold, cutting running costs for motorists and helping the environment, this investment will help to put the UK at the forefront of the global ultra-low emissions race. Initiatives such as customer experience centres, free parking, permission to drive in bus lanes and hundreds of new, convenient public charging locations are sure to appeal to drivers and inspire other cities and local authorities to invest in the electric revolution."
The Go Ultra Low Cities fund is just one element of a comprehensive £600 million package of measures from the Office for Low Emission Vehicles by 2020, which also includes £400 million of guaranteed money for individual plug-in car grants, investment in low emission buses and taxis and R&D funding for innovative technology such as lighter vehicles and longer-lasting car batteries.
Go Ultra Low exists to help motorists understand the benefits, cost savings and capabilities of the raft of ultra low emission vehicles on the market. The collaborative campaign is the first of its kind, bringing together a consortium of leading vehicle manufacturers, Government and the Society of Motor Manufacturers and Traders (SMMT). Further details are available at www.goultralow.com.
no images were found

.