A Bruxelles protagonisti il gas naturale e biometano con FCA e CNH Industrial
Fonte: FCA
Londra, Gran Bretagna. 28, Maggio 2015. Fiat Chrysler Automobiles (FCA) e CNH Industrial hanno preso parte al convegno "(Bio)Methane, The Road to Sustainable Mobility" che si è svolto ieri a Bruxelles – presso la Bibliothèque Solvay – supportando nell'organizzazione le associazioni europee del gas naturale per autotrazione (NGVA Europe) e del biogas (EBA).
L'evento è stato da un lato un'importante occasione per ripercorrere il ciclo virtuoso del biometano e i suoi benefici con riferimento alle politiche europee per la mobilità sostenibile, dall'altro un'opportunità di confronto tra importanti rappresentanti delle istituzioni europee e dell'industria.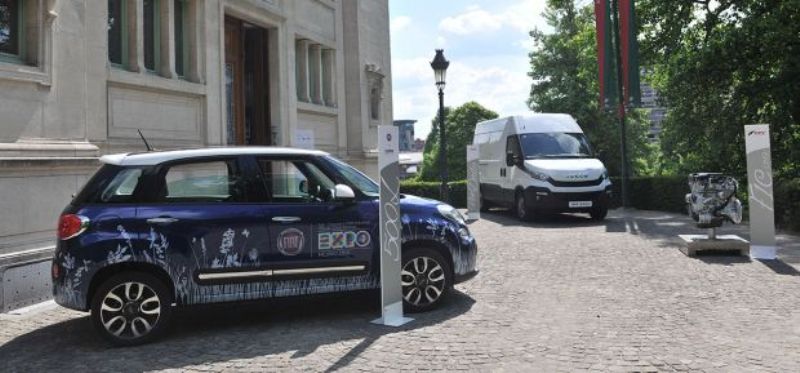 Al convegno hanno preso parte numerosi esperti e personalità del settore: Stefan Back, del Comitato economico e sociale europeo; Nikolaus von Peter, membro del Gabinetto del Commissario ai Trasporti Violeta BULC; Matthias Maedge, responsabile NGVA Europe per gli affari europei; Jan Stambasky, presidente di EBA; Dietrich Klein, responsabile Bioenergy di Copa-Cogeca, coordinamento Associazioni agricole europee; Stefano Bozzetto, rappresentante del Consorzio italiano biogas in Europa e membro del consiglio di amministrazione di EBA; Stephane Gigou, responsabile Product Portfolio Planning per l'Europa, il Medio Oriente e l'Africa di FCA; Michele Ziosi, responsabile dei rapporti istituzionali per l'Europa, il Medio Oriente e l'Africa di CNH Industrial; Mathieu Lefebvre, responsabile sviluppo Biogas di Air Liquide; Giovanni La Via, presidente della Commissione del Parlamento Europeo sull'Ambiente, Salute pubblica e Sicurezza alimentare.
Il biometano è un gas metano rinnovabile ottenuto dal processo di upgrading del biogas, utilizzabile senza costi aggiuntivi nelle reti di distribuzione già esistenti e nei veicoli alimentati a gas naturale, che potranno così viaggiare con un biocarburante. In Italia, dopo l'autorizzazione avvenuta nel dicembre del 2013, si attendono a breve le procedure di attuazione. È riconosciuto anche dai recenti provvedimenti dell'Unione Europea come biocarburante avanzato per la sua valenza strategica nei trasporti e per il suo contributo al rispetto della Direttiva 2009/28/EC sulle Fonti Rinnovabili.
Secondo il Consorzio italiano biogas, il modello proposto è quello del 'Biogas fatto bene' che si sviluppa nel contesto di un'impresa agricola attraverso l'utilizzo di sottoprodotti, di reflui di allevamento e colture di integrazione. L'Italia ha già fissato per legge gli obiettivi per la produzione di biocarburanti sostenibili e ha già stabilito una quota del 2 per cento entro il 2020.
Il convegno di Bruxelles ha offerto la possibilità a FCA e CNH Industrial di mettere in evidenza il continuo impegno nella promozione del biometano e del gas naturale come via alternativa per una mobilità sempre più sostenibile.
Giovanni La Via (Presidente della Commissione Ambiente, Sanità Pubblica e Sicurezza alimentare del Parlamento Europeo) a proposito del convegno ha affermato che:
"Per raggiungere gli obiettivi sempre più ambiziosi di riduzione delle emissioni di CO2, dobbiamo continuare a lavorare insieme, istituzioni, industria e società civile. Il biometano è un prodotto su cui investire ed innovare, poiché può dare un contributo importante per valorizzare il settore agricolo e per una mobilità davvero sostenibile".
Per Michele Ziosi (responsabile dei rapporti istituzionali per l'Europa, il Medio Oriente e l'Africa di CNH Industrial):
"Il biometano è un carburante strategicamente prezioso, ideale per future applicazioni in campo agricolo e utilizzabile già nei veicoli a gas naturale su strada. Rappresenta un tassello di una vera e propria rivoluzione nel settore dei trasporti, con benefici ambientali, economici e industriali reali e immediati, un'eccezionale occasione di sostenibilità reale".
Secondo Stephane Gigou (responsabile di Product Portfolio Planning per l'Europa, il Medio Oriente e l'Africa di FCA):
"Il biometano e il gas naturale sono un importante elemento della strategia di FCA per la mobilità sostenibile. Leader da oltre 15 anni in questo settore in Europa, FCA offre un'ampia gamma di veicoli a gas naturale, già adatti per il funzionamento a biometano. Per permettere a questa tecnologia di svilupparsi e di esprimere il suo potenziale, l'ampliamento della rete distributiva resta ancora oggi uno dei fattori chiave".
no images were found

.