di Marcelo Padin
Direttore Editoriale Electric Motor News
Fonte: Infinity e Solutions
Biella, Italia. 10 Aprile 2016. Con l'arrivo della bella stagione molti iniziano a pensare all'impiego del tempo libero in contatto con la natura, ma senza le fatiche degli sport di un certo livello.
L'esperienza nel settore di Alessandro Di Maira, General Manager di Infinity e Solutions proprietaria del marchio IES Bike avvicina tutta la famiglia a dei percorsi turistici in sella alle biciclette a pedalata assistita che permettono di scoprire delle bellezze poco conosciute della penisola.
Uno dei percorsi allestiti da IES Bike in collaborazione con Bugella Welcome by Scaramuzzi Viaggi con sede a Biella ci porta alla scoperta del Piemonte, dal Canavese al Biellese divise dalla collina morenica più lunga d'Europa, ma unite dalla stessa passione del bel paesaggio, della buona gastronomia e del vivere in modo attivo ma rilassato!
Il tour è stato appositamente progettato per coloro che amano pedalare ma non sono troppo allenati. Senza stress e competizione i percorsi sono pensati con tappe lungo il percorso per ammirare il paesaggio, visitare, pranzare e degustare i vini locali.
Il gruppo, fino a un massimo di otto persone, permetterà alla guida cicloturistica di seguirvi al meglio e a voi di sentirvi coccolati, tranquilli, in sintonia con i paesaggi e i luoghi attraversati e le persone incontrate. Il tutto condito dal meritato risposo presso strutture sempre particolari, diverse ma sempre di ottimo livello e confort!
Il Tour giorno per giorno
1° giorno: arrivo e relax a Villa Matilde
Benvenuti in Piemonte! Il vostro tour inizia con il vostro arrivo, con mezzi propri, nel Canavese, nello splendido Relais Villa Matilde a Romano Canavese (se preferite un servizio personalizzato, Bugella Welcome vi organizzerà i trasferimenti con comode auto o minibus con autista). Avrete tutto il tempo per gustarvi un cocktail di benvenuto ai bordi della bellissima piscina e rilassarvi in una delle sue stanze, tutte diverse tra di loro, oppure godere del caldo e del bel tempo nuotando e prendendo il sole! La giornata terminerà con la cena presso il Ristorante del Relais, Le Scuderie, e un meritato riposo.
Pasti: cena e cocktail benvenuto.
Luoghi: Romano Canavese.
Alloggio: Relais Villa Matilde (vedi descrizione).
2° giorno: castelli, il Lago di Viverone, una chiesa romanica e il Golf Club più bello d'Italia!
Si parte! Dopo colazione farete la conoscenza della vostra personale guida cicloturistica che vi accompagnerà per i prossimi giorni. La guida vi illustrerà il programma e vi darà ogni informazione circa il percorso, i luoghi che visiterete, le nozioni di sicurezza e di come sfruttare al meglio le vostre e-bike. Le vostre bicicletta a pedalata assistita vi aspetteranno nel garage del Relais, pronte e con la batteria carica, per iniziare la vostra avventura.
Il percorso si snoda in piano per poi raggiungere il meraviglioso Castello di Masino. Il Castello, affacciato sull'ampia pianura del Canavese e immerso in un immenso parco romantico, sorge su una collina antistante la lunga barriera morenica della Serra di Ivrea (che percorrerete nei giorni successivi). Conoscerete i suoi interni e la sua storia in una visita guidata e potrete gustare una bevanda presso il suo bar panoramico. Prossima tappa il lago di Viverone e il meritato pranzo, a base di pesce di lago, sul terrazzo dell'Hotel Marina. Riposati e rifocillati proseguiremo la nostra pedalata percorrendo tranquille strade o sterrati verso il grazioso Lago di Bertignano, da qui a Zimone e poi a Magnano. Non può mancare una visita della Chiesa romanica di San Secondo, immersa nella quiete della natura circostante.
Arrivo presso la struttura che ci ospiterà per la notte: il Golf Hotel Le Betulle. Sarete accolti dall'atmosfera "english style" dell'hotel, all'interno del Golf Club più bello d'Italia, per una degustazione di vini locali e per la cena. Pernottamento, magari in una delle stanze che si affacciano su una delle 18 buche del campo.
Pasti: colazione, pranzo, cena.
Luoghi: Romano Canavese, Castello di Masino, lago di Viverone, Zimone, Magnano.
Percorso: 46 km/28,5 miglia, dislivello: D+ 820m, D- 540m.
Alloggio: Golf Hotel Le Betulle (vedi descrizione).
3° giorno: la collina morenica più lunga d'Europa, una SPA in montagna e il Santuario Patrimonio Unesco!
Giornata di risalita della Serra, la collina morenica che divide il Canavese dal Biellese. Il dislivello, aiutati dalla pedalata assistita, non farà paura neanche ai meno allenati! Percorreremo in facile fuoristrada, per quasi 20 km, tutta la collina, tra i suoi meravigliosi boschi, per arrivare al paese di Andrate e poi proseguire, sempre in leggera salita, fino alla nostra meta per una sosta di relax e ristoro: La Bossola di Netro. Questo albergo ristorante ha una particolarità da offrivi: una piccola e intima SPA dove potrete rilassarvi in una vasca idromassaggio o nella sauna e gustarvi i piatti locali, godendo di una splendida vista sul Biellese, la Serra, la Pianura Padana e il Monviso sullo sfondo! Si prosegue sul Tracciolino, la strada panoramica che collega i die più importanti santuari del Biellese: Graglia e il Santuario di Oropa. Ma prima di arrivare a destinazione una sosta d'obbligo è la Trappa di Sordevolo. Una sorpresa tra le montagne biellesi. Finalmente arriveremo al Santuario di Oropa e al suo sacro Monte. Cenerete nel grazioso ristorante di Betty, immerso tra gli alberi e dormirete in un atmosfera unica, mistica ma con tutti i confort di un moderno hotel. Quiete, relax, misticismo, natura e storia vi accompagneranno nel vostro soggiorno.
Pasti: colazione, pranzo, cena.
Luoghi: Magnano, Andrate, La Bossola di Netro, Trappa, Oropa.
Percorso: 42 km/26 miglia, dislivello: D+ 1270m, D- 670m.
Alloggio: Santuario di Oropa (vedi descrizione).
4° giorno: tra Valle di Oropa e Valle Cervo, il borgo più misterioso d'Italia e l'oasi naturale nata dal sogno di Ermenegildo Zegna!
Dopo la colazione in uno dei bar storici del Santuario, una guida turistica vi accompagnerà alla scoperta del Santuario, degli Appartamenti Reali dove soggiornavano i Savoia, i re d'Italia, quando erano in visita in questi luoghi, della galleria degli ex voto, del museo del tesoro… Riprenderemo la bicicletta per spostarci, percorrendo la strada asfaltata con alcuni tornanti e una galleria scavata nella roccia, nella valle attigua, la
Valle Cervo ove ci aspetta la visita guidata del villaggio di Rosazza e i suoi affascinanti misteri! Capace di attirare quanti hanno qualche interesse ai luoghi esoterici e misteriosi, Rosazza deve infatti la sua fama a Federico Rosazza, Senatore del Regno d'Italia, che pare fosse anche Grande Maestro della Massoneria di Biella e che proprio in questa città tenesse le sue riunioni segrete. Dopo il pranzo a Rosazza ci aspetta l'ultima fatica, la salita verso l'Oasi Zegna e il meritato riposo all'Hotel Bucaneve fermandoci per visitare sulla strada il villaggio di pietra di Sassaia. Per chi invece avesse ancora energie e volesse scoprire la Valle Sessera, altri 10 km di pedalate lo attendono all'interno di una valle incontaminata e selvaggia! Per tutti vi aspetta una cena gourmet preparata con maestria dallo chef Andrea in abbinamento a ottimi vini consigliati dalla Sommelier Katia. Pernottamento in una delle stanze che offrono l'emozione della residenza di montagna, nel pieno rispetto dello stile originario.
Pasti: colazione, pranzo, cena gourmet.
Luoghi: Oropa, Rosazza, Bocchetto Sessera, Oasi Zegna.
Percorso: 35 km/22 miglia, dislivello: D+ 1330m, D- 1000m. (45 km/28 miglia se giro Valle Sessera)
Alloggio: Hotel Bucaneve (vedi descrizione).
5° giorno: Casa Zegna, borghi medievali, le cantine e i vini dell'Alto Piemonte… e un pezzo di savana in terra biellese!
Prima di lasciare la terra biellese non potete perdervi di conoscere due aspetti importanti della vita di Biella: la tradizione tessile e quella enologica. In un contesto straordinario, che unisce la fabbrica all'ambiente montano circostante, Casa Zegna racconta la storia del Gruppo Ermenegildo Zegna, leader globale dell'abbigliamento di lusso: consente di scoprire i valori stilistici, tecnologici e umani del gruppo e di tutto il tessile biellese! Sempre in discesa e in completo relax, attraverseremo tranquille valli e paesaggi, il borgo medievale di Masserano e finalmente sosta degustazione in una delle due cantine che visiteremo: le Tenute Sella a Lessona. Dal 1671 di proprietà della famiglia di banchieri biellese, Marco vi farà assaggiare i vini a base di vitigno Nebbiolo (Lessona, Bramaterra, Coste del Sesia) accompagnati da robusti assaggi di specialità locali. Prossima degustazione: il Castello di Castellengo e i suoi vini Centovigne: scoprite insieme a Jutta e Alessandro questo castello che, dalla collina su cui è arroccato, domina la splendida pianura sottostante, dando le spalle alle dolci colline Biellesi.
Il paesaggio ora cambia completamente: attraversiamo la Riserva naturale delle Baragge. La fitta brughiera, alternata a vaste distese di prateria, la fa apparire simile alla savana africana, con le Alpi Biellesi a fare da sfondo. Dopo la visita del Ricetto di Candelo, uno dei borghi medievali meglio conservati in Italia, il nostro viaggio volge al termine: un minibus vi riporterà a Villa Matilde, da dove eravate partiti 4 giorni prima per il ritorno a casa!
Pasti: colazione, degustazioni/light lunch.
Luoghi: Oasi Zegna, Trivero, Casa Zegna, Masserano, Lessona, Castellengo, Baraggia, Candelo, Biella.
Percorso: 58 km/22 miglia, dislivello: D+ 620m, D- 1720m.
Nazione: Italia
Regione: Nord Ovest Piemonte
Durata: 5 giorni/4 notti
Livello: cicloturismo facile
Percorso
Strade asfaltate/strade bianche. Salite non impegnative assistite da IES Bike
Prezzo: da € 1350,00 p.p.
Suppl. singola: € 80,00 p.p., minimo 8 persone
Date dei tour
• 21-25 Maggio 2016
• 18-22 Giugno 2016
• 16-20 Luglio 2016
• 20-24 Agosto 2016
• 17-21 Settembre 2016
• 16-19 Ottobre 2016
Le date non soddisfano le tue esigenze? Saremo felici di organizzare il tuo perfetto viaggio personalizzato quando e come tu preferisci: Scrivici: info@bugellawelcome.com
Incluso:
Abbiamo incluso tutti quei servizi per rendere la vostra esperienza la più piacevole, rilassante e divertente possibile:
– 4 pernottamenti, colazioni rinforzate e cene in strutture 4 stelle o di pari qualità.
– Pranzi/light lunch come da programma.
– Cocktail di benvenuto in hotel.
– 4 giornate complete di affitto biciclette pedalata assistita e assicurazioni (vedi box)
– 4 giornate complete servizio accompagnamento Guida Cicloturistica.
– Servizio trasferimento bagagli e mezzo supporto.
– Servizio trasferimento con minibus da fine ultima tappa a hotel prima tappa per ritiro vostri mezzi.
Le nostre IES Bike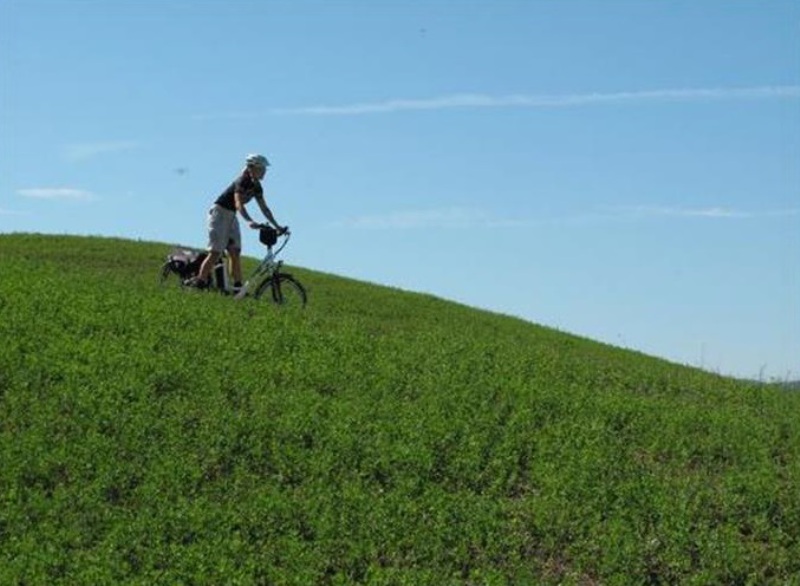 Bicicletta a pedalata assistita unisex provvista di:
– borsa posteriore
– carica batterie
– pneumatici misto sterrato-strada
– rapporto posteriore maggiorato
– assicurazione RC (massimale € 1.000.000)
– assicurazione furto (franchigia € 300)
– geo localizzatore.
Relais Villa Matilde
In un'isola di quiete nel cuore del Canavese, in un antico borgo ai piedi delle alpi, tra dolci colline ai confini con la Val d'Aosta e a soli 35 km da Torino, sorge il Relais Villa Matilde, una villa patrizia del 1700, immersa in un lussureggiante parco privato con alberi secolari ed angoli suggestivi. Un'atmosfera senza tempo per un soggiorno indimenticabile e cornice ideale per trascorrere splendide vacanze all'insegna del relax, della cultura, del benessere e della grande cucina piemontese.
– Visite turistiche guidate come da programma
– Degustazioni rinforzate come da programma.
– Utilizzo del servizio SPA nel Resort Villa Matilde, del servizio sauna al Golf Hotel le Betulle e SPA all'Hotel Bucaneve.
– Fino a 4 ore di utilizzo SPA la Bossola
Non incluso:
– Extra, mance per le guide, cosa non indicato nella voce "incluso"
Il Castello di Masino
Il Castello, affacciato sull'ampia pianura del Canavese e immerso in un immenso parco romantico, sorge su una collina antistante la lunga barriera morenica della Serra di Ivrea. Tra le sale più affascinanti vi è il salone da ballo, con le ampie finestre, che creano una perfetta armonia tra il panorama esterno e gli interni affrescati. Non meno interessante è la ricca collezione di carrozze del XVIII e XIX secolo.
Golf Hotel Le Betulle
Il Golf Hotel Le Betulle offre un'ospitalità curata in ogni suo minimo dettaglio: 17 camere dotate di ogni confort, ognuna con terrazza privata e con vista sul green della buca 9. La Club House, realizzata nello stile della miglior tradizione inglese, ospita il rinomato ristorante con tipica cucina piemontese e mediterranea, il bar, la sala televisione e la sala da gioco.
E' all'interno del Golf Club Le Betulle, riconosciuto nel 2013 miglior golf club d'Italia e nelle prime tre posizioni oramai da molti anni.
Il Santuario di Oropa
Il santuario di Oropa, il più grande Santuario Mariano sulle Alpi e tra i primi in Europa per importanza, vi accoglierà in tutta la sua maestosità e bellezza. Vi resteranno nella memoria i suoi silenzi, il suo cielo limpido, il crepitio dell'acqua che sgorga dalla centrale fontana del "Burnell", i suoi verdi prati, e le sue montagne che lo avvolgono come in un caloroso abbraccio. Visiterete, all'interno del complesso santuariale, il Museo dei Tesori e l'Appartamento Reale, la raccolta degli ex-voto, il Sacro Monte, l'Osservatorio Meteo sismico e la Biblioteca.
Oasi Zegna
A partire dagli anni '30 Ermenegildo Zegna progettò e finanziò la strada panoramica che collega Trivero ad Andrate, nel Canavese, e che ancora oggi porta il suo nome. Trasformò la montagna triverese in un armonioso giardino, promuovendo la piantumazione di mezzo milione di conifere e molte centinaia di rododendri e ortensie. Il gruppo E. Zegna, nell'intento di continuare l'opera del fondatore con lo stesso impegno nei confronti della sua terra natale, ha creato l'Oasi Zegna. Il progetto si è sviluppato lungo i 26 Km della panoramica Zegna tra Trivero e Rosazza. Finalizzato alla valorizzazione del territorio, offre ai visitatori una concreta possibilità di dialogo con la natura, avvalendosi di un innovativo sistema segnaletico.
Hotel Bucaneve
L'albergo, che con la sua forma e il suo rivestimento esterno in legno di abete ben si sposa con l'ambiente montano circostante, è stato progettato nel 1963 dal grande architetto Luigi Vietti.
Situato in splendida posizione soleggiata e panoramica a 1.500 mt di altitudine, con una romantica terrazza che abbraccia la pianura padana fino al Monviso, dista meno di 200 metri dalle piste da sci di Bielmonte.
Offre ai suoi ospiti una piacevole esperienza nell'eleganza della tradizione alpina, tra arredi dell'epoca e nuove integrazioni realizzate sui disegni dell'architetto Vietti.
La Baraggia e Ricetto di Candelo
Vaste praterie e brughiere alternate a sporadici alberi e vallette boscate. Un paesaggio, quello delle Baragge, che colpisce immediatamente per la sua semplicità ed il suo equilibrio di spazi e forme, per il suo apparire senza confini, esteso all'infinito; un ambiente somigliante alla Savana africana. Il Ricetto di Candelo è uno degli esempi meglio conservati del mondo di struttura fortificata medievale in cui la popolazione si rifugiava in caso di necessità. Ha un interesse storico di valore internazionale.
In English
IES Bike offers tourism in the nature with e-bikes
by Marcelo Padin
Editor Electric Motor News
Source: Infinity e Solutions
Biella, Italiy. 10th April 2016. When the spring arriving there are a lot of people that thinking to be in the free time in the middle of nature, but without the strong efforts request by sport at high level.
The experience in the field of Alessandro Di Maira, Infinity e Solutions General Manager, owner of IES Bike mark, allow to the family in the tourist roads riding a pedal assisted bikes giving the possibility to discover a lot of unknown places in Italy.
One of the roads set by IES Bike in collaboration with Bugella Welcome by Scaramuzzi Viaggi with Headquarters in Biella allow to see the Piedmont, from the Canavese to the Biellese divided by the European longest morenic hill but joint by the same passion to the nice panoram, good food and the life in active but relaxed way!.
A different way to visit less known areas of Piedmont: Canavese and Biella area, two lands separated by the longest moraine hill in Europe, but linked by the same passion for beautiful sceneries, good food and an active yet relaxed life style. Our tour is specifically conceived for people enjoying cycling but not too fit. Stress and competition-free paths are designed with stops along the way to admire the scenery, make visits, have lunch and taste local wines. The group, up to a maximum of eight people, will allow your cycling guide to take special care of you, and you will feel pampered, relaxed, in tune with the landscape, the places visited and the people you'll meet. It will all be topped with the deserved relax in unique structures, different but always of excellent quality and comfort!
The daily program
Day 1: Arrival and relax at Villa Matilde
Welcome to Piedmont! Your tour begins on your arrival at the beautiful Relais Villa Matilde in Romano Canavese (if you wish, Bugella Welcome will be glad to arrange car or minibus transfers. Otherwise you can reach the Relais by your car). You will have plenty of time to enjoy a welcome drink by the beautiful swimming pool and relax in one of its rooms, all different from each other, or enjoy the warm and nice weather swimming and sunbathing! The day will end with dinner at the Relais Restaurant Le Scuderie and a well-deserved rest.
Meals: dinner and welcome drink.
Places: Romano Canavese.
Lodging: Relais Villa Matilde.
Day 2: castles, Viverone Lake, a Romanesque church and the number one Golf Club in Italy!
Here you go! After breakfast you will meet your personal cycling guide who will accompany you for the next days. The guide will explain the program and provide you with information about the route, the places you will visit, your security and how to make the most of your e-bike. Your assisted bicycles will be waiting in the garage of the Relais, with the battery fully charged and ready to start your adventure. The route runs on the flat land and then up to the wonderful Castle of Masino. The Castle, overlooking the wide plain of Canavese and immersed in a huge romantic park, is located on a hill in front of the long barrier of the Serra, the moraine hill of Ivrea (you will bike it in the following days!). You will discover its interiors and history on a guided tour and will be able to enjoy a drink at the panoramic bar. The next stop will be the Viverone Lake where you'll enjoy a lake fish menu lunch on the terrace of Marina Hotel. Rested and refreshed you'll continue your ride along quiet roads or dirt roads to the pretty Bertignano lake, then to the villages of Zimone and Magnano. Do not miss a visit to the Romanesque church of San Secondo, immersed in the tranquility of the surrounding nature. Arrival at the hotel for the night: Golf Hotel Le Betulle. You will be welcomed by the "english style" atmosphere of the hotel
inside the Golf Club, for a wine tasting and dinner.
Overnight, perhaps in one of the rooms overlooking one of the 18 holes of the course.
Meals: Breakfast, lunch, dinner.
Places: Romano Canavese, Masino Castle, Viverone Lake, Zimone, Magnano.
Route: 46 km / 28.5 miles, vertical drop: 820m D +, D- 540m.
Accommodation: Golf Hotel Le Betulle.
Day 3: the longest moraine hill in Europe, a SPA in the mountains and the Unesco Heritage Sanctuary!
Up hill day on the Serra, the moraine hill separating Canavese from Biella. The vertical drop, aided by your ebike, will not fear even the less trained! We will be riding along easy off-road trails for nearly 20 km, along the entire hill, among its wonderful forests, to reach the village of Andrate and then continue, always slightly uphill, up to our first destination where we'll relax and refresh: The Bossola of Netro. This hotel and restaurant has a special feature: a small and intimate spa where you can relax in a hot tub or sauna and taste the local dishes while enjoying a splendid view on the Biellese, the Serra, the Po Valley and mount Monviso in the background! The ride will continue on Tracciolino, the scenic road that connects the two most important sanctuaries of the Biella area: Graglia and Oropa. Before reaching your final destination of the day, you'll stop at a must: the Trappist monastery of Sordevolo. A surprise among the Biella mountains. Finally you'll get to the Oropa Sanctuary and its Sacred Mount, where you'll have dinner at the lovely Betty's restaurant, nestled among the trees, and will sleep in the rooms of the Sanctuary featured by their unique, mystical atmosphere, yet offering all the comforts of a modern hotel. Rest, relaxation, mysticism, nature and history will accompany you in your stay.
Meals: Breakfast, lunch, dinner.
Places: Magnano, Andrate, The Bossola of Netro, Trappa, Oropa.
Route: 42 km / 26 miles, altitude: 1270m D +, D- 670m.
Accommodation: Oropa Sanctuary.
Day 4: The Oropa and Valle Cervo Valleys, the most mysterious village in Italy and the natural oasis born from the dream of Ermenegildo Zegna!
After breakfast at one of the historical bars of the Sanctuary, a tour guide will accompany you to the discovery of the Sanctuary: the Royal Apartments where the Savoys, the Kings of Italy, used to stay when visiting these places, the gallery of votive offerings, the treasure museum …you will then resume your bike and, after a paved road with some turns and a tunnel dug into the rock, you'll be right into the next valley: the Cervo valley. There, a guided tour of Rosazza village and its fascinating mysteries will be waiting for you. Attracting especially those interested in esoteric and mysterious places, Rosazza owes its fame to Federico Rosazza, Senator of the Kingdom of Italy, who was said to be the Grand Master of the Freemasons of Biella and hold his secret meetings in this village. After lunch, a last biking effort will take you first on a climb to Oasi Zegna and, after a stop to visit the stone village of Sassaia, to a well-deserved rest at the Bucaneve Hotel. For those still filled with energy and wishing to discover the Sessera Valley, another 10 km cycling tour will let you discover this pristine and wild valley! At dinner, everybody will enjoy a gourmet menu prepared by chef Andrea, accompanied with the fine wines recommended by sommelier Katia. Overnight at the hotel rooms offering the thrill of an alpine residence, in full respect of the original style.
Meals: breakfast, lunch, gourmet dinner.
Places: Oropa, Rosazza, Bocchetto Sessera, Oasi Zegna.
Route: 35 km / 22 miles, altitude: 1330m D +, D- 1000m. (45 km / 28 miles if Sessera Valley)
Accommodation: Hotel Bucaneve
Day 5: Casa Zegna, medieval villages, wine cellars of Piedmont wine and … a piece of African savannah in Biella!
Before leaving Biella you can't miss two important aspects of life of Biella: the textile and the wine-making tradition. In an extraordinary setting, where the mountain environment surrounds the factory, Casa Zegna tells the story of the Ermenegildo Zegna Group, the global leader of luxury menswear: you will discover the stylistic, technological and human values of the group and of the entire textile industry of Biella! Always down-hill and in complete relax, you will cross peaceful valleys and landscapes, the medieval village of Masserano, and finally reach your wine tasting stop, at one of the wineries in program: the Sella Estate in Lessona, owned by the Sella family of Biella since 1671. Marco will let you taste the wines produced with Nebbiolo grapes (Lessona, Bramaterra, Coste del Sesia) accompanied with very tasty local specialties. The next wine tasting stop will be the Castellengo Castle with its Centovigne wines. Jutta and Alessandro will take you to the discovery of this castle perched on a hill overlooking the beautiful valley below, its back to the smooth hills of Biella. Shortly after leaving this place, the landscape changes completely and you'll find yourself crossing the Natural Reserve of Baragge. The dense heath alternating with vast expanses of prairie, makes it look like the African savannah, with the Biella Alps as a background. After visiting Ricetto, one of the best preserved medieval towns in Italy, your journey will come to an end: a minibus will take you back to Villa Matilde, from where you started four days before, and you'll return home!
Meals: breakfast, tasting / light lunch.
Places: Oasi Zegna, Trivero, Casa Zegna, Masserano, Lessona, Castellengo, Baraggia, Candelo, Biella.
Route: 58 km / 22 miles, vertical drop: 620m D +, D- 1720m.
Piedmont by IES Bike
Country: Italy
Region: North West Piedmont
Duration: 5 days/4 nights
Level: easy
Terrain: paved/white roads, easy climbs with pedal assisted IES Bike
Price from: € 1.350,00 pp, minimum 8 person.
Single supplement: € 80,00 pp
Tour dates:
–       21-25 May 2016
– 18-22 June 2016
– 16-20 July 2016
– 20-24 August 2016
– 17-21 September 2016
– 16-19 October 2016
Dont' see the date you want?
We are happy to organize the perfect private tour when and how do you prefer: contact us: info@bugellawelcome.com
Included:
We have included all those services to make your experience pleasant, relaxing and enjoyable as much as possible:
– 4 nights accommodation, reinforced breakfasts and dinners in 4 stars hotels or similar.
– Lunches / light lunches as planned.
– Welcome cocktail at the hotels.
– 4 full days electric pedal cycle bike rental and insurance (see box)
– 4 full days service of a cycling guide.
– luggage transfer service and van support
– Minibus transfer service from last day arrival to the hotel of the first day..
– Tourist guide service as planned.
– Wine tasting as planned.
– Free use of Villa Matilde SPA, Golf Hotel Le Betulle sauna and Hotel Bucaneve SPA.
– 4 hour SPA in La Bossola
Not included:
– Extras, gratuities for the bike tour guide, everything not mentioned in "Included"
Our IES Bikes
Electic pedal cycle bike, unisex, equipped with:
– Rear bags
– Battery charger
– Mixed dirt-road tires.
– Bigger rear gear.
– Liability insurance (€ 1.000.000 limit)
– theft insurance (€ 300 franchise)
– GPS tracker.
Relais Villa Matilde
The Relais Villa Matilde is located in an oasis of tranquillity in the heart of the Canavese region, in an old town at the foot of the alps and the rolling hills, on the border with the Val d'Aosta, and just 35 kilometres from Turin. This 18th century patrician villa stands in lush private park with age-old trees, charming corners and nooks. It is a timeless backdrop for an unforgettable stay or for enjoying relaxing holidays, cultural and wellness pursuits and the piedmont region's exceptional cuisine.
Masino Castle
More than a thousand years of the history of Piemonte, and indeed of Italy, are conserved in a fairy-tale royal palace nestling amid immense and wonderful English-style 19thcentury grounds. Castello di Masino – the residence for ten centuries of the Earls of Valperga, the supposed descendents of King Arduino – dominates the panorama of the Canavese area, and its interiors are embellished by rich ornamentation and breathtaking frescos.
The nearby Palazzo delle Carrozze plays host to the extensive collection of 18th- and 19th-century coaches.
Golf Hotel Le Betulle
The cosy Golf Hotel Le Betulle offers 17 rooms with every possible comfort, all of which have a private terrace with a view of the green and in particular hole n° 9. The Club-House was built in the best traditional English style and hosts a famous restaurant with typical Piedmont and Mediterranean cuisine, a bar, a TV room and a game room. It's Inside the Golf Club Le Betulle, awarded in 2013 as the best Golf Club in Italy in the top three for many years now.
Oropa Sanctuary
The Sanctuary of Oropa, the largest Marian sanctuary in the Alps and one of the most important in Europe, welcomes you in all its majesty and beauty. You will be remember his silences, his clear sky, the crackling of the water that flows from the central fountain of the "Burnell", its green meadows, and mountains that surround it like a warm embrace. Visit the shrine's complex, the Museum of Treasures and the Royal House, the collection of ex-votos, the Sacro Monte, the Observatory Meteorosismico and the Library.
Oasi Zegna
Since the 30's, Emenegildo Zegna had been designing and financing the panoramic road linking Trivero to Andrate, in the Canavese region and which still has his name. He changed the Triverese mount in a garden in harmony with nature, by promoting the planting of thousands of firs, rhododendrons and hydrangeas. The E. Zegna group, created the Zegna Oasis, aiming at going on with the founder's work, with the same care he had towards his land of birth. The project has been developed along the 26km Zegna panoramic road between Trivero and Rosazza. It aims at increasing the value of the territory and it offers the visitor the real opportunity to get in touch with nature, by using a new sign system.
Hotel Bucaneve
With its profile and external cladding of pinewood, the Hotel, designed in 1963 by Luigi Vietti, the great architect, blends perfectly with its mountain surroundings. Situated in a splendidly panoramic and sunny position at 1,500 meters above sea level, with a romantic terrace embracing the Po Plain as far as Monviso, the Bucaneve is less than 200 meters from the Bielmonte ski slopes.
The Hotel offers its guests a beautiful experience in the elegance of the alpine tradition, thanks to painstaking renovation work that has preserved the atmosphere of a typical mountain chalet and struck a nice balance between period furnishings and new additions made to Vietti's designs.
The Baragge and the Ricetto of Candelo
Vast grasslands and moors spotted with sporadic trees and small woody valleys. The Baragge landscape immediately strikes for its simplicity and its balance between spaces and forms, for its limitless appearance, extending to the infinite: it looks like the African Savannah landscape. The Ricetto of Candelo is one of the best preserved examples of medieval fortified structure in the world in which the population took refuge in case of need. It has a historical interest of international value.
no images were found

.