Renault consegna il più grande ordine del Regno Unito della Zoe elettrica
Il maggior ordine britannico dell'elettrica Renault Zoe a supporto del servizio Deliver & Collect della città sede di  Europcar
La citycar premiata per essere utilizzata da Europcar con l'obiettivo di sostenere il servizio Deliver & Collect nella città sede dell'azienda di noleggio auto
Significativa iniziativa per contribuire al gol di Europcar nel Regno Unito di avere il cinque per cento dei suoi veicoli elettrici nella flotta entro il 2020
Renault Zoe è stata scelta per la sua facilità d'uso e la reazione dei conducenti
Le berline ad emissioni zero in uso beneficeranno anche i clienti dell'E-Car Club
Renault Zoe premiata a Which? Best Buy in 2016, What Car? 'Best Electric Car? 'Miglior auto elettrica per meno di £ 20.000' per il terzo anno consecutivo e numero due globale su 150 veicoli, nell'osservatorio Auto Express Driver Power 2016.
Fonte: Renault UK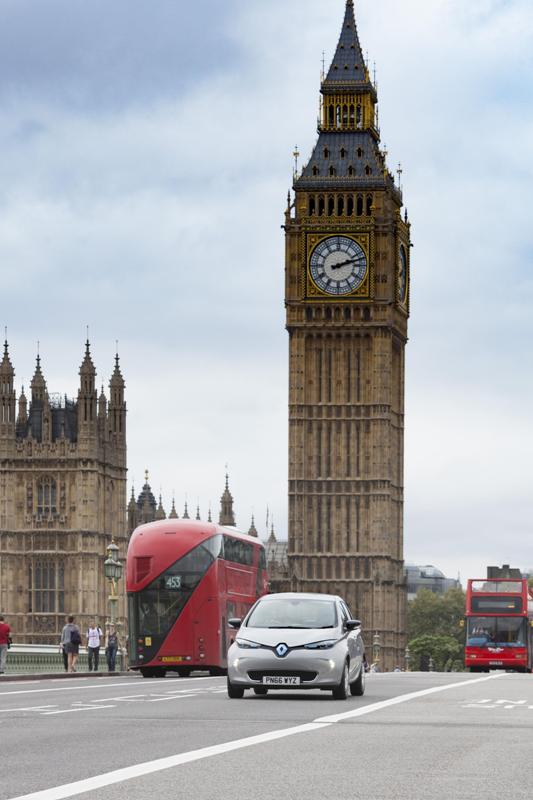 Renault ha consegnato il maggior ordine in Gran Bretagna della sua elettrica Renault ZOE, con 55 citycar innovative dopo aver ricevuto l'ordine da Europcar Regno Unito per l'uso in consegna e ritiro di veicoli a noleggio nelle principali città del Regno Unito.
Con zero emissioni durante l'uso ed i vantaggi della potenza di traino regolare e immediata, la premiata Renault Zoe è l'ideale per il ruolo urbano. Pur sostenendo il servizio Deliver & Collect di Europcar, che assicura i clienti di essere protagonisti della mobilità e di godere di una esperienza di noleggio di un'auto altamente conveniente e flessibile, la Renault Zoe contribuirà anche ai continui sforzi di Europcar per essere in prima linea nella riduzione delle emissioni dei veicoli e l'introduzione ai clienti di nuove tecnologie. Europcar si impegna alla conversione del cinque per cento della sua flotta totale di veicoli del Regno Unito in elettrica entro il 2020.
La facilità d'uso e la compatibilità ambientale sono state fattori chiave di Europcar per la scelta della Zoe. La decisione della società di investire nell'EV più venduta in Europa è stata anche influenzata dal feedback positivo dei clienti che ha ricevuto da coloro che hanno sperimentato la Renault Zoe attraverso la sua flotta a noleggio.
Oltre a consentire ai dipendenti Europcar di fornire veicoli a noleggio ai clienti a casa o sul posto di lavoro, la Renault Zoe fornirà il supporto ad E-Car Club – il club di auto completamente elettriche nel quale Europcar ha una quota di maggioranza e l'acquisizione che rappresentava il prima uscita in assoluto di una start-up crowdfunded. Con E-Car Club che attira sempre più privati ​​e clienti commerciali e lavora per far crescere le sue sedi, che si estendono da East London alle Outer Hebrides, la Renault Zoe farà in modo che E-Car Club possa accedere rapidamente a delle vetture supplementari per soddisfare la domanda dei clienti.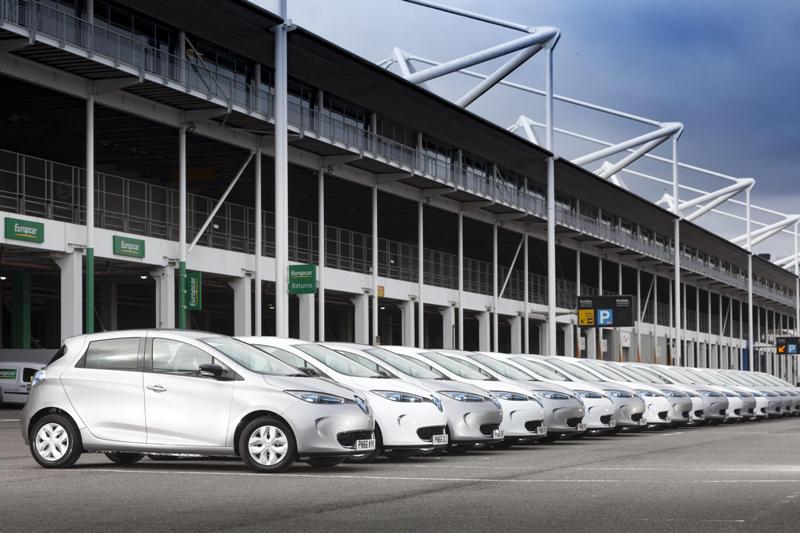 Le 55 Renault Zoe, sono tutte dotate del livello di allestimento Expression Nav. Di serie, la specifica completa include climatizzatore automatico, alzacristalli elettrici anteriori, ingresso keycard con pulsante di funzione avviamento / arresto, cruise control e limitatore di velocità, ESC (Electronic Stability Control) ed ETC (Electronic Traction Control), sistema multimediale 4x20W Renault R-Link che incorpora un touch screen da 7 pollici, navigatore satellitare TomTom Live, connettività Bluetooth e controllo vocale.
Tutte sono state fornite ed allestite da DSG Renault, Morecambe, la concessionaria che ha una vasta esperienza versatile di gamma dei veicoli elettrici Renault (EV).
Gary Smith, Managing Director, Europcar Group UK, ha dichiarato:
"Il nostro servizio Deliver & Collect punta a migliorare l'esperienza di noleggio dei nostri clienti – evitando la perdita di tempo e la seccatura della presa di un veicolo all'inizio del noleggio e di dover ritornare al nostro ufficio alla fine del viaggio. E l'aggiunta della Renault Zoe in molte delle nostre filiali della città, permetterà ai nostri dipendenti di andare e tornare dalle nostre filiali senza alcuna emissione, rendendo il servizio Deliver & Collect il più rispettoso dell'ambiente."
Chris Morris, Amministratore Delegato e co-fondatore di E-Car Club, ha aggiunto:
"Siamo lieti di aggiungere alla nostra flotta esistente le Renault Zoe; una scelta molto popolare tra i membri di e-car. Questa acquisizione di veicoli aiuterà a sostenere le nostre prossime espansioni, in particolare in Scozia, dove abbiamo piani di distribuzione significativi entro i prossimi sei mesi.

"La nostra partnership strategica con Renault continua a crescere passo a passo, ora con la Zoe e la Kangoo Van Z.E che costituiscono una parte significativa della flotta E-Car. Non vediamo l'ora di costruire su questa partnership nel futuro."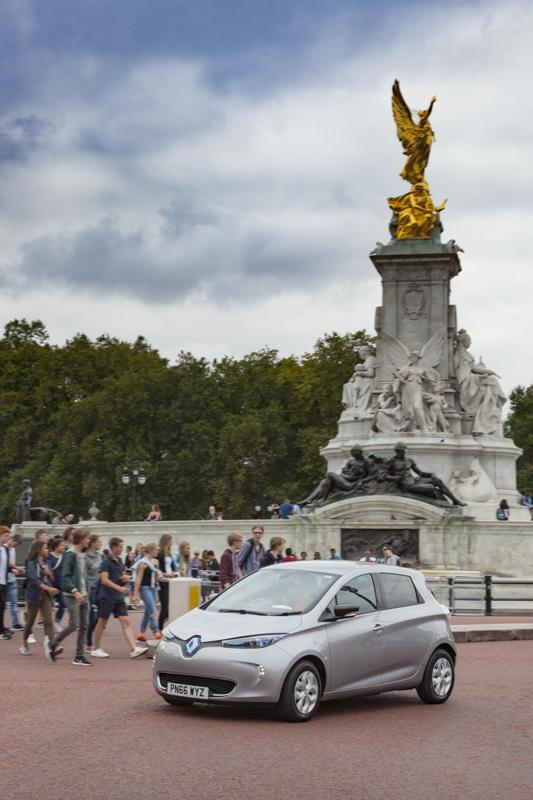 Nick Tame, direttore vendite, Groupe Renault UK, ha dichiarato:
"Siamo estremamente lieti che Europcar abbia scelto la Renault Zoe come il veicolo più adatto a sopportare il servizio Deliver & Collect, dando anche un contributo significativo al raggiungimento delle sue ambizioni ambientali. La dimensione significativa dell'ordine illustra la rapida e crescente popolarità della gamma Renault EV nel Regno Unito e il vasto appello di avere il pacchetto completo di allestimento della Zoe, che è stato riconosciuto da What Car? Come la 'Miglior auto elettrica in vendita a meno di £ 20.000' negli ultimi tre anni consecutivi e anche di essere votata 'Best Supermini', e numero due globale su 150 veicoli, nel 2016 dal sondaggio Auto Express".
Ben Fletcher, Product Manager Veicolo elettrico, Groupe Renault UK, ha aggiunto:
"Con la sua eccezionale facilità d'uso, la Renault Zoe è l'ideale per i suoi vari ruoli con Europcar ed E-Car Club. Come le imprese hanno già scoperto, è una macchina estremamente semplice, rilassante e gratificante da guidare per chiunque, con gli automobilisti che si adattano alla sua avanzata tecnologia in pochi secondi dopo di mettersi al volante. Senza cambio di cui preoccuparsi e una varietà di comode opzioni di ricarica, è semplicemente il caso di entrare in macchina e guidarla senza il minimo assoluto di confusione".
La Zoe è elettrica, è una cinque porte disponibile in tre livelli di allestimento che viene fornito con un elevato livello di specifica standard, inclusi elementi quali il controllo del clima e navigatore satellitare. Zoe ha anche un cinque stelle Euro NCAP ed è stata recentemente insignita del titolo di What Car? 'Miglior auto elettrica di meno di £ 20.000' per il terzo anno consecutivo, e 'Best Electric Vehicle' nel sondaggio Auto Express Driver Power. Nel 2016, a Zoe è stato assegnato un Which? Best Buy (Quale? Miglior acquisto).
Zoe è dotato di un caricatore brevettato Chameleon che, a differenza di altri veicoli elettrici, permette sempre Zoe di fare il miglior uso di qualsiasi fornitura di ricarica disponibile al fine di accelerare i tempi di ricarica. Zoe Dynamique Nav Rapid Charge può caricare fino a 43kW, il che significa che da 0 a 80 per cento completo può essere raggiunto in meno di 30 minuti. Per i clienti c'è in vendita al dettaglio un Homecharger da 7W adatto ad un indirizzo interno o parcheggio fuori strada, che sarà inoltre installato in modo completamente gratuito e che permette la ricarica di Zoe da vuota a piena in appena 3-4 ore.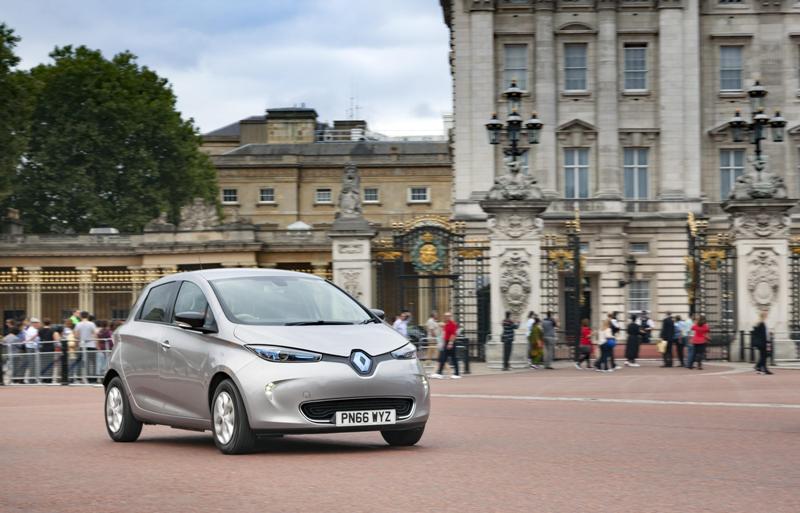 L'autonomia NEDC ufficiale del modello, a seconda della versione, è di fino a 149 miglia (240 km) – ma Renault stima che in condizioni di guida reali ciò equivale a circa 106 miglia (171 km) in estate e 71 miglia (114 km) in inverno.
Zoe è disponibile per l'acquisto in due modi. In primo luogo, nell'ambito di un regime di noleggio della batteria, dove il prezzo della Zoe parte da £ 13.945 dopo gli incentivi Plug-in Car Grant del con la batteria in leasing a £ 45 al mese. I vantaggi includono una garanzia di prestazioni a vita per la batteria e l'assistenza 24/7 su strada – anche se sei a corto di carica.
È inoltre possibile acquistare la Zoe a titolo definitivo. Il modello Zoe 'd'acquisto' è a partire da £ 18.945 dopo il contributo pubblico plug-in Car Grant, dando l'acquirente piena proprietà della vettura e della batteria e nessun pagamento mensile di locazione della batteria.
Renault offre una gamma di veicoli elettrici per soddisfare le esigenze di privati ​​e commerciali. Oltre alla berlina Zoe, la gamma Renault EV comprende l'innovativa city car due posti Twizy, la Twizy Cargo che offre una zona di carico di 180 litri e 75 kg di carico utile, e i furgoni Kangoo ZE e Kangoo Maxi ZE che coniugano la stessa capacità di carico generosa e le opzioni delle versioni diesel equivalenti con costi di esercizio estremamente bassi.
In English
Biggest ever UK order of the all-electric Renault ZOE to support Europcar's city-based Deliver & Collect service
Renault delivers its biggest ever single UK order of the 100 per cent electric Renault ZOE
Award-winning supermini to be used by Europcar to support its city-based Deliver & Collect service
Significant order to contribute to Europcar UK's goal of five per cent of its vehicles to be electric by 2020
Renault ZOE chosen for its ease of use and driver feedback
Zero emissions in use hatchbacks will also benefit customers of the all-electric E-Car Club
Renault ZOE awarded a Which? Best Buy in 2016, voted What Car? 'Best Electric Car for less than £20,000' for the third consecutive year and number two overall out of 150 vehicles, in the 2016 Auto Express Driver Power ownership survey
Fonte: Renault UK
Renault has delivered its biggest ever UK order of the all-electric Renault ZOE, with 55 of the innovative supermini having been supplied to Europcar UK for use in the delivery and collection of hire vehicles in major UK cities.
With zero emissions in use and offering the benefits of smooth and instant pulling power, the award-winning Renault ZOE is ideally suited to the busy urban-based role. While supporting Europcar's Deliver & Collect service, which ensures that customers of the leading mobility player enjoy a highly convenient and flexible hire car experience, the Renault ZOEs will also contribute to Europcar's continued efforts to be at the forefront of reducing vehicle emissions and introducing customers to new technologies. Europcar is committed to five per cent of its total UK vehicle fleet being electric by 2020.
Ease of use and environmental compatibility were key factors in Europcar choosing the ZOE. The firm's decision to invest in Europe's best-selling EV was also influenced by the positive customer feedback it has received from those who have experienced the Renault ZOE through its rental fleet.
In addition to enabling Europcar employees to deliver rental vehicles to customers at their home or workplace, the Renault ZOEs will provide support to E-Car Club – the all-electric car club that Europcar has a majority stake in and the acquisition of which represented the first ever exit of a crowdfunded start-up. With E-Car Club attracting more and more private and business customers and working to grow its locations, which span from East London to the Outer Hebrides, the Renault ZOEs will ensure that E-Car Club can quickly access additional cars to meet customer demand.
The 55 Renault ZOEs all feature the Expression Nav level of trim. As standard, the comprehensive specification includes automatic climate control, electric front windows, keycard entry with push button start/stop function, cruise control and speed limiter, ESC (Electronic Stability Control) and ETC (Electronic Traction Control), 4x20W Renault R-Link Multimedia system incorporating a 7-inch touch screen, TomTom LIVE satellite navigation, Bluetooth connectivity and voice control.
All have been supplied and prepared by DSG Renault, Morecambe, the dealership having vast experience of Renault's versatile electric vehicle (EV) range.
Gary Smith, Managing Director, Europcar UK Group said:
"Our Deliver & Collect service aims to enhance the rental experience for our customers – taking the time and hassle out of collecting a vehicle at the start of the hire and having to go back to our branch at the end of the journey. And the addition of the Renault ZOEs at many of our city branches, enabling our employees to get to and from our branches without expending any emissions, makes the Deliver & Collect service all the more environmentally friendly."
Chris Morris, Managing Director and Co-Founder of E-Car Club, added:
"We are delighted to add to our existing fleet of Renault ZOE; a very popular choice amongst E-Car members. This acquisition of vehicles will help support our forthcoming expansions, particularly in Scotland, where we have significant deployment plans within the next six months.

"Our strategic partnership with Renault continues to grow from strength-to-strength, with the ZOE and Kangoo Van Z.E now making up a significant proportion of the E-Car fleet. We look forward to building on this partnership into the future."
Nick Tame, Sales Director, Groupe Renault UK, said:
"We are exceptionally pleased that Europcar has chosen the Renault ZOE as the most suitable vehicle to support its collection and delivery service, and also make a significant contribution to meeting its environmental ambitions. The significant size of the order illustrates the rapidly-increasing popularity of the Renault EV range in the UK and the vast appeal of the ZOE's superb all-round package, which has seen it recognised by What Car? as the 'Best electric car on sale for under £20,000' for the last three consecutive years and also being voted 'Best Supermini', and number two overall out of 150 vehicles, in the 2016 Auto Express Driver Power ownership survey."
Ben Fletcher, Electric Vehicle Product Manager, Groupe Renault UK, added:
"With its exceptional ease-of-use, the Renault ZOE is ideal for its varying roles with Europcar and E-Car Club. As the businesses have already discovered, it's an immensely simple, relaxing and rewarding car for anyone to drive, with motorists adapting to its advanced technology just seconds after getting behind the wheel. With no gears to worry about and a variety of convenient charging options, it's simply a case of get in and go with the absolute minimum of fuss."
The ZOE is an all-electric, five-door supermini available in three trim levels that comes with a high level of standard specification, including items such as climate control and sat-nav. ZOE also has a five-star Euro NCAP safety rating and was recently awarded the title of What Car? 'Best Electric Car for less than £20,000' for the third consecutive year, and 'Best Electric Vehicle' in the Auto Express Driver Power 2015 survey. In 2016, ZOE was awarded a Which? Best Buy.
ZOE is fitted with a patented Chameleon charger that, unlike other EVs, always allows ZOE to make the best use of whatever charging supply is available in order to speed up charging times. ZOE Dynamique Nav Rapid Charge can charge at up to 43kW, meaning that 0 to 80 per cent full can be achieved in as little as 30 minutes. For retail customers with a domestic address and off street parking, a 7kW Homecharger will also be fully installed free of charge enabling ZOE to be charged from flat-to-full in just 3-4 hours.
The model's official NEDC range, depending on version, is up to 149 miles – Renault estimates that in real-world driving conditions that this equates to around 106 miles in summer and 71 miles in winter.
ZOE is available to purchase in two ways. Firstly, under a battery hire scheme, where ZOE pricing starts at £13,945 after the Government Plug-in Car Grant with battery leasing from £45 per month. Benefits include a lifetime performance guarantee for the battery and 24/7 roadside assistance – even if you run out of charge.
You can also buy your ZOE outright. ZOE i 'full purchase' models start from £18,945 after the Government Plug-in Car Grant, giving the buyer full ownership of the car and battery and no monthly battery lease payment.
Renault offers a range of electric vehicles to suit private and commercial requirements. In addition to the ZOE hatchback, the Renault EV range comprises of the innovative, two-seater Twizy city car, Twizy Cargo that offers a load area of 180 litres and a useful 75 kg payload, and the Kangoo Z.E and Kangoo Maxi Z.E vans that combine the same generous load capacity and options as the equivalent diesel versions with ultra-low running costs.
no images were found

.