Fonte: Nissan United Kingdom
Ormskirk, Lancashire, Gran Bretagna. 27 Gennaio 2015. Una latteria del Lancashire sta sperimentando i benefici della pluripremiata Nissan e-NV200 – utilizzando il versatile van elettrico come una versione del 21esimo secolo della tradizionale flotta britannica di trasporto latte.
La Grimshaw Lane Dairy ad Ormskirk ha preso in consegna quattro furgoni e-NV200 dal dealer Crosby Park Nissan di Liverpool ed utilizza loro per fare le sue consegne giornaliere alle abitazioni e le aziende dentro ed intorno alla città.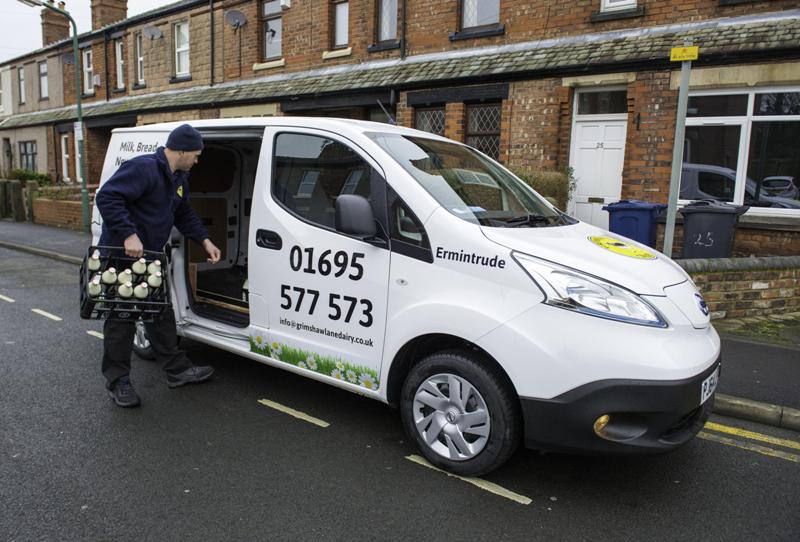 I quattro veicoli – di nome Tilly, Bovine, Ermintrude e Daisy ed i conducenti hanno sostituito una flotta di vecchi veicoli diesel ed ogni percorrono circa 50 miglia al giorno (80 km) facendo circa 500 consegne a testa.
Inoltre il Managing Director Andrew Brown, che prevede di rimpiazzare i suoi due veicoli diesel rimasti con le Nissan e-NV200 nei prossimi mesi, ha già risparmiato £ 900 al mese in bolletta energetica di combustibile.
Oltre questo, le generose caratteristice tecniche e la marcia silenziosa della e-NV200 tengono alto il morale dei conducenti e dei clienti residenziali sono felici con le consegne del mattino, che partono alle 1.30 e che ora vengono realizzate in quasi completo silenzio.
Andrew, felicemente con i risultati ha detto:
"Passare alla Nissan e-NV200 è molto semplice per noi. Fondamentalmente i risparmi che abbiamo sul combustibile hanno pagato il contratto di noleggio per i furgoni e risparmieremo molto anche sulla manutenzione.

"Abbiamo effettivamente avuto quattro nuovi furgoni per quello che sarebbe stata la spesa per il carburante."
Quando si parla dell'e-NV200, Andrew è stato colpito dal fatto che il modello viene fornito con due porte laterali scorrevoli di serie ed offre un facile accesso cross-cab, perfetto per le operazioni di consegna.
La soddisfazione dei conducenti era anche una considerazione importante, ma livelli di equipaggiamento di bordo dell'e-NV200 – in particolare la possibilità di scongelare i loro veicoli da un app sul proprio cellulare prima di alzarsi per iniziare i loro spostamenti nelle prime ore – si è rivelato un successo immediato.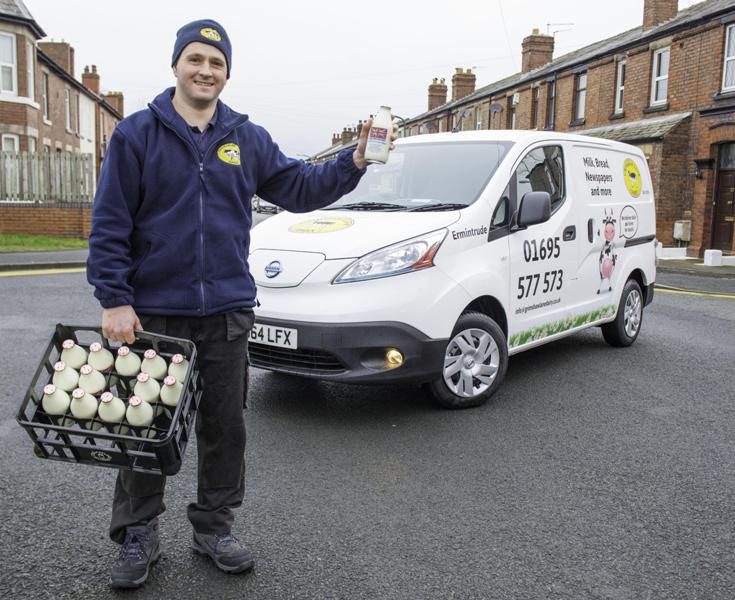 I benefici ambientali dell'e-NV200, che offre la mobilità a emissioni zero, sono anche un grande bonus.
Andrew ha aggiunto:
"Non c'è nessuno più verde di un lattaio. In termini di food miles nulla può competere con noi e riciclare tutto.

"Avere una flotta di veicoli che si adatta perfettamente a tutto questo è fantastico".
Lanciata lo scorso anno, la Nissan e-NV200 combina la NV200 – un ex International Van of the Year – con la tecnologia collaudata della Nissan LEAF – auto elettrica bestseller al mondo.
Con una spesa di soli due pence per miglio e gli utenti che beneficiano anche dei bassi costi di manutenzione, rendono il costo totale di proprietà senza pari – £ 1.200 inferiore rispetto a un furgone diesel convenzionale in quattro anni.
Nel frattempo, il modello, che ha un prezzo di £ 13.393 in forma furgone (che incorpora PIVG) offre una capacità di 4.2 m3 ai vertici della categoria ed un'impressionante capacità di carico utile di 703 kg.
no images were found

.