Lancio di una serie di veicoli elettrici logistici a zero emissioni
Fonte: BYD
Shenzhen, Cina. 15 Gennaio, 2016. BYD ha fornito lo specialista della logistica globale DHL con una pionieristica flotta di veicoli per la distribuzione esclusivamente elettrici.
Il primo lotto di 35 furgoni elettrici puri – tutti nuovi modelli del veicolo commerciale BYD T3 – è stato consegnato a DHL International Air Express Co per fornire la logistica quotidiana nel Central Business District della città meridionale cinese di Shenzhen e nelle zone circostanti.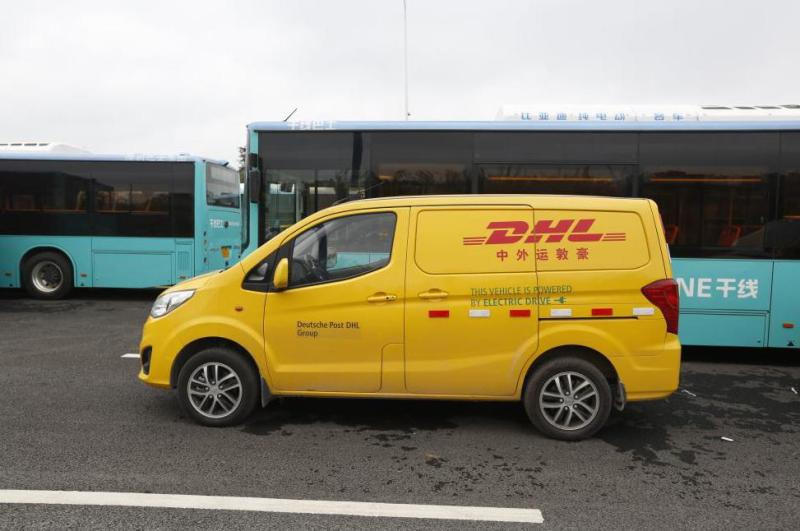 La flotta è l'inizio di una cooperazione strategica tra DHL e BYD che include magazzinaggio, distribuzione in città e in altri campi nel mercato cinese. Se questa flotta iniziale avrà successo, si prevede che altri veicoli logistici BYD entreranno in servizio con DHL.
Tutti i veicoli elettrici BYD T3 adottano la tecnologia avanzata ed il disegno della sua famiglia di monovolume di veicoli, includendo l'elegante aspetto esterno e un interno spazioso e confortevole.
Il veicolo commerciale dispone di un vano di carico da 3,5 metri cubi in grado di trasportare carichi fino a 800 kg. Il T3 ha un peso lordo di 2625 kg. La coppia massima è di 312 Nm e la velocità massima di 130 km/h. L'autonomia complessiva tra una ricarica è superiore ai 200 km. Come tutti i veicoli esclusivamente elettrici di BYD, il T3 è dotato di batterie avanzate el ferro-fosfato di fabbricazione BYD.
Oltre al T3, BYD ha anche lanciato i suoi T5 e T7, veicoli elettrici puri da usare nel settore della logistica con maggiore capacità di carico in modo di soddisfare i bisogni del settore della logistica. Il T5 ha un peso lordo di 7320 kg e un'autonomia di fino a 250 km, mentre il T7 ha un peso lordo di 10695 kg e un'autonomia di fino a 250 km.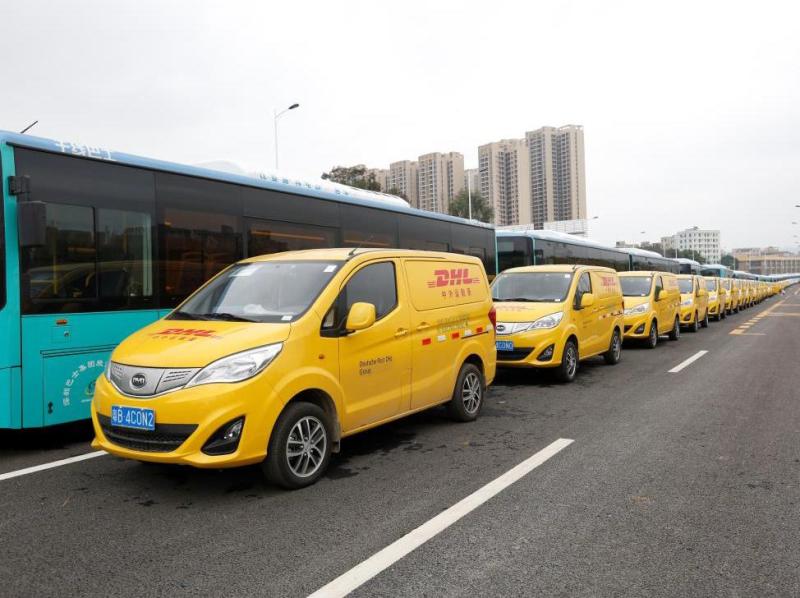 I veicoli in servizio nel settore della logistica costituiscono una parte importante della strategia "7 + 4" di BYD, che è quella di elettrificare tutti i veicoli su strada che utilizzano combustibili fossili. L'azienda mira a elettrizzante tutti i mezzi possibili di trasporto e ha percorso un lungo cammino verso la realizzazione di simile impresa: il "7" sta per i veicoli convenzionali, che comprende autobus, pullman, taxi, auto private, camion logistica urbana, camion servizi igienico-sanitari e camion costruzione (betoniere); e il "4" sta per specifici fuoristrada da usare in contesti particolari: waerehouse,, miniere, aeroporti, porti.
Diminuire le emissioni di carbonio e assumersi la responsabilità ambientale è una parte importante della strategia 2020 del Gruppo DHL. Per soddisfare le esigenze di sviluppo della logistica della città, DHL ha esplorato soluzioni logistiche verdi, approfittando di carrelli elevatori elettrici, veicoli logistici elettrici e altri veicoli di nuova energia per raggiungere l'obiettivo della distribuzione terminale verde.
BYD è leader mondiale nello sviluppo e nella vendita di veicoli di nuova energia. Ad esempio, oltre ad essere di gran lunga il più grande fornitore al mondo di autobus elettrici puri, il fatturato cumulato di BYD nel settore autovetture a nuova energia da gennaio 2015 a novembre 2015 ha superato le 50 mila unità. Questo classifica BYD come n° 1 nel mondo e rappresenta circa una quota dell'11% di tutto il nuovo mercato globale delle auto ad energie alternative.
In English
BYD supplies DHL with electric distribution fleet
Launch of a range of zero emission logistics vehicles
Source: BYD
Shenzhen, China. January, 15, 2016. BYD has supplied global logistics specialist DHL with a pioneering fleet of pure electric distribution vehicles.
The first batch of 35 pure electric vans – BYD's all new T3 commercial vehicle model – has been delivered to DHL International Air Express Co. to provide daily logistics in the Central Business District of the southern Chinese city of Shenzhen and surrounding areas.
The fleet is the start of a strategic cooperation between DHL and BYD which includes warehousing, city distribution and other fields in the Chinese market. It this initial fleet proves successful it is anticipated that more BYD logistics vehicles will enter with DHL.
BYD's all ne pure electric vehicle T3 adopts the advanced technology and desing of its MPV family of vehicles, including stylish external appearance and a spacious and comfortable interior.
It has a 3.5 cubic metre cargo space in the rear capable of carrying loads up to 800kg. The T3 has a gross weight of 2625 kg. The maximum torque is 312 Nm and the maximum speed 130 mk/h. The overall range between recharges is more than 200 km. Like all of BYD's pure electric vehicles, the T3 is equipped with BYD's advanced iron-phosphate batteries.
In addition to the T3, BYD has also launched its T5 and T7 pure electric logistics vehicles with larger cargo capacity to meet more logistics needs.. The T5 has a gross weight of 7320 kg and a range of up to 250 km while the T7 has a gross weight of 10695 kg and a range of up to 250 km while the T7 has a gross weight of 10695 kg and a range of up to 200 km.
Logistics vehicles form an important part of BYD's "7+4" strategy, which is to electrify all vehicles on road using fossil fuel. The company aims at electrifying all possible means of transportation, and it has gone a long way towards accomplishing such feat: the "7" stands for major conventional vehicles, comprising bus, coach, taxi, private car, urban logistic truck, sanitation truck and construction truck (concrete mixer); and the "4" stands for specific off-road environments: waerehouse, ,mining, airports, ports.
Improving carbon efficiency and taking environmental responsibility is an important part of the 2020 strategy of DHL Group . To meet the city logistics development needs, DHL has been exploring green logistics solutions, taking advantage of electric counterbalance trucks, electric logistics vehicles and other new energy vehicles to achieve the target of green terminal distribution.
BYD is a world leader in the development and sales of new energy vehicles. For example, as well as being by far the world's largest supplier of pure electric buses, the accumulated sales of BYD new energy passenger car from January 2015 to November 2015 has exceeded 50000. This ranks BYD n° 1 in the world and accounts for about an 11% share of the entire global new energy car market.
no images were found