di Matthew Klippenstein
Fonte: GreenCarReports
22 Gennaio 2015. Questo mese, mentre milioni di americani fanno il count down del Super Bowl XLIX, un numero leggermente inferiore di canadesi hanno contato fino a 10 mila veicoli elettrici, celebrando la decimillesima vettura sulle strade del paese.
Questo traguardo probabilmente è stato raggiunto nel mese di novembre, ma tali celebrazioni devono essere pianificate con largo anticipo ed è meglio essere in ritardo di una settimana che essere in anticipo di un giorno.
Organizzato da Plug'n Drive, un gruppo di acquisto di veicoli elettrici con sede in Ontario, il 10 millesimo veicolo elettrico è stato venduto da un dealer nel centro di Toronto Brookfield Place, non lontano dal Hockey Hall of Fame.
Di conseguenza, è stato un caso fortuito quello di raggiungere gli appassionati di hockey in un mese di impegni della National Hockey League per muoversi carbon neutral, e grazie a questa coincidenza loro potrebbero fare la loro parte.
Buono, anzi … meglio, meglio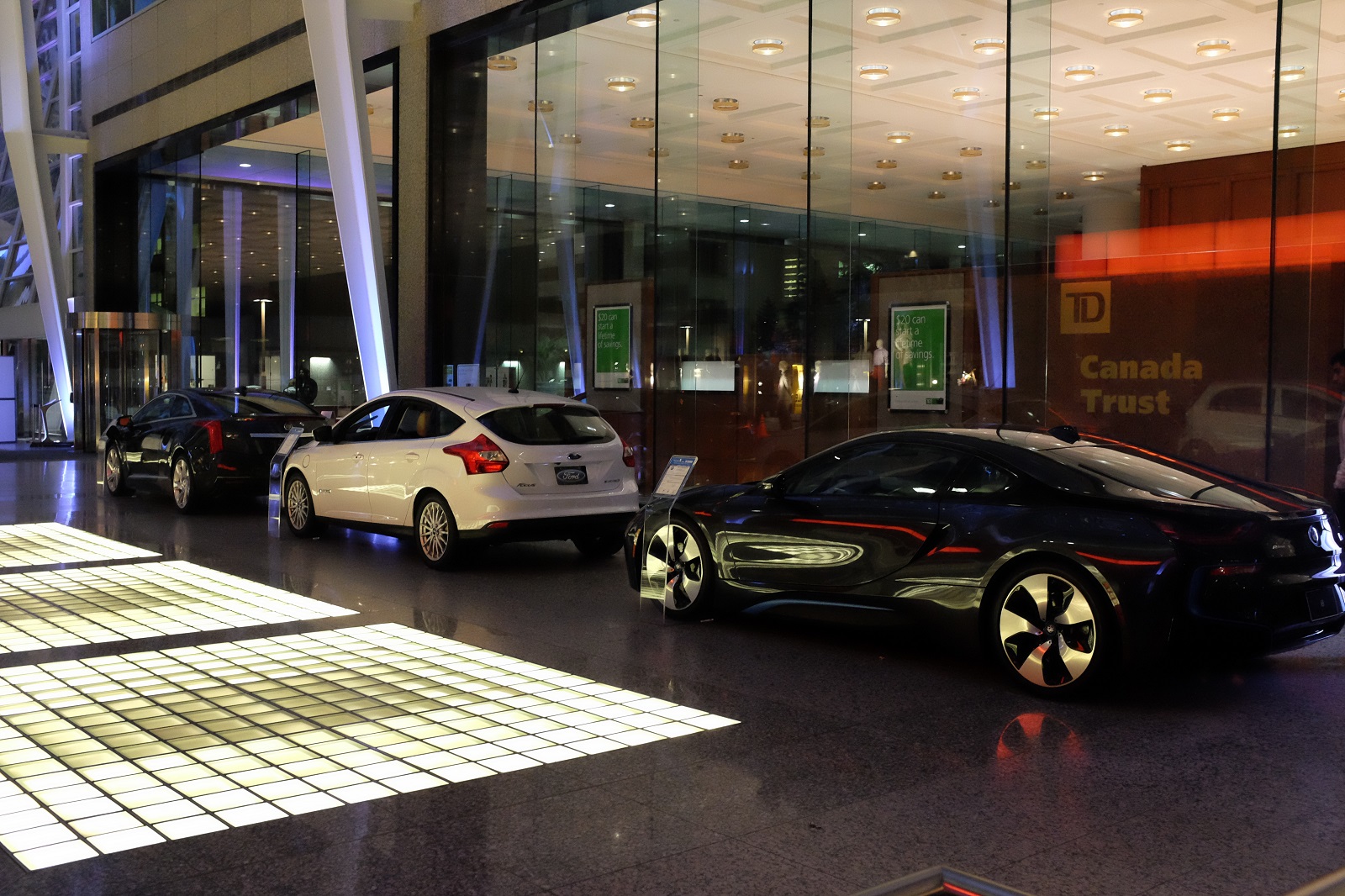 Fortunatamente, la rete di Ontario è pulita, poichè la provincia ha di recente eliminato gradualmente le emissioni di CO2 ed i residui di gas naturale in misura del 10 per cento della rete.
E non solo, la provincia si è impegnata a mettere una tassa al CO2 emmesso in atmosfera entro questa primavera.
E ancora positivo il fatto che mentre è stato fissato l'accesso alle corsie preferenziali ai veicoli elettrici plug-in in Ontario che doveva scadere alla fine di giugno, il governo della provinciale sta contemplando di estendere l'accesso fino alla metà del 2016.
Nonostante le pressioni di bilancio, non è stata annunciata nessuna data di fine degli incentivi di acquisto, che ammontano ad un massimo di 8500 dollari.
Tutto dovrebbe fornire qualche slancio di benvenuto per la comunità canadese dell'auto elettrica, nel 2015 – e questo senza contare il Quebec.
Liberté, égalité, électricité
Non ci devono essere dubbi sul fatto che i quebecchesi sono i pionieri dei plug-in del Canada. Con un quarto della popolazione del Canada, hanno comprato la metà dei veicoli elettrici del paese nello scorso anno.
Il mese scorso, i residenti della provincia sono stati intervistati circa il tipo di auto che volevano che Babbo Natale gli portassi per Natale. I plug-in sono stati il tipo di veicolo più popolare, ottenendo uno su cinque voti.
Forse gli altri quattro elettori non sono ancora a conoscenza della Tesla?
Se è così, non saranno in grado avere delle scuse molto più a lungo: il negozio Tesla di Montreal è stato recentemente ampliato nella società più grande del Nord America.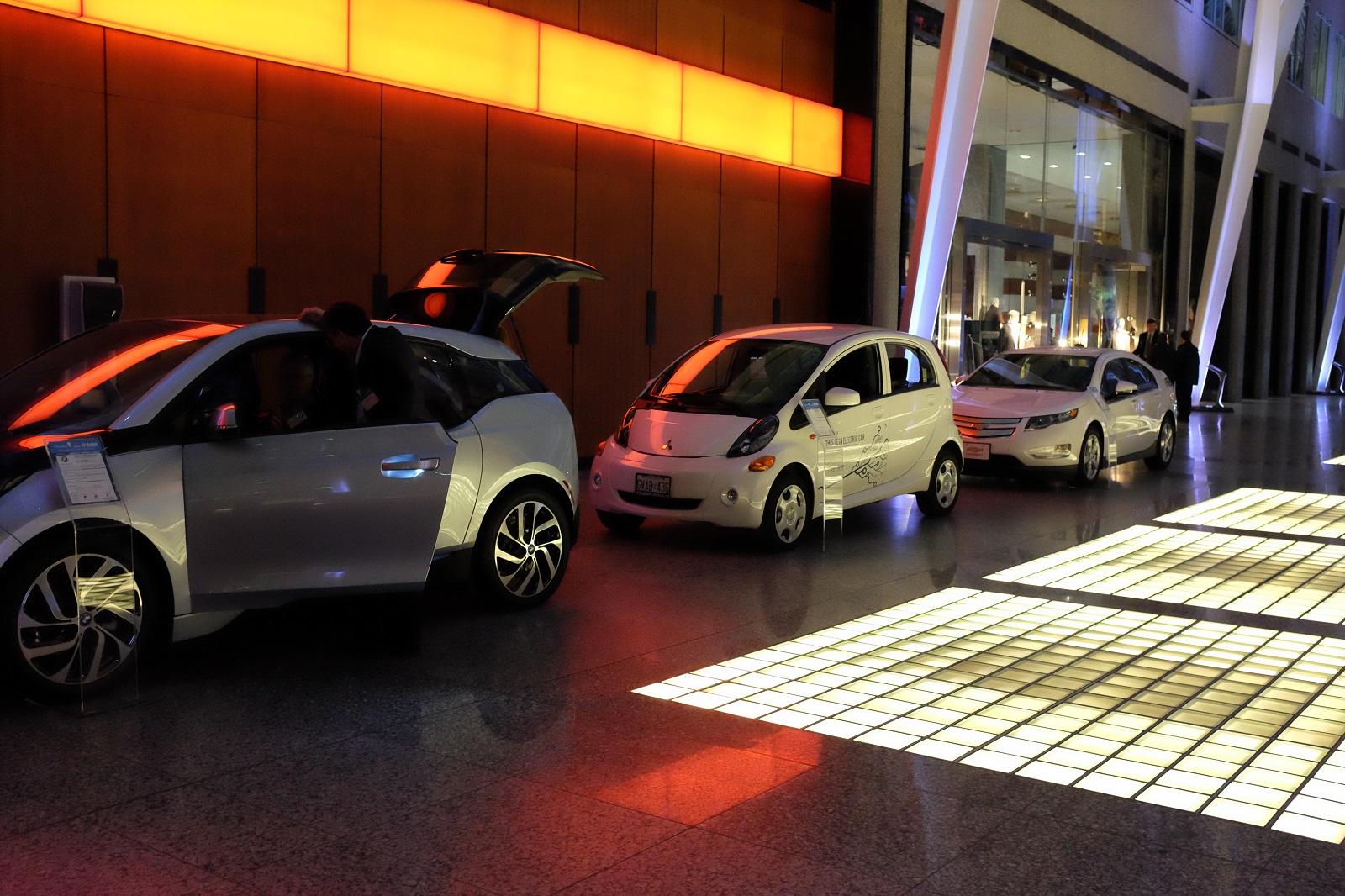 Simon-Pierre Rioux, presidente di AVEQ, Quebec Electric Vehicle Association, ha suggerito che il Circuito Électrique (circuito elettrico) della rete di ricarica pubblica può giocare un ruolo chiave.
Circa 360 stazioni di ricarica sono già molto visibili, con eccellente branding.
Nissan ha aderito, dopo aver stretto una partnership per sostenere il roll-out di 25 stazioni di ricarica veloce DC aggiuntive in tutto Quebec nei prossimi due anni, che si aggiungeranno per completare quelle 8 attualmente installate DCFC.
L'obiettivo è quello d'installare 50 ricariche veloci in tutta la provincia; e in proporzione alla popolazione, questo sarebbe l'equivalente a circa 240 in tutta la California.
Il dispiegamento di stazioni di ricarica è parte dei 516 milioni di dollari canadesi del governo provinciale (430 milioni dollari) investiti nella strategia del Transport Electrification.
Il piano fornisce un sostegno finanziario per l'acquisto di veicoli elettrici, infrastrutture di ricarica, e comprende la graduale elettrificazione della flotta di governo.
Alti e bassi
Purtroppo, non ci sono solo buone notizie a nord. Alla fine dell'anno scorso, la Volkswagen ha detto che non ha fatto piani per introdurre l'eGolf in Canada.
Dal lato positivo, la Kia Soul EV ha vinto il premio dell'Associazione Giornalisti Automotive of Canada (AJAC) per la Best New City Car, battendo la Smart Electric Drive. (E' degno di nota che entrambe le vetture finalisti di questa categoria sono statie elettriche)
E per finire su una nota positiva, l'Electricity Association canadese e Plug'n Units hanno aperto le candidature per il loro secondo Electric Vehicle Dealer Awards.
Questo sito ha scelto i vincitori dello scorso anno e vuole premiare i dealer considerando che per vendere veicoli plug-in i venditori possono impiegare cinque volte più tempo rispetto una vendita di un'auto con motori a combustione.
L'obiettivo è quello di riconscere gli sforzi dei concessionarie per vendere auto elettriche ed incoraggiare altri a seguire l'esempio.
E' ancora un altro passo avanti che ci porta verso il giorno in cui ogni concessionaria di auto avrà alcuni entusiasti, evangelisti degli EV informati e pronti ad aiutare i compratori per fare la transizione dai pistoni alle spine.
no images were found