Il Vice Sindaco di Londra lancia la maggior flotta di bus elettrici: Londra immetterà 700 tonnellate in meno di CO2 all'anno.
Fonte: BYD
Londra, Gran Bretagna. 9 Settembre 2016. Il Vice Sindaco di London for Transport, Val Shawcross, ha inaugurato oggi la flotta europea più grande di autobus elettrici, iniziativa alla quale beneficeranno circa 7 milioni di persone.
Tutti i 51 autobus elettrici single-deckers sono stati costruiti in Gran Bretagna come parte della partnership tra BYD (tecnologia del powertrain elettrico e delle batterie) ed Alexander Denis Limited (ADL).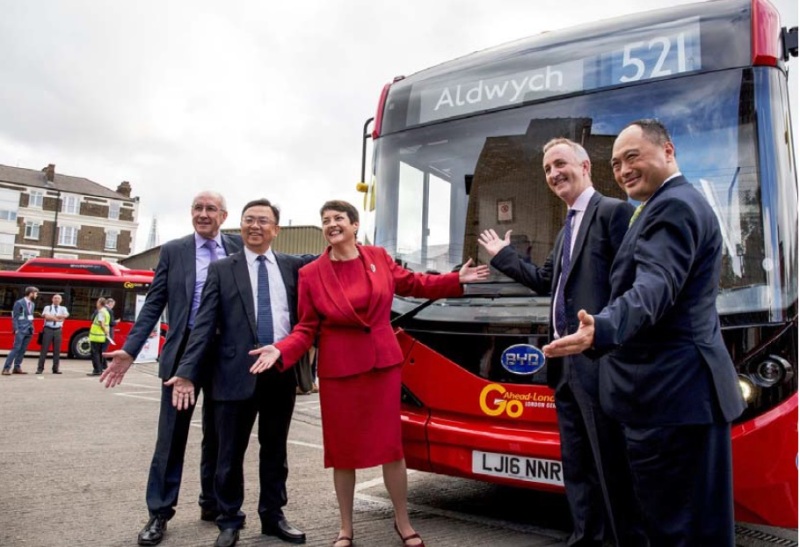 Nella cerimonia che si è svolta oggi a Londra è stato presente anche Wang Chuanfu, Presidente ed Amministratore Delegato BYD, la quale possiede la sede centrale a Shenzhen, in Cina.
In questa città del sudeste cinese di circa 11 milioni di abitanti, lavorano oltre 6 mila persona nella costruzione dei bus elettrici.
I 51 autobus di Londra saranno gestiti dal suo garage di Waterloo da Go-Ahead London, servendo due ruote di Transport for London (TfL) – 507 e 521.
L'ordine degli autobus BYD ADL Enviro200EV segue una prova di tre anni che ha rivelato la capacità degli autobus di poter eseguire sempre un turno di 16 ore senza ricarica. La lunga autonomia di questi veicoli è dovuta alla tecnologia delle batterie al ferro-fosfato di proprietà BYD e la carrozzeria in alluminio leggero prodotta da ADL a Falkirk, in Scozia.
Il sindaco di Londra, Sadiq Khan, ha detto:
"E' di vitale importanza agire subito per ripulire l'aria tossica della nostra capitale e fare tutto il possibile per aiutare a prevenire le migliaia di morti che provoca ogni anno. Ho impostato un completo piano per migliorare la nostra aria, e la trasformazione del parco autobus di Londra avrà un ruolo fondamentale nel rendere il nostro trasporto più pulito e più sano.

"Queste prime due linee di autobus elettrici attraverso il cuore di Londra sono un altro passo verso la fine degli autobus diesel convenzionali sulle nostre strade. Questo fornirà ampi benefici per la qualità dell'aria e ci posiziona come vero leader mondiale nell'adozione delle tecnologie dei veicoli ad ultra basse emissioni."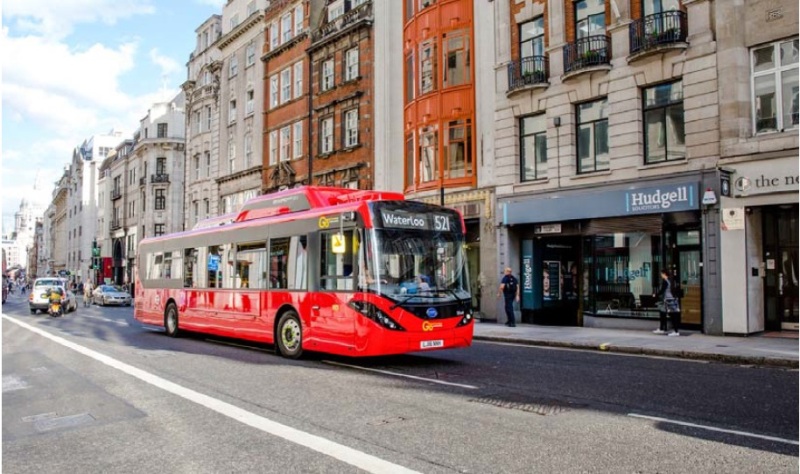 L'Amministratore delegato di TfL dei trasporti di superficie, Leon Daniels, ha detto:
"Questi sono i primi due percorsi elettrici che viaggeranno attraverso il cuore della capitale. Essi significheranno una migliore qualità dell'aria e migliori viaggi per i clienti – con meno rumore e vibrazioni rispetto gli autobus tradizionali. Oggi è un vero e proprio cambiamento nei mezzi di trasporti verdi della capitale".

"Oggi è il culmine di molti anni di duro lavoro e siamo lieti di essere qui con i nostri partner TfL, Go-Ahead e ADL, inaugurando la più grande flotta di autobus elettrici d'Europa", ha detto Isbrand Ho, Direttore Generale di BYD Europa. "Siamo orgogliosi che la precedente più grande flotta – di 35 ebuses – sia stata fornita anche da BYD all'Aeroporto Schiphol di Amsterdam".

"Nel Regno Unito abbiamo un team di supporto dedicato, una nuova sede, un nuovo Country Manager e presto ci sarà l'acquisizione di un laboratorio e fornitura di componenti all'interno di Londra. Siamo in trattative con diversi potenziali clienti per i nostri bus elettrici e siamo ansiosi di aiutare più operatori e le loro amministrazioni cittadine ad aiutare a migliorare la qualità dell'aria ", ha detto.
L'introduzione di questa flotta di autobus ecologici a Londra contribuirà a migliorare la qualità dell'aria per i suoi residenti considerando che gli autobus possono indicativamente ridurre le emissioni di anidride carbonica di 700 tonnellate all'anno. Questo sviluppo è in linea con l'iniziativa del governo britannico per ridurre le emissioni di gas serra.
"Questi veicoli di classe mondiale sono un prodotto della collaborazione tra BYD, la visione condivisa dei nostri partner che ha permesso di fornire una soluzione di veicolo elettrico che risponde a tutte le esigenze dei nostri clienti", ha detto Colin Robertson, CEO di ADL.

"Al centro della nostra azienda c'è il nostro impegno per la progettazione, lo sviluppo e la produzione di veicoli che integrano le ultime tecnologie per offrire affidabilità leader del mercato, a basso costo totale di acquisto e benefici ambientali. Le opzioni premium specifiche interne contribuiranno a soddisfare l'esperienza di viaggio dei passeggeri, sottolineando il nostro impegno ad aumentare l'utenza degli autobus ed il loro utilizzo nelle città congestionate. Vedere questa flotta di veicoli entrata in servizio è un evento che rappresenta una pietra miliare per tutti noi e non vediamo l'ora di continuare la nostra collaborazione", ha detto.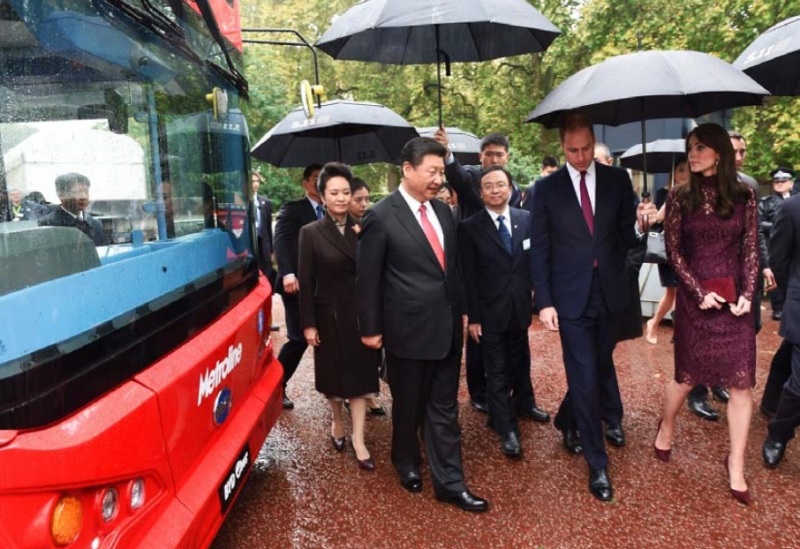 In un test di funzionamento, BYD sta testando i primi bus elettrici a due piani del mondo, cinque dei quali sono in servizio con l'operatore Londra Metroline a nome di TfL. Le versioni future saranno costruite in collaborazione con ADL.
BYD e ADL sono impegnati in un accordo commerciale del valore di 2 miliardi di £ durante la visita del presidente cinese Xi Jinping allo Stato del Regno Unito l'anno scorso. La partnership contribuirà a garantire fino a 2.100 posti di lavoro nello Yorkshire, Scozia e South East England.
Il Presidente cinese Xi Jinping e la First Lady Signora Peng Liyuan hanno fatto la loro prima visita ufficiale nel Regno Unito nel mese di Ottobre 2015. Quasi 40 miliardi di sterline di offerte tra i due Paesi sono stati
concordati durante questo viaggio. Il Presidente Xi e la signora Peng hanno incontrato il Duca e la Duchessa di Cambridge Il secondo giorno del loro soggiorno.
Foto:
Leon Daniels, MD Surface Transport, TfL; Wang Chuanfu, President and Chairman, BYD; Val Shawcross, Deputy London Mayor for Transport; David Brown, Group Chief Executive, Co-Ahead Group; Isbrand Ho, MD, BYD Europe attend the ceremony
BYD ADL Enviro200EV costruito per Transport for London
In English
51 new electric BYD single-deckers bus in London fleet
Deputy Mayor of London 'Switches on' Europe's largest all electric bus fleet: London to save 700 tonnes of CO2 emissions a year
Source: BYD
London, UK. 9th September 2016. The Deputy Mayor of London for Transport, Val Shawcross, today inaugurated Europe's largest fleet of electric buses, a deployment that will benefit around 7 million people. All 51 single-deckers, measuring 12 metres each, were built in Britain as part of a partnership between BYD (electric powertrain technology and batteries) and Alexander Dennis Limited (ADL).
Also on hand in London for today's ceremony was Wang Chuanfu, President and Chairman of BYD, which is headquartered in Shenzhen, China. This southern Chinese city of 11 million people operates more than 6.000 electric buses.
The 51 buses in London will be operated by Go-Ahead London from its Waterloo garage, servicing two Transport for London (TfL) routes – 507 and 521.
The order for the BYD ADL Enviro200EV buses follows a three-year trial that proved the buses could consistently run a 16-hour shift without a recharge. The long range of these vehicles is due to BYD's iron-phosphate battery technology and the light aluminium body manufactured by ADL in Falkirk, Scotland.
The Mayor of London, Sadiq Khan, said: "It's vital that we act now to clean-up our capital's toxic air and do everything we can to help prevent the thousands of deaths it causes each year. I've set out a comprehensive plan to improve our air, and the transformation of London's bus fleet will play a key role in making our tran sport cleaner and healthier.
"These first two electric bus routes right through the heart of London are another step towards the end of conventional diesel buses on our roads. This will deliver extensive air quality benefits and position us as a true world leader in adopting ultra low emission vehicle technology."
TfL's Managing Director of Surface Transport, Leon Daniels, said:
"These are the first two electric routes that travel through the heart of the capital. They will mean better air quality and better journeys for customers – with less noise and vibration than traditional buses. Today is a real game-changer in the drive to green the capital's transport network."

"Today is the culmination of several years of hard work and we are delighted to be here with our partners TfL, Go-Ahead and ADL inaugurating Europe's largest electric bus fleet," said Isbrand Ho, Managing Director of BYD Europe. "We are proud that the previous largest fleet – of 35 ebuses – was also supplied by BYD to Amsterdam Schiphol airport."

"In the UK we have a dedicated support team, a new office, a new Country Manager and will shortly be acquiring a workshop and parts store within London. We are in discussion with several potential customers for our electric buses and look forward to helping more operators and their city governments to assist in improving air quality", he said.
The introduction of this environmentally friendly bus fleet to London will contribute towards improved air quality for its residents as the buses are estimated to reduce carbon dioxide emissions by 700 tonnes a year. This development is in line with the UK government's initiative to reduce greenhouse gas emissions.
"These world-class vehicles are a product of partnership – in collaborating with BYD, our shared vision has been to provide an electric vehicle solution which responds to all of our customers' needs," said Colin Robertson, CEO of ADL.

"At the core of our company is our commitment to designing, developing and manufacturing the vehicles which incorporate the latest technologies to deliver market-leading reliability, low total cost of ownership and environmental benefits. The premium interior specification options will contribute to an outstanding passenger experience, underlining our commitment to increasing ridership and bus usage in congested cities. Seeing this fleet of vehicles enter into service is a milestone event for all of us and we look forward to continuing our collaboration," he said.
In a trial operation, BYD is also testing the world's first pure electric double decker buses, five of which are in service with London operator Metroline on behalf of TfL. Future versions will be built in partnership with ADL.
BYD and ADL committed to a commercial agreement worth £2 billion during Chinese President Xi Jinping's state visit to the UK last year. The partnership will help secure up to 2,100 jobs in Yorkshire, Scotland and South East England.
Photo
Leon Daniels, MD Surface Transport, TfL; Wang Chuanfu, President and Chairman, BYD; Val Shawcross, Deputy London Mayor for Transport; David Brown, Group Chief Executive, Co-Ahead Group; Isbrand Ho, MD, BYD Europe attend the ceremony
BYD ADL Enviro200EV built for Transport for London
Chinese President President Xi Jinping and the First Lady Madam Peng Liyuan on their first official visit to the UK in October 2015. Almost 40 billion pounds worth of deals between both countries were agreed during this trip. President Xi and Madam Peng met with the Duke and Duchess of Cambridge on the second day of their stay.
no images were found

.