Ares Modena hosted again at the Ares Studio based in Zürich the new shareholders to present the new E-Mobility range.
The innovative luxury coachbuilder, after announcing in August 2022 the admission of three new shareholders with profound experience in the automotive, finance and luxury sectors – Alfredo Altavilla, Boris Collardi e Marco Bizzarri – defined the business' medium-long term strategic objectives.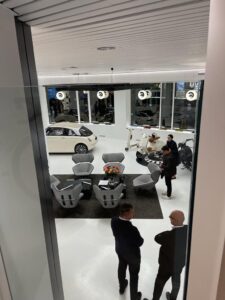 Ares' innovative electric product range will be manufactured starting from 2023, and consist of:
E-bike
Kickscooter
Scooter
Motorbike
City car
Following the last meeting held at its Modena headquarters in September, this is the second opportunity for the renewed board, where the two founding members – Dany Bahar and Waleed Al Ghafari – also participated.
CEO Dany Bahar said:
It is with great pleasure that we are preparing to face the meeting with the renewed board. It will be an important opportunity to plan the next medium-long term activities, but above all we can't wait to show everyone our innovative Electric Mobility range.
Ares, Engineers of Emotions
Ares' unique facility delivers a new level of design, development, manufacture and sales of coach-built and unique cars in the heart of Italy and through an expanding global network of studios. The advanced 23,000 m² Ares facility in Modena opened in January 2018 and, in bringing all facets of coachbuilding under one roof, immediately set a new global standard for the design, development, production and handover of bespoke, personalised and unique cars.
Ares' CEO Dany Bahar, along with his long-term Dubai-based business partner and Ares Executive Chairman, Waleed Al Ghafari, founded Ares and spotted the opportunity to move the coachbuilding business to another level of service by developing the world's first 'concept-to-creation' coachbuilding facility. Together they attracted a group of experienced and passionate multinational shareholders.
For the first time, every aspect of bringing automotive dreams to reality take place under one roof in rapid time and to an extremely high level of quality. It is a unique combination of luxury car brand resources with artisan principles and skills. Merging traditional Italian craftsmanship values with the advanced ones, Ares realises the dreams and visions of enthusiasts creating one-off, unparalleled vehicles, impossible to obtain elsewhere. To this end, a shared creative experience that aims at providing a completely tailor-made product. This is the ultimate answer to the ongoing demand for customisation and the desire to stand out from the crowd of our own time.
Source: Ares Modena