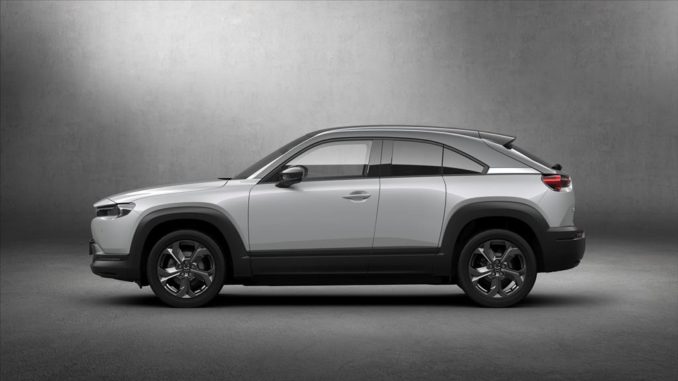 Mazda's first full-production electric vehicle, the Mazda MX-30, has been unveiled at Tokyo Motor Show with a range of approximately 125miles[1].
A car with a battery, not a battery with wheels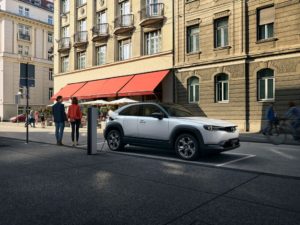 Commenting on the premiere of the Mazda MX-30, which will arrive in European dealerships during the second half of 2020 and the UK in 2021, Yasuhiro Aoyama President & CEO of Mazda Motor Europe said:
As with all our products, our designers and engineers had a very clear goal for our first battery-electric vehicle. It had to have stand out design, be great to drive, something that is key part of Mazda's DNA and makes us unique when compared with competitors, and most importantly, make a positive contribution to reducing emission across the entire life cycle of the product. Alongside the electrification technologies we are introducing across our range, being a smaller manufacturer we focused all our efforts on creating an electric car that we anticipate will be a second car where the range of our vehicle will meet customers' needs.

Adding: Many of the media who have driven our test vehicle have said it is one of the few electric cars they have driven with the positive characteristics of a regular car. Delivering driving pleasure is at the heart of every Mazda we design and that will be no different in our electric car.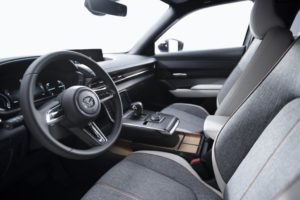 In the Mazda MX-30 the battery being rigidly integrated into the vehicle body structure which enhances the overall body stiffness and provides excellent response to the driver's input.
In addition, given the importance of sound to a drivers' perception of torque and speed, the Mazda engineers have also created an electronic sound system inside the Mazda MX-30 , which is synchronized to motor torque in sound frequency and sound pressure. This leads to less variation in vehicle speed resulting in very stable driving which is further supported by Mazda's unique G-Vectoring Control (GVC) has been expanded and uses the advantages of the electric motor (electric G-Vectoring Control Plus).
Distinctive Kodo design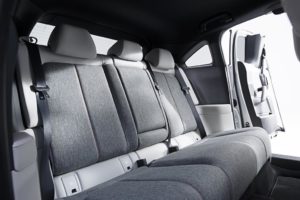 The cabin has a sense of oneness, flowing from the top of A pillar to the rear end. The colour of the framed top roof makes this feeling even clearer. The freestyle doors give the Mazda MX-30 a distinctive and elegant cabin silhouette, as well as providing customers with easier access to both the front and rear seats. In the interior, we are also introducing eco-friendly materials and are replacing much real leather with a vegan alternative.
Product specification*
The Mazda MX-30 is available now for pre-order in several EU markets and will arrive in markets during the second half of 2020.
Body type
SUV
Seating capacity
5 persons
Overall length × overall width × overall height
4,395mm × 1,795mm × 1,570mm
Wheelbase
2,655mm
Powertrain
e-SKYACTIV
Front suspension
MacPherson strut
Rear suspension
Torsion-beam
Steering
Rack and pinion
Brakes (front/rear/control)
Ventilated discs/Solid discs
/Regenerative cooperating brakes
Tire size
215/55R18
Drive battery
Type
Lithium-ion battery
Cell
Prismatic
Total voltage
355V
Total electric power (battery capacity)
35.5kWh
Motor
Type
AC synchronous motor
Cooling system
Water-cooled
Charging
DC charging
COMBO spec
AC charging
Maximum input 6.6kW
*The stated figures are provisional values
[1] European WLTP mode
[2] For this survey Ipsos MORI conducted a representative online quota sample of 12072 adults across selected European markets in March 2019 (UK, Austria, Belgium, France, Germany, Italy, Netherlands, Norway, Poland, Spain, Sweden and Switzerland) of driving age, on behalf of Mazda.
Source: Mazda Motor Corporation