In occasione del festival CarFest South di quest'anno gli appassionati potranno vedere in azione la

vettura di Formula E Gen2 del Team Mahindra, per la prima volta in pista.
Il Team Mahindra di Formula E metterà in pista la sua nuova vettura prima dell'inizio della stagione a dicembre. Dato che il campionato ABB FIA di Formula E non gareggerà nel Regno Unito questa stagione, e l'ultima volta che una gara si è tenuta in terra britannica è stato a luglio 2016, questa emozionante apparizione offre ai tifosi del Regno Unito un'esclusiva possibilità di vedere la futuristica monoposto elettrica della prossima stagione.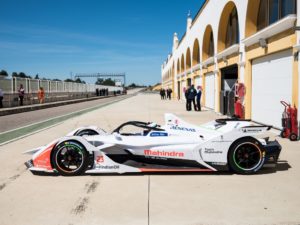 Mahindra Racing ha avuto una stagione di successo finora assicurandosi due vittorie a Marrakesh e Hong Kong, oltre a raggiungere il podio in un'ulteriore occasione. Inoltre, Mahindra ha dimostrato di essere uno dei veri contendenti di questa stagione, segnando un giro più veloce, tre pole position e sei super pole, oltre alle sue apparizioni sul podio. Mahindra Racing è attualmente al 4° posto nel campionato costruttori e Felix Rosenqvist è 5° nel campionato piloti mentre il compagno di squadra Nick Heidfeld è 11esimo.
L'auto Gen2 di Mahindra ha quasi il doppio della capacità di accumulo di energia e il doppio dell'autonomia: le auto della prossima stagione saranno in grado di completare l'intera distanza di gara senza dover effettuare uno scambio obbligatorio di auto. Questa è una chiara dimostrazione dei progressi nella tecnologia delle batterie e dei motori. La futuristica nuova vettura rappresenta una nuova era per il campionato ABB FIA Formula E e si distingue dalle altre categorie nel motorsport. Sarà usata per un ciclo di tre anni prima che la tecnologia faccia un altro passo in avanti. I team e i piloti gareggeranno con l'auto Gen2 nelle stagioni 2018-19, 2019-20 e 2020-21.
L'auto di Formula E è solo una parte della linea d'azione a quattro ruote di CarFest, che sarà migliore che mai. Torna il Car Paddock, che celebra le migliori auto di F1, cabriolet, coupé, grand tourers, berline, auto super e auto sportive. La nuova pista all'avanguardia di CarFest South è stata progettata da Jody Scheckter e dalla leggenda della F1 Ross Brawn, comprendente una serie di curve che replicano quella del complesso di piscine di Monaco.
Nell'Oktoberfest si viene trasportato in un autentico villaggio tedesco con una meravigliosa esposizione delle migliori auto tedesche a tema tra una birreria bavarese con cibo tradizionale, musica e intrattenimento.
La musica principale è rappresentata da Paloma Faith, Razorlight, Clean Bandit, The X Factor 2018 Winners Rak Su, Burt Bacharach, The Coral e Richard Ashcroft. Appariranno accanto alle icone degli anni '80 Bananarama, Billy Ocean, The Feeling, Status Quo, Alfie Boe e Michael Ball, The Proclaimers and Madness. Inoltre, quest'anno sarà caratterizzato da un'esibizione esclusiva del Supergroup di CarFest, curata da Ricky Wilson del Kaiser Chief, tra cui Sophie Ellis-Bextor e Gary Kemp di Spandau Ballet, con altri membri ancora da annunciare.
Alcuni dei migliori talenti della scena culinaria si uniranno alla CarFest Kitchen, tra cui "The Body Coach" di Joe Wicks, favorito dal Regno Unito, e Candice Brown, la star preferita di Bake Off. I maestri culinari di ritorno, tra cui Tom Kerridge e Angela Hartnett, saranno affiancati da James Martin e dallo chef stella Michelin Atul Kochhar in cucina durante il fine settimana.
L'imperdibile festival di famiglia si prepara per il suo settimo anno questa estate. Offrendo un miscuglio di macchine incredibili, ottimo cibo, musica dal vivo e un ricco mix di intrattenimento per famiglie, quest'anno CarFest sarà entusiasmante per i CarFesters di tutte le età. I biglietti finali per CarFest Nord e Sud 2018 sono ora in vendita sul sito Web di CarFest.
CarFest North inizierà il 27-29 luglio e CarFest South si svolgerà il mese successivo dal 24 al 26 agosto. Ambientato nei paesaggi ondulati di Bolesworth Estate e Laverstoke Park Farm, questi due imperdibili festival per famiglie sono destinati a diventare più grandi e migliori che mai per il 2018.