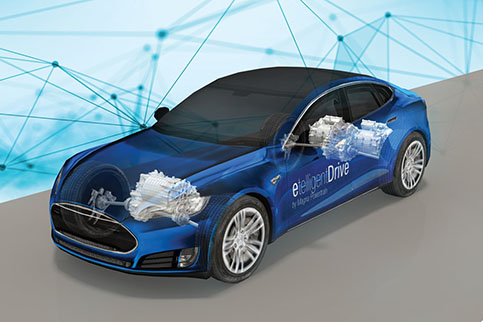 Magna will present its etelligentDrive systems at CES 2018 in Las Vegas, aiming to offer to automotive manufacturers a variety of electric solutions for different powertrain architectures, from hybrid to full electric.
The first demonstration prototype named e1 is highly integrated with an e-drive on the front axle and another on the rear axle with two electric motors.
It will be used to demonstrate the different concepts and the various electric drive systems, as well as demonstrate the capacity integration of Magna vehicles.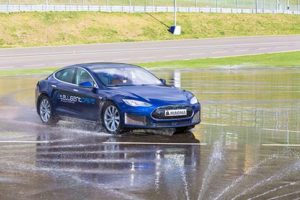 This system gives the demonstration car high stability and greater safety thanks to the dynamic combination of longitudinal and lateral forces. Each electronic driving system in the demo vehicle is powered by 140 kW engines, with a total performance of 420 kW peak.
The electric motors are combined with a low-speed gear transmission and an inverter, all presented in a very compact package.
We believe that in the coming years there will be several variations of powertrain architectures on the market that aim at numerous ways to achieve savings in CO2 emissions – said Swamy Kotagiri, Magna's Chief Technology Officer. With our experience in the field of transmission, we will continue to offer cutting-edge products on the market that correspond to the progression of internal combustion engines to fully electric vehicles.
The capabilities of Magna's electrified powertrain include key components for modern e-drive systems: electric motor, gearbox, inverter and control software that can be easily integrated into vehicles. Solutions range from 48 volt mild hybrid products to highly integrated e-drive systems for battery electric vehicles. The electrified auxiliaries such as thermal management modules, electric pumps for water or electric pumps for oil complete the portfolio of the Austrian company.
For almost 10 years, Magna has been supporting customers in the United States and Europe from concept to production with products for hybrid electric vehicles and plug-ins.
In 2009, the company announced a vehicle development partnership with Ford Motor Company to introduce a zero-emission lithium-ion battery electric vehicle (BEV) – which became the Ford Focus BEV, which entered the market in 2011 and still produced. Magna is responsible for supplying the electric motor, the electronic control module / inverter and the transmission for this vehicle.
Furthermore, since 2012 Magna has supplied Volvo with the electrified rear axle drive system (eRAD) on the Volvo V60 and S60 plug-in hybrid models. The Magna eRAD system offers multiple hybrid driving modes and also adds the possibility of electric all-wheel drive.
More recently, the company announced a joint venture partnership with Hasco in China to produce a high-volume e-drive system for a German carmaker.