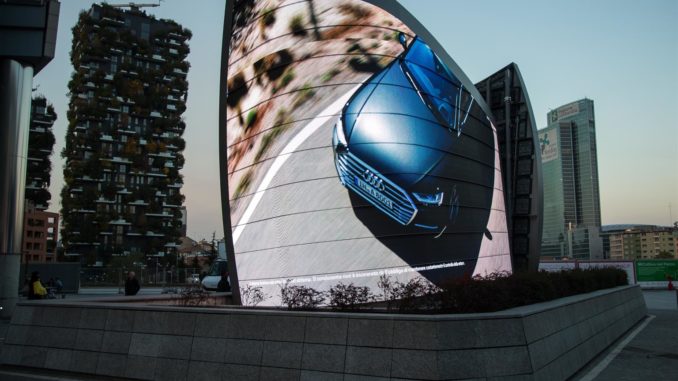 · La 25esima Ora: anteprima dell'ammiraglia dei quattro anelli per il pubblico di Milano
· Esperienze esclusive per scoprire cosa riserva la 25esima Ora: immagini, sport, gusto, visioni e performance tecnologiche
· Il lusso del maggiore tempo a disposizione grazie all'avanguardia tecnologica
· La mobilità del futuro secondo Audi
Source: Audi Italia
Verona, Italia. 31 ottobre 2017. Dopo il successo degli Audi City Lab in occasione della Design Week, la Casa dei quattro anelli torna sulla scena di Milano con una serata speciale dedicata alla nuova Audi A8 e al valore del tempo.
All'UniCredit Pavilion, location milanese fra le più iconiche nel cuore della celebre Piazza Gae Aulenti, Audi ha presentato 'La 25esima Ora', l'evento che ha avuto come highlight la nuova Audi A8 e le sue tecnologie avanguardistiche sviluppate per dare valore al tempo trascorso in auto.
Tempo che le innovazioni contenute nella quarta generazione dell'Audi A8 consentiranno di risparmiare grazie all'impiego di sofisticati sistemi di guida assistita di livello 3.
In media ogni persona passa un'ora al giorno al volante della propria auto. Audi ridisegna il futuro dell'auto dando valore al tempo, con l'obiettivo di restituire quell'ora tanto preziosa attraverso le sue innovative tecnologie. Audi A8 è la prima vettura al mondo che permetterà la guida assistita di livello 3. Partenza, accelerazioni, sterzate, frenate e parcheggio sono supportate dall'intelligenza artificiale Audi AI. L'accesso all'auto è completamente digitale e tutto può essere gestito con un tocco. Grazie alla nuova generazione di tecnologie, A8 offrirà dei sistemi per vivere la mobilità con la libertà di poter investire il maggiore tempo a disposizione.
Audi festeggia l'ingresso al nuovo stadio tecnologico con un evento speciale che ha trasformato la serata milanese in un laboratorio dove esperienze e spettacoli innovativi hanno interpretato il tempo trascorso nella '25esima ora' secondo Audi.
Sulle note del grand piano installation, in cui un brano musicale veniva suonato a due mani con l'intelligenza artificiale, l'attenzione del pubblico è stata catturata da una live perfomance di giochi di luce e passi di danza, in un futuristico cubo luminoso. Da qui il reveal della nuova A8 sintetizzato nel claim Forget the car. Audi is more e spiegato da Fabrizio Longo, Direttore Audi Italia, assieme al sociologo e saggista Francesco Morace.
Dopo l'apparizione della vettura, hanno subito preso vita quattro corner dedicati alle diverse interpretazioni della 25esima ora in cui vivere esperienze esclusive e inedite declinazioni del tempo. Find your swing, fra sport e passione, in cui la realtà aumentata ha consentito di mettere alla prova il proprio talento sfidando con un colpo di golf Andriy Shevchenko, esperto golfista oltre che indiscusso campione di calcio. Experience the cocktail, in cui equilibrio e gusto hanno trovato la migliore sintesi con i cocktail di Shingo Gokan, il barman giapponese numero uno al mondo. Feel the real illusion, dove l'innovazione permette alla fantasia di diventare realtà grazie allo straordinario show dell'illusionista francese Moulla. Strike a pose, dove Maurizio Galimberti ha avuto l'onere di catturare il tempo durante la 25esima ora per realizzare dei ritratti-mosaico dove scomporre la realtà e restituirne una visione frammentata, complessa e profonda.
no images were found