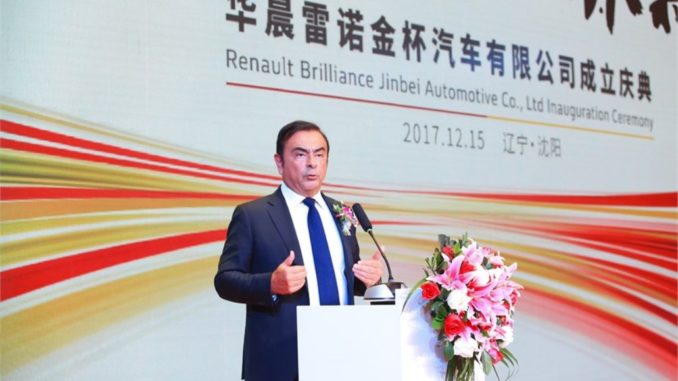 Groupe Renault and Brilliance China Automotive Holdings Limited (Brilliance) signed a contract to a joint venture to manufacture and sell light commercial vehicles (LCV) under the Jinbei, Renault and Huasong brands with the goal of achieving 150,000 sales annually by 2022 and an acceleration of electrifying powertrains.
The Joint Venture has been announced in Shenyang last December 15 supported by the CPC Liaoning Provincial Committee and Liaoning provincial government and will bring additional economic development to the northeast China.
Chen Qiufa, Secretary of the CPC Liaoning Provincial Committee; Tang Yijun, acting governor of Liaoning Province; and other officials participated in the inauguration ceremonies.
The new Joint Venture will be known as Renault-Brilliance-Jinbei Automotive Co., Ltd. with esetablishment in the Dadong District of Shenyang and will locally produce three key segments—MPVs, medium vans and heavy vans. The Chinese LCV market is reaching upwards of 3 million units annually.
To form the JV, Groupe Renault is purchasing a 49 percent equity interest in Shenyang Brilliance Jinbei Automobile Co. Co., Ltd. (SBJ). SBJ is being restructured into a JV owned 51 percent by Brilliance China and 49 percent by Groupe Renault. The companies had signed a framework cooperation agreement to pursue the formation of the joint venture in July of this year.
Thierry Aubry has been named CEO of the JV. Aubry's background includes retail, manufacturing and distribution experience in China and France.
Groupe Renault has been investing and expanding in China for four years now with joint ventures focused on passenger cars, commercial vehicles and electric vehicles. The Renault-Nissan-Mitsubishi Alliance gives us access to a wide array of technologies, with more than 50 billion euros in R&D investment over the next six years, part of which will enable Renault-Brilliance-Jinbei Automotive Company to develop products tailored to the Chinese market. We see China not only as the biggest car market worldwide, but also as a trend setter for the auto industry." said Carlos Ghosn, Chairman and CEO of Groupe Renault.
Groupe Renault is part of the world's largest automotive group with its Alliance including Nissan and Mitsubishi. Brilliance has made significant investment in the Jinbei brand, which has been the No.1 bus brand in China for more than a decade with an expertise in entry-cost MPVs and with leading market share in medium vans at 31 percent.
Brilliance and Groupe Renault are joining hands to build a world-class model for the development of LCVs. It will change the map of the Chinese and even global LCV market. Both companies will build the joint venture into a world-renowned leader in three areas— commercial vehicles, new energy commercial vehicles and customized commercial vehicles. This win-win partnership will create huge economic and social benefits, accelerating the development of automotive industry in Liaoning Province and China – said Qi Yumin, Chairman of Brilliance Automotive Group Holdings Company Limited.